Heather Whitestone is known as "Miss Deaf America" (even though Miss Deaf America is a different pageant). She was the first deaf woman to be crowned Miss America in the Miss America pageant.
Heather is both beautiful and intelligent, and it's nice to see that the panelists didn't discriminate against her because she's deaf (I know how they can be sometimes).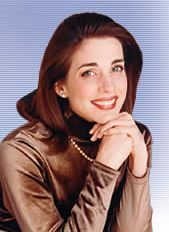 Heather was born in Alabama on February 24, 1973. When she was eighteen months old, she came down with influenza and became deaf.
Her doctor told her mother, Ms. Gray, that Heather would not make it past the third grade. Her mother then was determined for her daughter to learn how to speak. She enrolled Heather in dance classes, hoping that learning rhythm would help her learn speech.
Because of this emphasis on speech, Heather did not learn American Sign Language until her senior year in high school.
Despite the challenges she faced because of her hearing loss, Heather kept a positive and optimistic attitude throughout her childhood and into her adulthood.
In the 1995 Miss America pageant, Heather was Miss Alabama, and was crowned Miss America.
During her one-year reign as Miss America, Heather devoted her time to working with deaf children. She also focused on getting the word out to all children (both deaf and hearing) that positive thinking is very powerful and helps lead to success.
Heather also showed much dedication to the Deaf Community. Serving on the executive board for the President's Committee on Employment of People with Disabilities, she helped establish a multimedia public service campaign to help identify early hearing loss. She was also a spokesperson for the Helen Keller Eye Research Foundation and the Starkey Hearing Aid Foundation.
After her reign as Miss America, she married John McCallum, a hearing man, and became Heather Whitestone McCallum. Together, they operate Heather Whitestone, Inc. She has written three books, Listening With My Heart (which tells how she overcame challenges through self-reliance, hard work, and faith), Believing The Promise, and Let God Surprise You (which encourages people to let God surprise them, even with what may seem impossible).
Heather is truly an inspiration, and definitely proves that anything is possible with God's help.
Heather's Memoir
---
"Biography." HeatherWhitestone.com. 19 Aug. 2008 (https://www.heatherwhitestone.com/site/content/bio.shtml).