by Anonymous
(California)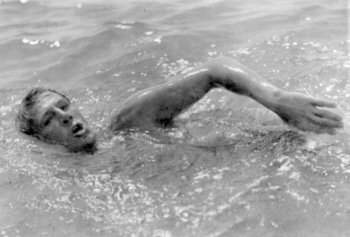 While Leroy Colombo was not born deaf, he became deaf at the age of seven and went on to become an amazing lifeguard, who saved a total of 907 lives.
At the time that he became deaf, he also lost the ability to walk. He was told he would never walk again, but with help from his brothers and swim therapy, he did walk again. In 1928 he rescued two crewmen after a tugboat exploded in flames (this required swimming beneath burning oil).
Leroy finished a 10 mile race with one hand in Mississippi River when his shoulder was dislocated after 8 miles, many of the other swimmers dropped out. This is one awesome guy!