by Joseph Heenan (Frankston, Australia) | March 8, 2013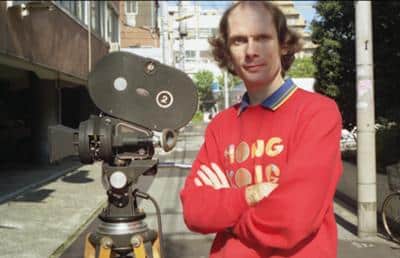 The 48 year old Australian named Robert Hoskin is a well-known deaf filmmaker who has won several film awards from his short films shot in 35mm film format intended for festival screening some years ago. He has expertised in 35mm film making activities for nearly 20 years out of his 35+ year film making career in his native country Australia and Japan.
Robert is married to Japanese deaf film actress Yasuko Tsuchiya, who appeared in the newly all-deaf feature movie titled "TWO IS TOO MANY", in her leading role as 'Yumi', a lone deaf female traveler.
Robert shot all his shorts and feature films in 35mm film format, never captured it on video format except only for documentary genre which he also produced a 23 minute video documentary called "The Making of 'TWO IS TOO MANY'". His film is currently in post-production process in Australia intended for nationwide release due after the middle of 2011.
Robert has spent his childhood life in the various aspects of films on 8mm, 16mm and finally 35mm since he was 11 years old. After he established his all-deaf independent film production, first in Japan after being married to Yasuko, moving to Tokyo in 1988, buying an Arriflex 35mm motion picture camera, and making his first-ever 35mm short film titled "BLUE GUSH" with his own funds of $4,300.
Next, his second 35mm short is "PATCHED-UP!", a 1994 deaf comedy about a guy with his eyes and mouth being all patched up, cost over $10,000 to produce along with bilingual subtitles from their original Japanese sign language under Robert Hoskin's direction.
Due to lack of medium presentation from his first two 35mm films, as to widen his media horizon, he also made one more 35mm film titled "MOTION OF CONFUSION", a classic third 1996 hit which only featured one deaf actor and hearing actress in the 10 minute vehicle that captured his audiences everywhere in Japan as well as in the States that capped him a special film award for 'Best Outstanding Performance' by CIMI founder Mr J.Flanders in Chicago, Illinois, on March 2003.
Currently Robert is working on editing his new 35mm movie "TWO IS TOO MANY", and wrote several film screenplays including the greatest movie classic, yet to be filmed, "MY IMPORTED WIFE".