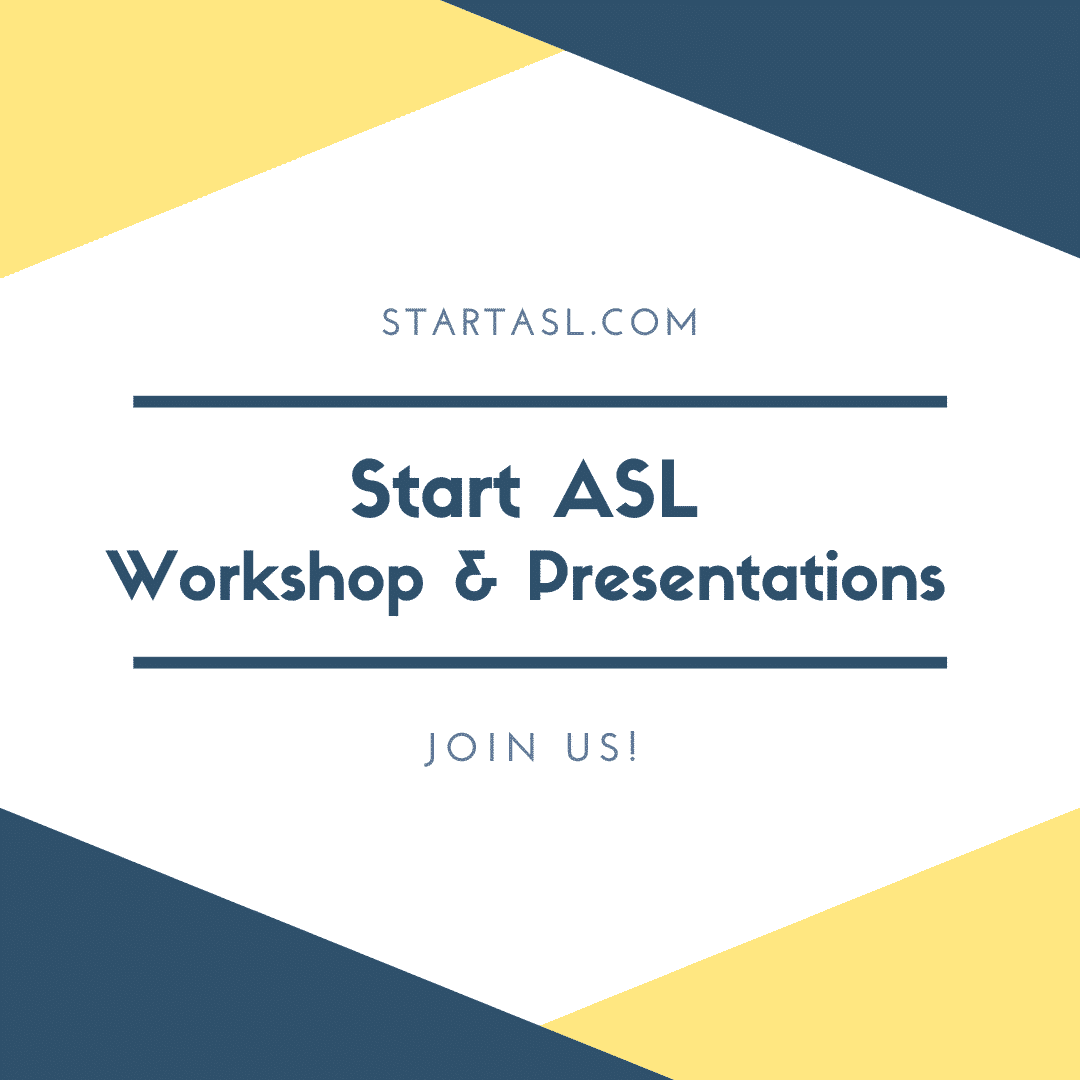 Start ASL invites you to join us for ASL 101 Workshops and Deaf/Hard of Hearing Presentations.
During our ASL 101 Workshops you will be exposed to different concepts in ASL, learn vocabulary, ASL Grammar and more!
During our Presentations you will have the opportunity to hear about the Deaf Experience, be exposed to Deaf Culture/Community, and be a part of different events and activities hosted by Deaf and Hard of Hearing Individuals!
These events are open to all ages and all signing levels. All workshops and presentations will be conducted in ASL, but an interpreter will be present for Presentations Only.
When:
Every Last Friday of the Month at 10:00AM (PST)
Where:
The event registration link will be posted in the event on our Deaf Events page here two weeks before each event.
Registration is required and the 50 spaces are filled on a first come, first serve basis.
Once you are registered, you'll receive a confirmation email that includes a Zoom meeting direct link, a meeting ID, and a password for the Zoom event. If the event is already full, you'll be on the waiting list. You'll receive an email if there is an available spot, but there is no automatic email to inform you that you're on the waiting list.
To learn how to download and use Zoom, view our help article.
*Per our online safety policy all meetings are recorded.*
Other Events:
Start ASL Meet & Sign Public Zoom Event
Start ASL TikTok & Instagram Live Events
Start ASL Private Zoom Social Events (for Online Course students only)
Start ASL Group Practice Sessions (for Online Course students only)
Start ASL Live Q & A Sessions (for Online Course students only)
Start ASL Virtual Office Hours (for Online Course Gold level students only)
Happy signing! 😄
https://www.startasl.com/wp-content/uploads/StartASLlogoFinal.png
0
0
Michelle Jay
https://www.startasl.com/wp-content/uploads/StartASLlogoFinal.png
Michelle Jay
2020-10-13 09:52:35
2021-02-15 12:58:13
Start ASL Workshop & Presentation Series