by Heather Jensen
Scientists have found that the muscles in children's fingers and hands are develop faster than the ones in their mouth and jaw, which has made baby sign language popular.
Teaching your nonverbal child or child who struggles to communicate with sign language can be a great way to give them a voice and help them identify needs and wants.
Of course, there are many challenges to teaching young children to sign. In order to effectively teach, you're going to need to put in the time and effort and stay consistent. Here are some helpful tips that you can use to teach your child.
Carefully Select Signs
When choosing the words and phrases to start teaching your child, you should choose objects and actions over general signs. Signs for "doll" or "swimming" will be more interesting to your child than learning to say "yes" or "help." You should also teach a wide variety of signs that are different enough that they won't be confusing to your child. You should also choose objects and actions that stem from different motivational categories, such as a food, action, or toy.
Above all else, think about things that your child would be interested in learning to sign. When you teach your child the words that they are more likely to use, they will learn them much quickly.
Teach through Play
It's one thing to sit in a classroom and learn how to use sign language. It's a totally different thing to learn while playing games and make-believe activities.
If your child loves to play doctor, you can teach them the words needed to pretend to give you shots and take your temperature. If your child loves to play house, you can teach the words needed to make a pretend meal and take care of a pretend doll. If your child loves to play with cars, you can teach the words for car, street, and other associated terms. Your child will learn more and more vocabulary words without even realizing it!
Use Flashcards
If you want to use flashcards, you can make your own or find companies like Flash of Brilliance to purchase the cards that you need for your child. There are also apps that you can download to help yourself practice the signs for various objects.
Use the cards to quiz your child, or you can make a game out of the cards. Hide objects around the room and show your child the card to see if they can identify the correct object. You could also place each flashcard next to the item that it describes to help your child start associating the sign with that object.
Find Educational Videos
There are several videos that you can also play for your child to help them learn the signs. Some of the ones that you can find are Signing Time, Talking Hands, and I Want to Learn Sign Language. You can also find videos online. Check out YouTube for videos of objects and actions that your child will want to learn about. Look for videos by Stephen Torrence to watch sign versions of popular songs, which can be a great tool for you to learn words and phrases while enjoying songs that you enjoy.
Teaching your child to sign takes patience and consistency, but there are lots of resources available to help you. Make it fun for your child and enjoy the process together. In the end, your child will have a growing vocabulary that can be used to communicate with you and others.
---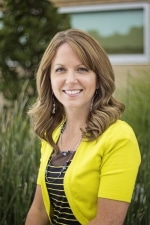 Heather Jensen is an Audiologist and Clinical Assistant Professor for Utah State University. She received her Doctorate of Audiology from Arizona School of Health Sciences in 2004. She has been an adviser for the student academy of audiology organization at USU for 11 years. Before coming to USU, she owned her own private practice, but decided she wanted to give back to the field of audiology by teaching students. When she's not working she spends time with her four children, she also enjoys doing hearing related humanitarian missions.
Learn more about Utah State University's American Sign Language Interpreting program available in their Communicative Disorders and Deaf Education department.