by Debbie
(Tahlequah, OK. USA)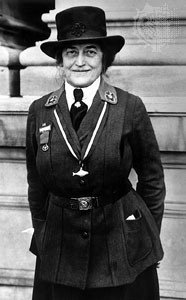 Juliette Gordon Low
There are so many deaf, hard of hearing as well as hearing people that have made such great contributions to the deaf community and how they are interacted with and perceived by the world. Choosing just one favorite is very difficult. There are many ways of looking at the evolution of ASL and what it means to those that use it.
Learning of Laura Bridgman and that Helen Keller was not the first deaf mute to receive schooling was very inspiring, after all the difficulty that both of them went through in their lives, to see the result as a true test of how dedicated they were and how the struggles inspired so many others.
I was surprised to see Juliet Gordon Low on the list. I have been a Girl Scout for many years as a girl and now as a leader. I was not aware that she was even hard of hearing or deaf in any way. The inspiration that I have found in her leadership and learning ideals for young girls has just been increased after learning the difficulties she had in her own youth.
I greatly admire Abbe de L'Epee and Dr. Thomas Hopkins Gallaudet for bringing a more universally used and understood sign language to France and America. By creating a standard form of signing like ASL, it allows more people deaf, hard of hearing, and even the hearing to be understood. I really like that these languages have been compiled of signs that had been developed at home by those people that needed it and used it on a daily basis.
Another is Laurent Clerc, he has been such a large influence on the way sign language has been taught. Clerc was the co-founder, with Gallaudet, of the first Deaf school in America that opened April 15, 1817. The American School for the Deaf is still open and is listed as the oldest existing school for the deaf in North America.
While I admire so many of these deaf and hard of hearing people on the list, it is too difficult to choose only one that would be my favorite. The information I have learned through out this lesson and reading these articles has inspired me in more than one way. The limited access I have to deaf people did not prepare me for the struggles of their culture and history. Learning ASL has taught me more than just the language, I am looking forward more of these lessons as well as learning more of the culture.