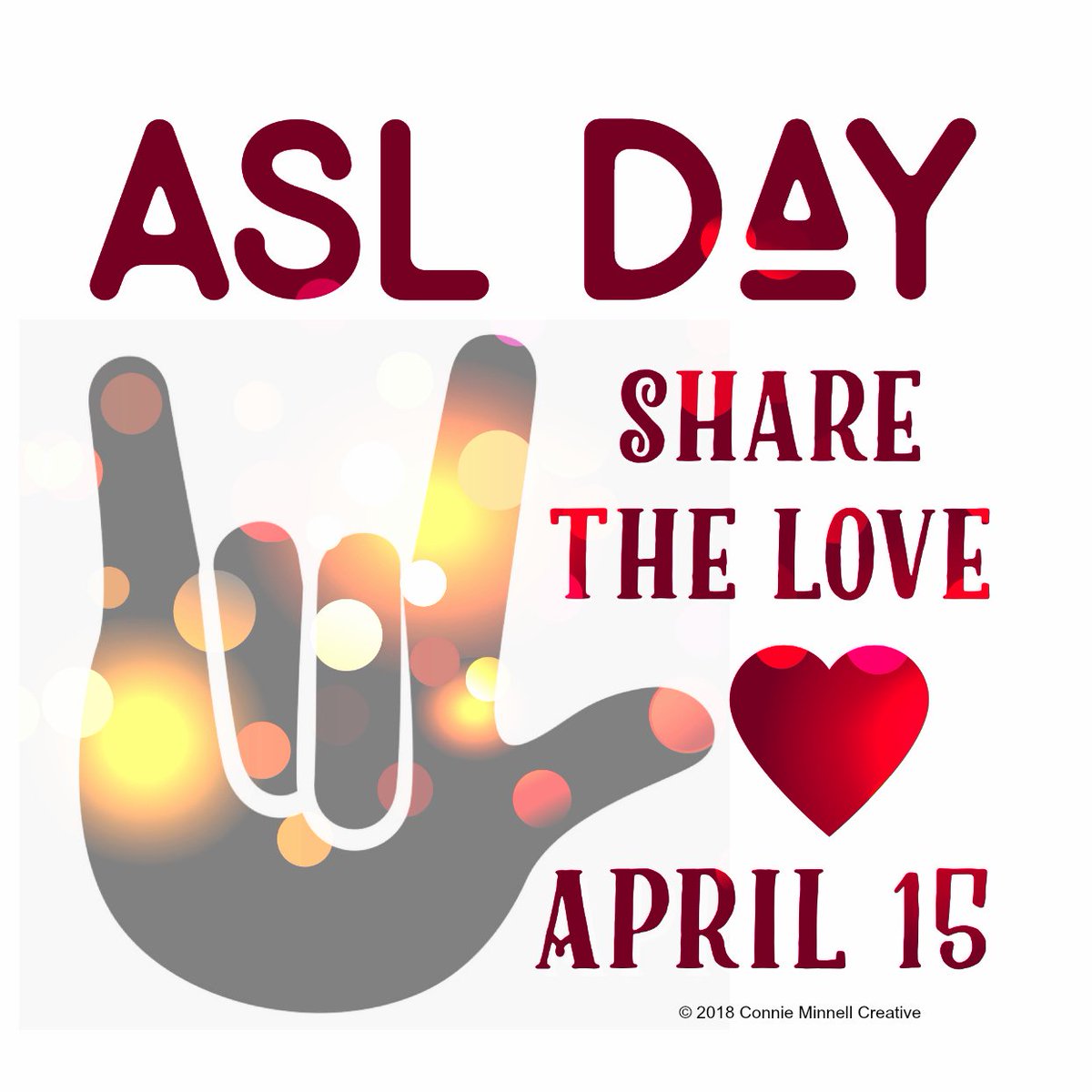 [av_video src='https://www.youtube.com/watch?v=_baVHe1L-Bw' mobile_image=" attachment=" attachment_size=" format='16-9′ width='16' height='9′ conditional_play=" id=" custom_class=" template_class=" element_template=" one_element_template=" av_uid='av-7k9cu8s' sc_version='1.0′]
There are a lot of holidays we celebrate in the United States. Some of them are national holidays while others are religious holidays. Other countries have their holidays which also are celebrated in the US if the family is from that country. There are also important dates such as awareness days, weeks, or months; for instance National Women Day or Deaf Awareness Week or Disability Awareness Month. April 15th is one of the most recognized holiday of the Deaf community. April 15th is National ASL Day is a day of observance of American Sign Language and its history.
American Sign Language ASL derived from French Sign Language (LSF), so there are a lot of similarities between these two sign languages. In 1755, a French guy named Abbe Charles-Michel de I'Epee founded the first deaf institute in Paris. Thomas Hopkins Galladuet traveled to Europe in 1815 to study methods for teaching Deaf students and during his attendance at an event, Gallaudet was invited to visit the Deaf school in Paris by two French people. Gallaudet asked Laurent Clerc, a deaf teacher of the Deaf institute in Paris, for a favor to help him establish a Deaf school in America. In 1817, Gallaudet and Clerc established Deaf schools in Connecticut. In 1864, today's Deaf university, known as Gallaudet University, was founded. Today's ASL was strongly influenced by Deaf students who graduated from American School for the Deaf, who passed down the sign language and Deaf cultural experiences. Furthermore, ASL became one of the most used languages in the United States.
If you are hearing and you are wondering how to honor ASL Day and be a Deaf ally. Here's how:
To be an ally, it is important to be open-minded, educate, and immerse yourself within the Deaf community. In the Deaf community, not only is American Sign Language important since this is the primary language to communicate, but also the Deaf culture plays a significant role. I will mention a few pointers below, but you can also read more about it here. Every country has their own unique culture and each culture differs from each other. The Deaf culture is very different from the hearing culture, so keep in mind the key points of the Deaf culture below:
Be direct. There is no such thing as "beating around the bush". If you have something to say, then say it. Taboo questions are totally appropriate to ask. Basically, there is no filter when it comes to expressing or asking questions.
Make constant eye contact. It is actually considered rude to not make eye contact. Have you ever heard of the saying, "My eye is my ear, my hand is my mouth"? Deaf people communicate through using sign language and rely a lot on body language and facial expressions.

 

Turn your voice off. Deaf people cannot hear or speak. It would be considered mindful to not start talking without giving the effort to communicate using sign language. In the Deaf community, it is all about signing, using gestures, body language, facial expressions to communicate with each other. It is okay if you are a beginner and is just starting to learn ASL. Deaf people understand and are patient. They are willing to slow down so you can understand. Communicate with Deaf people how they communicate with each other.
Be mindful that there are different ranges of deafness. Every Deaf and hard of hearing (D/HH) person is different and has different stories of how they grew up. Some knew sign from an early age whereas others learned sign later in life. Do not assume every D/HH person is the same and all have the same stories. Be mindful of each person's stories. Certainly do not assume all deaf people know American Sign Language because some may not know how to sign at all. You can read more about "Deaf Culture | What does "D", "d", and "d/Deaf" mean in the Deaf community?" Also, understand that ASL is not universal – read more about it here; therefore there are Deaf people from other countries who will sign their own sign language. Keep this in mind too.
Identity. This is a major one. Deaf is an identity, not a hearing loss or a disability, that Deaf people need to be "fixed". Deaf people are proud of their identity and are proud to be Deaf.
Don't assume D/HH people need help unless they ask for it. There is a quote, "Deaf people can do anything hearing people can, except hear." D/HH people want to be independent just like everybody else. Yes, D/HH people cannot hear but it does not mean they are incapable.
Don't assume all Deaf people can lipread. Some can lipread whereas some cannot lipread at all. This is based on how the person is raised and whether or not he or she grew up orally.
Here are a few of many ways you can celebrate ASL Day.
1- Whether you are a beginner in learning American Sign Language or you are fluent, one way to celebrate ASL Day is by filming and posting a video of yourself signing ASL. People will often use hashtags #asl #americansignlanguage #whyisign #asljourney etc. to share the video with others. You can sign to your favorite song or your favorite poem or explain why you decided to learn sign and what inspired you. In addition, you can share a picture of your favorite sign.
2- Attend Deaf events such as Deaf socials, Deaf expo, Deaf performance, etc. Interact with other Deaf people and mingle through using ASL. Turn off your voice and communicate through only using ASL. If you have to interact with other hearing people, either teach them signs or communicate through gestures or writing it down.
3- Teach your family and friends 10 basic signs or you favorite signs. Educate your family and friends about the Deaf community, Deaf culture, and sign language. Share the history and cultural significance.
4- Attend ASL clubs, participate or volunteer for events that promote awareness for the Deaf community and ASL.
5- You can create ASL type of designs to send to family, friends, and Deaf peers.
6- Buy and support Deaf businesses, which you can check out below:
Apparel
By Mara – An iconic ILU designs on soft t-shirts, magnets, and stickers
Erry B. – Black Deaf-owned shop with apparel promoting positivity, social justice and equality
Girl and Creativity – Check out their tees, crews, and stickers
Language Priority – Check out their shop for ASL shirts, socks, and stickers to celebrate every occasion
Shop Daxa – Graphic tees and sweatshirts you need to make a statement
Sisters in Style – Everything from dresses and loungewear to accessories, and more
Tansey Limited – Fashion apparel
Jewelry
Creative Soul – Earrings
Deafinite Designs – Hand stamped jewelry and gifts
Earthworm Earrings – Earrings
Gorgeous Jupiter – Lava beads and preservation flower jewelry
Infinity Lantern Jewelry – Handmade earrings, necklaces, and more.
JillyBean Creates – Hand beaded earrings.
Nathalina Studio – Jewelry and home décor
RoseBYANDER Jewelry – ILY necklaces and charms
Health & Wellness
The Deaf Flower – Organic Syrups
Deafhood Yoga – Yoga classes
Deaf Soul Yoga – Virtual yoga classes
JeZoe for Happy Skin – Soaps and skincare items
Lilli Erin Yoga – Virtual yoga classes
Photography
Amelia K Hamilton – Austin local
Clare Cassidy Photography – Photographer
Jolaventures – Photography and Videography
Kelly Grace Photos – Pet Photoshoots
Cat Cassidy Photography – Self-proclaimed storyteller
Tate Tullier – Photography
Ultimux – Photography, interior designer, and cartoon designer
Art & Decor
58 Creativity – Graphic artist uses ASL to tell a story in their artwork
Alpine Florals – Pressed mountain flowers
Ash Marie Sha – Mixed-media artwork designs
Ask Amber – Home decor and customize masterpieces
Boriketien – Stickers
CraftsbyGio – Order luxury, customer-design tumbler cups, confetti, foil envelopes
Cynthia's Creations and More – handcrafted gifts from ornaments to tea towels
Haha What – Black and white drawings and stickers
Isabel Lainez – Sign incorporated into bold portraits
Kali Doubledee – Mixed media paintings
Kiss Fist Stitch – Cross stitch art and personalized gifts
Ladder of Love – Rustic art made from reclaimed wood
Macramed – One-stop-shop for everything macrame
Raine Collective – Wide variety of homemade gifts and accessories
Selennn Art – Commissioned art on canvas or digital mediums
Viva Jess – Unique gifts wall art, stationery, and accessories
Woodstove Studios – Pyrography and mixed media
Services
Bus Door Films – Know someone who's been sitting on that screenplay just a little too long? Or someone who can't get enough of deaf-created content? Send them over to Bus Door Films to get their fix
Day to Rejoice Weddings & Events – Need support with making your event extra special? Check out Day to Rejoice, a Black Deaf-owned event design business
Inka's Screen Printing– Customer designs on different gifts and items
Mystic Starz – Get a reading from Mystic Starz Astrology and see what the future has in store
DeafBoss – "Vision at DeafBoss is to 'create more millionaires in the Deaf community than anyone or any group in history'"
DeafFriendly – Website to find Deaf-friendly businesses
Communication Services for the Deaf – Provide services for the Deaf & hard of hearing community and businesses
News
DailyMoth – News is conveyed in ASL about political & Deaf news happening in the world
Deaf Newspaper LLC – News is conveyed in ASL about political & Deaf news happening in the world