Deaf Family Proud of Nine-Month-Old Deaf Son Who Signed 'Milk' Using American Sign Language
American Sign Language (ASL) is a visual means of communication. When people use sign language, their brains sort out and interpret linguistic data through their eyes. Hand shape, placement, and hand movement, along with facial expressions and bodily movements, all convey information through American Sign Language.
As with spoken languages, American Sign Language has its own rules of grammar and sentence structure. ASL can convey abstract thought and is just as complex as any spoken language. It is also a living language that develops and transforms over time.
American Sign Language is mainly used in the United States and English-speaking parts of Canada. Many US high schools, colleges, and universities accept it to fulfill students' foreign language requirements. In addition, parents often teach ASL to their Deaf and Hard of hearing (D/HoH) children from birth. Thus, the kids can communicate with family members, friends, and others as quickly as possible. 
An Overview of the Arevalo Family
This early learning approach to American Sign Language is used by Estefani and Oscar Arevalo of Kern County, California, with their two Deaf children — daughter Ervelyn and son Jabez. The Arevalos also educate others in their community about life as a Deaf or Hard of hearing person and use social media to promote ASL as the best means of communication for D/HoH people. 
Estafani and Oscar have TikTok, Instagram, Youtube, and Facebook accounts. There they post text and videos sharing the joys of teaching their kids American Sign Language. For example, the couple recently posted a video on TikTok about their nine-month-old son Jabez learning his first word, "milk." In it, the baby gets extremely excited as his mom tries to communicate with him by signing "milk" in American Sign Language.
The Moment when the Nine-Month-Old Signed 'Milk' was Beautiful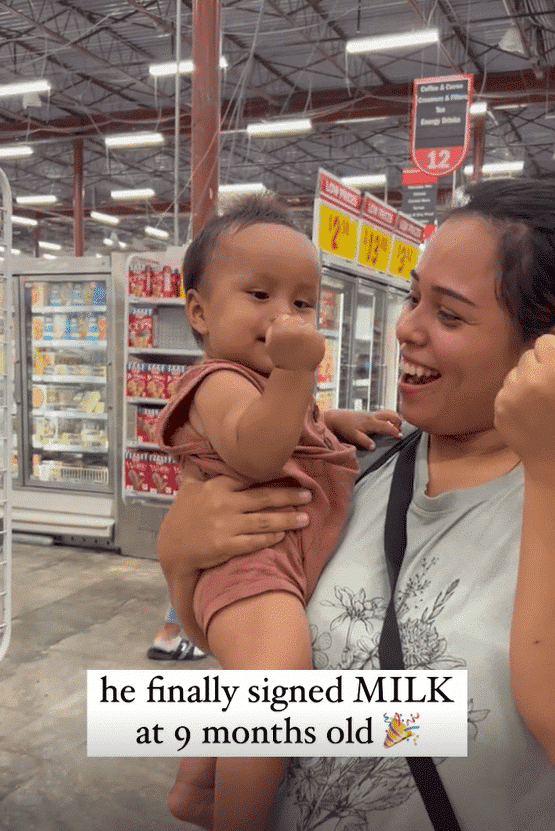 In another video, Estefani signs "milk" to their toddler while they're in a supermarket. Her text inlay reads, "I introduced my baby boy to ASL after we found out he is Deaf." The inlay also says she tries to teach Jabez how to sign the word milk every day and that she "caught him signing milk while [they] were shopping."  
In another frame of the video, Estafani signs to the baby, and he responds by copying the sign. The text for this part reads, "He finally signed MILK at nine months old." Estafani wrote that she "wasn't sure if he meant that or was just staring at his hand movement." She wanted to know if the boy understood her, so she signed milk to him again. Estafani concluded, "Then he copied me. I was like, 'Oh my goodness, you signed MILK!"
The Event was a Milestone for the Arevalos and their Son
The occasion when baby Jabez first signed "milk" was one of the most powerful events in the lives of the Arevalo family. Through their social media accounts, Estefani and Oscar freely share this incident and other similar experiences as proud and confident parents of a Deaf family. In addition, they campaign for other families who have children with hearing loss to learn ASL or any different sign language common in their area and to teach their kids the language as early as possible.
Baby Jabez's use of American Sign Language was a milestone for the Arevalos. It has created new opportunities for them to interact with their children more effectively. In addition, the family has posted other videos of their kid learning sign language, showing his ASL progress. For instance, one video shows how Jabez has begun responding to the American Sign Language sign for "bear." 
Support Comes in from the Online D/HoH and Hearing Communities 
The Arevalos has more than 166,000 followers on Instagram, 1,180 subscribers on YouTube, 1,200 followers on Facebook, and over 170,000 followers on TikTok. In addition, the TikTok account has over ten million likes from people who appreciate and are touched by the family's efforts. 
People on TikTok widely like the videos showing Jabez signing "milk". The baby's smile moves many viewers. For example, one said, "He is so cute. That happiness in his smile is worth trying for nine months."
People have also been impressed with Jabez's ability to pick up American Sign Language at only nine months of age. One wrote, "Seeing babies learn and apply like that always makes me smile." Estefani replied, "Yes, he's been observing his hand movement for a while. He does understand milk but finally signed it."
 Other users value the persistence and love that Estefani and Oscar show their children. One fan commented, "I just want to tell you how special you are to your kids because it takes a lot of patience and time, proud mama." 
Another remarked, "This is so sweet! Thank you for sharing your family with us. It's made us, hearing people, understand the difficulties you have to go through." A TikTok user even described her own experience with teaching ASL: "My nanny kid is hearing but I've been doing some signs with him. It's amazing to see the explosion of language this week with American Sign Language!" 
The Arevalos Inspire Families with D/HoH Children and Others
The Arevalo family's positive outlook on life as a family with Deaf members is one of the reasons people become fans and connect deeply with them through social media. Besides the moment when Jabez first signed "milk," these are some of the other significant events the family has shared online:
Oscar receiving surgery for a second cochlear implant

being on vacation with a hearing family

Everlyn participating in sports with hearing and D/HoH kids, and 

Oscar, Estefani, and the kids visiting Disneyland. 
Their connection with the Deaf/HoH community is significant to the Arevalos. They feel a sense of belonging in Deaf culture and a shared understanding with its members. 
The Beauty and Benefits of Using American Sign Language
Sign language can benefit Deaf and Hard of Hearing children by letting them express themselves in meaningful and rewarding ways. Sign language can also help bridge the communication gap between hearing parents and their D/HoH children, enhancing understanding and connections among family members. What's more, teaching sign language to D/HoH and hearing children has additional benefits, such as the following.
Fine and gross motor skills are enhanced
Children's gross motor skills develop earlier than their speech skills. For example, babies walk and run before they can use complete sentences. Sign language enhances gross and fine motor skills with its constant use of hand and finger movements.
Signing before they can speak
If taught correctly, babies can sign before they utter their first word. That's because infants' desire to convey their needs and wants is present long before their speaking skills develop.
Increased confidence and self-esteem
When children can communicate well through signing, their confidence and self-esteem grow because they can interact more effectively with their parents and siblings. And this, in turn, allows their wishes to be fulfilled more quickly.
American Sign Language offers these and many other benefits to both D/HoH and hearing children. Through it, parents, teachers, and early childhood professionals can help kids learn vocabulary, develop core educational skills, and advance in other areas.
The Importance of American Sign Language to the D/HoH Population and Society as a Whole 
Members of the D/HoH community use American Sign Language to connect with others who are Deaf or Hard of hearing. The language also serves as a ticket into a linguistic subculture that many hearing people are unaware of. For these reasons, learning American Sign Language is vital for building bridges and for enhancing the quality of life for Deaf/HoH and hearing people alike. Moreover, if American Sign Language is accessible to all, Deaf and hard-of-hearing individuals can gain greater opportunities in education and work. They may improve their relationships in the broader society as well.