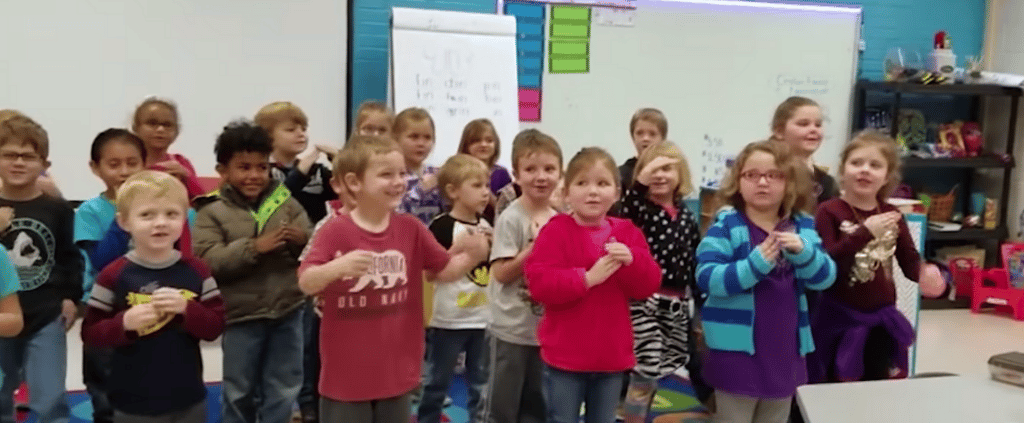 American Sign Language Increases Deaf Awareness and Touches Hearts
American Sign Language
to be able to communicate with their loved ones or friendly strangers to make someone's day. There are many great stories to tell. Check out how these stories have an impact on the Deaf community and make a difference in people's lives.
Meteorologist Goes Viral After Using American Sign Language in a Forecast
The meteorologist Mikayla Smith signed using American Sign Language during her forecast about an Oklahoma winter storm. She wanted to make forecasting more accessible to the Deaf community and inspire future meteorologists. Smith launched a forecast featuring American Sign Language called "Signing Science with Smith." Smith has a soft spot for the Deaf and hard-of-hearing communities. When Smith was young, she got her passion for American Sign Language from her mom when she went to college for special education. She learned American Sign Language in middle school and continued to learn American Sign Language through her senior year. She felt that social media lacked Deaf accessibility, such as closed captions, so she decided to incorporate American Sign Language into her meteorology forecast and increase the accessibility for Deaf people. Smith mentioned, "I was expecting, maybe, you know, a couple of likes and shares, and I was absolutely blown away. I'm going to continue to post things on social media and my YouTube page and TikTok." Smith said she has already had dozens of meteorologists reach out to her, wanting to learn ASL and asking where to start. She hopes her social media presence will be a starting place for others to come and learn a few signs here or there.
Toddler Interprets for Deaf Dad Using Sign Language
A couple consisting of a Deaf father and a hearing mother share on social media their story of raising their hearing daughter. They use their social media to post about how they raise their daughter through hearing and talking using American Sign Language. Their one-year-old hearing daughter interpreted "crying" to her Deaf dad Zachary they were in a supermarket. The mom Courtney luckily captured this beautiful moment of their daughter using sign language.
Waitress Learn Sign Language Online and Signs Happy Birthday to Deaf Boy
Two waitresses learned to sign 'happy birthday' in American Sign Language from a Youtube video for a four-year-old boy at Texas Roadhouse in Murfreesboro, Tennessee. Their heartwarming video went viral. This boy named Octavius Mitchell Jr. has been hearing-impaired since he was born and was out with his mom and uncle to celebrate turning four years old. Kathryn Marasco – one of the waitresses who was working that night – said she saw that the boy's mom, Shatika Dixon, was using sign language for her son. Kathryn approached another waitress, Brandie White, who studies speech-language pathology and audiology at Middle Tennessee State University, asking if she knew how to sign 'happy birthday.' Together, they learned the ASL sign and wish Octavius a very happy birthday.
A Young Girl Learns Sign Language To Deliver a Heart-Warming Message To Her Deaf Delivery Driver
An eight-year-old girl named Tallulah often saw her delivery driver Tim Joseph during COVID. Tallulah drew Tim a picture of a rainbow as a way to thank him and show her appreciation for the work he does. That is when Tallulah found out he was Deaf, and she decided to learn to sign "have a good day" in Sign Language. After a bit of practice, she was able to communicate her message "have a good day " in a way that meant quite a bit more than the usual pleasantry. Tallulah's mom, Amy Roberts, caught the interaction on camera. In response to Tallulah's greeting, Joseph was surprised and taught her how to say "good morning" in sign language, which Tallulah happily and very quickly learned. Joseph told the BBC, "I was very happy, and I then showed Tallulah how to sign, "good morning, have a good day," and then she signed it perfectly, and it absolutely made my day."
Strictly fans 'adore' Giovanni Pernice as he learns American Sign Language for Rose Ayling-Ellis
Giovanni Pernice, who is a member of the Strictly gang, learns Sign Language for his dance partner Rose Ayling-Ellis. She was an actress in a British TV show called EastEnders, and she was the first deaf person to ever compete in Strictly. Interviewing the dancing couple after they had been confirmed as making it through to next week's show, Claudia Winkleman said: "Giovanni, you have been learning so much signing. Can you give us a taste, please?" Rose then tested Giovanni's skills by getting him to sign words such as commitment, focus, quick, slow, and improvement. A fan commented, "Rose and Giovanni are just the cutest partnership ever to grace us on the show! I love how he is learning sign language. She's so sweet, and her personality is just a joy."
Kindergarteners surprise a Deaf custodian by signing Happy Birthday!
A class of kindergarteners in Tullahoma, Tennessee, wanted to surprise their Deaf school custodian, Anthony James, by wishing him a very happy 60th birthday in sign language! All the kids lined up in the front of the classroom, and when he walked in, the kids started signing "happy birthday" to him. Anthony James was elated and totally delighted to see the kids signing just for him. Mr. James was touched, to say the least. "He was overwhelmed with it. It just was a spur-of-the-moment thing, and they just did it. He had his hands over his face. In the end, he was tearing up. It just touched him," Hickerson Elementary secretary Bonnie Scott said in a phone interview with McClatchy. "Mr. James teaches the kids sign language every now and then, teaches them good manners and how to treat other people," Jimmy Anderson, Hickerson Elementary school principal, said to NowThis News.
Do you want to learn American Sign Language?
One of the fastest and easiest ways to learn ASL is by taking courses offered by Start ASL. We offer two packages, a Silver and a Gold package. Both of these packages include:
• Our Advanced Online Classroom with Interactive Activities, Grading, and Progress Tracking so that you can easily navigate our curriculum, focus on learning, see your results right after clicking "Submit," and be able to review your answers to each question to improve your progress.
• Don't Just "Sign"… Communicate! PDF Textbooks are included so that you have access to these essential guides that were created as the perfect companion for our ASL course specifically to help you understand ASL more effectively and provide you with the confidence you need to communicate fluently and correctly in the Deaf community.
• Certification of Completion for each course level so that you can earn credit for school, gain a promotion at work, or check this item off your "bucket list" – this is your seal of approval!
• Our exclusive LIVE Virtual Practice Events so that you can get the extra practice and support you need from your instructor along with a community of your fellow new signers.
• Exclusive Community Group Membership so that you can come together, ask questions, discuss topics related to ASL/Deaf Culture, share resources, and connect with your fellow students. If you are struggling with something about learning ASL or want to share something fun you learned about ASL, this is the place for you!
• Start ASL Instructor Support With Curriculum and ASL questions so that you can get the support you need with our curriculum, the language, the community, or anything else! We really do care, and you'll see it with your first message – we promise!
• Instructor Feedback on your signing assignments (Gold level students receive video feedback): so that you can receive detailed feedback on your signing assignments to know exactly where you need to improve so you can start signing more accurately and more quickly.
• Virtual Office Hours with Instructor so that you can get personal, private help on your journey with your new signing skills or with any questions you may have.
• Priority Email Support so that your questions get answered quickly and efficiently.
• Verified Completion Certificates and Grade Reports* so that your school or employer can easily verify your completion for foreign language credit.
• Bonus DJSC! A Student's Guide to the Deaf Experience and DJSC! A Students Guide to Deaf Community Terminology PDF E-books so that – these will already be included with the new curriculum
• Bonus Vocabulary Study Sheets, Worksheets, and Sentence Practice Worksheets so that – these will no longer be offered with the new curriculum

• Bonus Anki Digital Vocabulary Flashcards so that – these will no longer be offered with the new curriculum
More and more people are learning
https://www.startasl.com/wp-content/uploads/happy-birthday-to-deaf-custodian.png
480
1024
Katelyn Cheng
https://www.startasl.com/wp-content/uploads/StartASLlogoFinal-1.png
Katelyn Cheng
2022-08-15 15:43:31
2022-08-25 22:19:43
American Sign Language Increases Deaf Awareness and Touches Hearts