For their appearance on the UK television show Strictly Come Dancing, Deaf TV star Rose Ayling-Ellis and her professional dance partner Giovanni Pernice won the Must-See Moment BAFTA, an award category that's voted for by members of the viewing public. During their ballroom dance to the band Clean Bandit's song "Symphony," the music was switched off for a few seconds as the pair danced in silence. Rose, an actor from the popular British soap opera EastEnders, became Strictly Come Dancing 's first Deaf contestant. She powerfully brought society's notions about the Deaf community into the limelight through her stellar performance on the show.
Strictly Come Dancing is a televised British dance contest that features celebrities who partner with professional dancers to compete in mainly ballroom and Latin dance routines. Each couple is scored on their dances by a panel of judges. And the BAFTA is an annual award given by the British Academy of Film and Television Arts to honor the year's best British and international contributions to movies and television.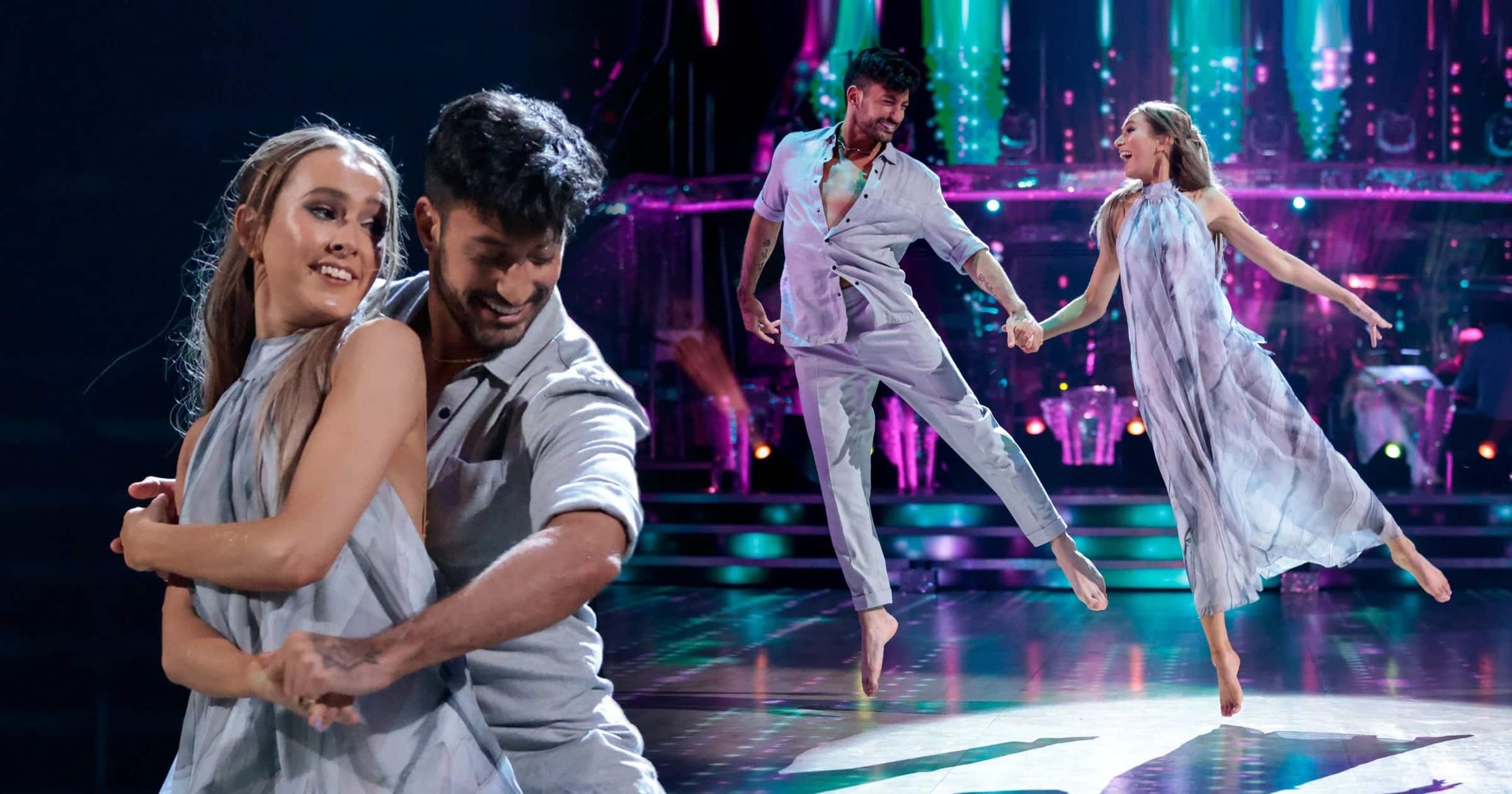 BAFTA Presenter Impresses Audience with Her Signing Ability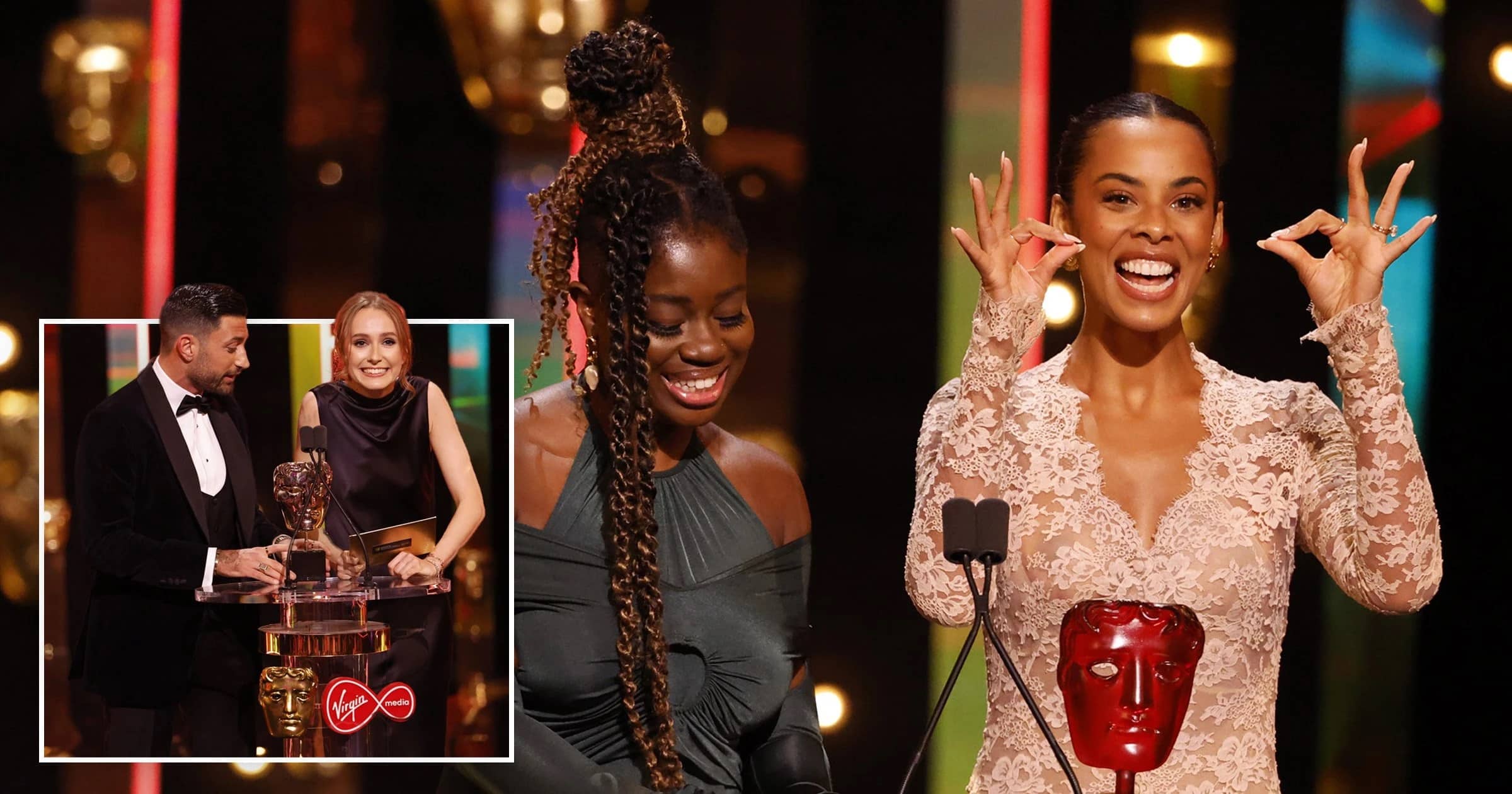 English singer and television presenter Rochelle Humes handed Rose her BAFTA in the most touching way by announcing the winner in sign language. Ms. Humes was on stage with British radio DJ Clara Amfo for the award presentation. While presenting the award Ms. Humes was impressive in using her excellent signing skills, much to the enjoyment of audience members and viewers at home.
Rochelle gave out the BAFTA trophy for Must-see Moment, which went to Strictly Come Dancing winners Rose and her pro partner Giovanni Pernice. As Clara read out that Rose had won the award, Rochelle wore a broad smile and signed in British Sign Language (BSL), "The winner is Strictly Come Dancing." Meanwhile, Rochelle looked straight at Rose and the Strictly Come Dancing group sitting in the audience.
BSL is now an Official Language in Parts of the United Kingdom
Rochelle's noteworthy action was in synch with the new UK law that recognizes British Sign Language (BSL) as an official language in England and Wales. The long-awaited legislation has been warmly welcomed by both academics and Deaf people alike.
The momentous new law follows many years of campaigning by members of the Deaf community and their supporters. The campaigners' efforts sought official recognition of their language and their right to gain access to public services such as health care and education by means of sign language.
Ms. Ayling-Ellis' Achievement had a Powerful Effect
Rose was the first Deaf contestant to ever appear on Strictly Come Dancing, and lifted the show's glitter ball trophy as the winner in 2021. With her BAFTA trophy for Must-see Moment, she now has another award to add to her growing collection. During the sixth week of Strictly Come Dancing, Ms. Ayling-Ellis and Mr. Pernice achieved a score of 40 for the tango they danced. This accomplishment represented the earliest "perfect score" obtained in the history of the show and was a big win for Deaf performers around the world.
Then in week eight, the pair's Couple's Choice dance featured the above-mentioned period of silence, incorporated into the routine as a tribute to the world's Deaf community. Strictly Come Dancing judge and ballroom dancer Anton Du Beke described this segment as "the greatest thing [he'd] ever seen on the show." Along with the Must-See Moment BAFTA for 2022, the dance earned Rose Ayling-Ellis and Giovanni Pernice the 2021 Unmissables Award for TV Moment of the Year from the English entertainment magazine Heat.
Rose Started Out being Shy about Her Deafness
Nowadays Ms. Ayling-Ellis is a poised and confident performer, but while going to a mainstream school in Kent, England she was a shy teenager. Despite being introverted at the time, she developed a passion for acting after attending a weekend course conducted by Britain's National Deaf Children's Society. However, in those days there were few Deaf actors to use as role models, says Rose, who uses BSL and frequently performs using sign-supported English (a signing technique that adheres to English grammar rules).
After graduating from art school she supplemented her acting work with sewing jobs. She never believed she could be a full-time actor because she never saw deaf people on TV. However, a part in a BBC miniseries led her to hire to an agent and land her current role in EastEnders.
Rose Ayling-Ellis uses Strictly Come Dancing as a Platform for Deaf Issues
Ms. Ayling-Ellis took the chance to appear on Strictly Come Dancing for the same reason that other celebrities do – to have a great time. But when she describes the many structural and emotional hurdles that Deaf performers have to face on TV, it's clear that she wanted to use the platform to address them. She says that progress for Deaf entertainers is being made, but it's slow.
She stresses that it's not enough to simply have Deaf people in front of the camera. More need to be behind the camera as well, working as writers, producers, and directors. "We still need to keep going, and keep the pace. We need people behind the scenes because that's what makes it authentic and real to what Deaf people's experiences are like," she adds.
On Strictly Come Dancing, staff members including the show's judges, and presenters received professional training in deaf awareness. The producers and professional dancers also learned some BSL, and Ms. Ayling-Ellis had an interpreter on set. While she's full of admiration for the show's dedication to accessibility for the Deaf, she also says Deaf people are worthy of nothing less. "If you put the right support in place, get it all set up, then I can do my job as easily as anyone else."
Providing a Role Model for Deaf People is Her Goal
Rose wants to reflect the image that she failed to see in the entertainment industry when she was growing up. Many Deaf children come from hearing families, and some may be the only Deaf students in their schools. "Hopefully, it will give them the realization they can do whatever career they want," she says. "Nothing is impossible, and I know that a lot of Deaf children grow up in a society that thinks it's not possible. But no – you can do it."
Now that Ms. Ayling-Ellis has won the glitter ball trophy on Strictly Come Dancing and a BAFTA, she wants to go on demonstrating that the opportunities for Deaf people are limitless when the barriers are removed.
Rose also uses other Means to Promote the Deaf Cause
In 2022 Ms. Ayling-Ellis has also brought Deaf inclusion to the forefront of public attention  through a number of other groundbreaking efforts. In May of 2022 she became the first celebrity who used sign language to tell a bed time story on CBeebies, a British children's public TV channel run by the British Broadcasting Corporation. And in August 2022 she presented to the public the first Deaf Barbie doll outfitted with behind-the-ear hearing aids. The event was part of her campaign "Rose, Barbie and Friends," which features a number of diverse dolls. They include a Ken doll with vitiligo (a condition where the skin loses its pigment), a new Fashionista doll with a prosthetic leg, and a wheelchair Barbie doll.
In an interview with the National Deaf Children's Society, Ms. Ayling-Ellis said that she often needs to perform using Sign-supported English (SSE) to reflect her personal communication style and make her words clear to her audience. In addition, her deafness has not stopped her from enjoying music. She told the British newspaper The Guardian that her favorite musical artists are Dolly Parton and Stevie Wonder, and that she is also a great fan of soul music.
Regarding her ability to appreciate music she says, "I have a hearing aid, so I pick up some of the music and I can hear the beat. I can hear someone singing, but I can't identify exact words. I also feel the vibrations."