by Adam B.
(United States)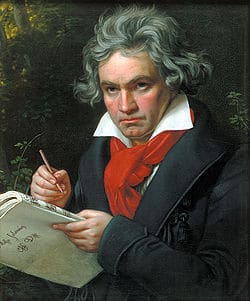 A portrait by Joseph Karl Stieler, 1820
For me, it is extremely hard to decide between Ludwig Van Beethoven and Helen Keller. Honestly, my favorite *historical* figure is Beethoven. Beethoven is very influential and overall impressive in the things he did. Around age 41 (approximate), he was almost completely deaf. Yet, using tools such as his rod attached to the sound of the soundboard of his piano that he could bite to feel the vibrations of the sound, he continued to write beautiful music. As a musician, this is truly inspiring and impressive to me.
Now, my favorite deaf *idol* has to be Helen Keller. Even more of an idol was her instructor, Anne Sullivan, who had enough patience to deal with Helen's overly ignorant and feisty self as a child. Yet, Helen as an adult was very strong in the community, proving that anything is possible in the education of the deaf and the blind.
If I had to choose, it would probably be Beethoven. But as I said, I have separate opinions about both, and find it difficult to choose between them.
Comments for Beethoven or Helen Keller?