by Anonymous (03/25/2020)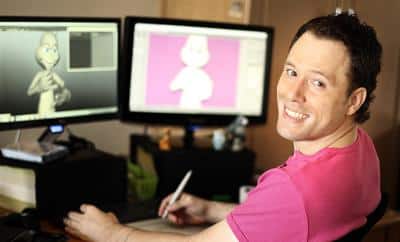 Braam Jordaan was born in Benoni, South Africa in 1981. He was born "profoundly deaf to deaf parents". Jordaan and his family moved to Cape Town, South Africa and attended high school at De La Bat School for the Deaf. This is where Braam first discovered his knack for political activism. Braam attended his first-ever Deaf Youth Leadership Camp when he was sixteen and was elected to attend the National Youth Policy Commission.
These activities he participated in at a young age helped Jordaan grow and mature enough to become a representative of the World Federation of the Deaf (WFD). The WFD works closely with the United Nations to ensure that rights for deaf people all around the world are respected. They do this by improving access to services for deaf people, especially in developing countries. This includes working with the International Labor Organization (ILO), the World Health Organization (WHO), and the International Disability Alliance (IDA).
Braam Jordaan has traveled all around the world to fight for the rights of deaf people. In 2012, Jordaan traveled to Hong Kong for the International Deaf Film Festival. There he made efforts to convince their government to develop sign language curriculum and to increase the amount of accessible sign language interpreters. Jordaan's films portray deaf individuals as fully human and do not draw any special attention to their condition. By doing this. Braam is normalizing deafness so that deaf people may be more meaningfully portrayed.
In 2014, Jordaan was selected as one of NBC News 25 Most Inspirational Stories of the Year for creating an American Sign Language version of Happy by Pharrell Williams. Just last year, Jordaan won the Order of the Baobab, for raising awareness of sign language rights through literature and media.
Braam Jordaan was also made quite an impact on social media. Jordaan launched the #WHccNow campaign, which stands for White House Closed Caption Now. This campaign was to get the White House to add closed captioning to all of their web videos. The campaign was a great success and now all of the videos on the White House Facebook offer closed captioning or "have open captions burned into the video".
Braam Jordaan said that "Advocacy work can be very tough and cumbersome, but it can also be a very rewarding experience, especially when you see the difference you are making in people's lives… I have undertaken high-level engagements all over the world in a number of different roles, but this event is one of [the] very special ones." He said this after being invited to the White House's Office of Public Engagement. For even the greatest philanthropist, being invited to the White House's Office of Public Engagement is a once in a lifetime opportunity.
Throughout his life, Braam Jordaan has accomplished so much for the Sign Language community. Jordaan's story is truly an inspiration to anyone who hears it. From his many films, and books, Jordaan proved that members of the Sign Language committee can accomplish just as much as anyone else.
Work Cited
Griffin, Emily. "#WHccNow Campaign Succeeds in Getting Closed Captions on White House Video." 3Play Media, 3 June 2019, www.3playmedia.com/2015/12/31/whccnow-campaign-succeeds-in-getting-closed-captions-on-white-house-video/.
Jordaan, Braam. "#WHccNow White House Closed Captions Now Social Media Movement." #WHccNow White House Closed Captions Now Social Media Movement, braamjordaan.com/.
"Mr Braam Jordaan: The Presidency." Mr Braam Jordaan | The Presidency, www.presidency.gov.za/national-orders/recipient/mr-braam-jordaan.
Ngwenya, Jabulile S. "'People with Disabilities Have Rights'." IOL, IOL | News That Connects South Africans, 12 Nov. 2016, www.iol.co.za/news/politics/people-with-disabilities-have-rights-1954088.
Braam Jordaan
by Anonymous
Braam Jordaan was born profoundly Deaf to Deaf parents in Benoni, Johannesburg. He has achieved outstanding art recognition both locally and internationally. After graduating from TAS, he worked for several high-end film and animation companies on high-end projects for BMW, Coronation, Nampak, Mitsubishi, Yardley, Musica, World Wildlife Fund, Rabea Tea, American Eagle and Graça.
He is perhaps best known for his enchanting one-minute animation entitled "The Rubbish Monster," which garnered no less than 12 awards, including Multichoice Vuka!, 11th Seoul International Cartoon & Animation Festival (SICAF), 5th KAFI and Animation Exchange Best of the Best. "The Rubbish Monster" was featured in The Filmmakers' Guide to South Africa: 10th Anniversary Edition as "The Review of the Decade". It led to Cambridge University Press publishing his children's book adaptation by the same name in 2009.
He developed and animated a rabbit character for the first online animated Sign Language Dictionary internationally for the Deaf Culture Centre in Toronto, Canada, and Sipho the Lion, the official mascot of the XVI World Congress of the World Federation of the Deaf (WFD).
He specializes in film production and transfiguring creative concept into high-end and award-winning animation, visual effects and media. He continues tirelessly to promote Sign Language and the Human Rights of Deaf people worldwide through his colourful spectrum of work.
Source: braamjordaan.com