Deaf culture art, I think, is a cultural art that reaches both positive and negative ends of the spectrum unlike any other. I have truly learned so much about the Deaf simply by seeing the artwork that Deaf Culture produces.
Deaf people have experienced many negative life changing events throughout history. They've been strongly oppressed and labeled as "non-humans" in the early centuries and even have been forbidden to sign.
Deaf people have also experienced the strong positive connection and community when learning sign language for the first time–like finally finding the light in a dark tunnel.
All of these positive and negative life experiences of the Deaf can and have been expressed through Deaf Art. The effects of the world on the Deaf can clearly be seen in how Deaf artists express themselves on canvas.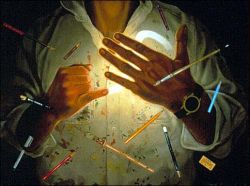 My favorite Deaf artist is Chuck Baird. I think his art truly glorifies ASL and accurately portrays its beauty. One of my favorites of his is shown to the left. The sign for "art" is combined with an array of the various art mediums in this piece. I love it.
ASL is a visual language and is not written. So, it would seem obvious that the Deaf would be very keen on the visual arts. There are many famous Deaf artists who have continually and accurately portrayed the Deaf experience on their media of choice. Deaf culture itself is even passed down "verbally" through storytelling, theatre, and performances–not through books like the hearing culture.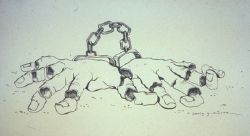 One of my favorites in the Deaf Art medium is Ameslan Prohibited by Betty G. Miller. It is shown in the picture on the right. Betty truly portrays how Deaf people felt when Ameslan was forbidden.
The best website for Deaf culture art is Deaf Art/Deaf Artists. This website includes many, if not all, of the famous Deaf artists and their work. I suggest you look through that site. You will gain more of an understanding of Deaf culture and the Deaf world than anyone could ever tell you.
Deaf culture art is more than just a painting or a drawing. It brings the Deaf community together. Deaf culture art puts the feelings that many Deaf people experience on canvas.
The strong negative and strong positive feelings that are shows in art of the Deaf are usually not felt only by the artist. These feelings are widespread throughout the Deaf community. Looking into Deaf art, you can look into the heart of a Deaf person.
The Best Deaf Culture Art Books
Please note that when you choose to purchase through the external links on this website (in many but not all cases) we will receive a referral commission. However, this commission does not influence the information we provide in this site. We always give honest opinions and reviews to share our findings, beliefs, and/or experiences. You can view our full disclosure on this page.
https://www.startasl.com/wp-content/uploads/StartASL_logo_white-1-300x64.png
0
0
Michelle Jay
https://www.startasl.com/wp-content/uploads/StartASL_logo_white-1-300x64.png
Michelle Jay
2010-10-01 17:32:59
2018-04-24 13:11:52
Deaf Culture Art / Deaf Art