A huge event that occurred in Deaf history was the Deaf President Now (DPN) movement. When I first started learning American Sign Language, this was the first event in Deaf history I learned about. I didn't know whether it was because the event was fairly recent, or because it was such a big deal.
It was such a big deal.
DPN was a huge protest at Gallaudet University that started in March of 1988. The students, faculty, and staff at the university as well as the national deaf community were united and fought together for one clear goal…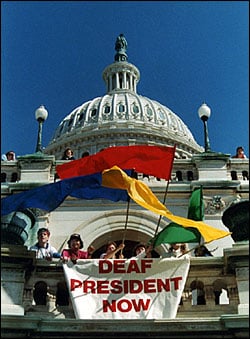 To finally have a deaf person run the world's only deaf university–Gallaudet.
When it came to election time, the University's Board of Trustees chose a hearing candidate, Elizabeth A. Zinser, as Gallaudet's seventh president. After six hearing presidents, the staff, faculty, students, and alumni of Gallaudet were ready for a deaf president.
However, the Board of Trustees chose a hearing candidate over two qualified deaf finalists instead.
Everyone was stunned. Including me, when I learned about it. They immediately demanded that a deaf president replace Zinser. A protest broke out. The protestors shut down the entire campus during this movement. They blocked campus entrances; no one could enter the school. Many were arrested and put in prison. These protestors made national headlines. As a united group, the deaf were going to do everything possible until they got their way.
Zinser finally resigned after a week of these protests. I. King Jordan, a faculty member of Gallaudet, became the first deaf president of the University.
The DPN movement unified deaf people of every age and background. They collectively fought until they were heard. They triumphed and proved that they don't have to let society take control of their culture.
That is why this was the first event I learned about.
For more in-depth information about the protests in 1988, visit this DPN section of the Gallaudet University website. That part of the Gallaudet website is the most informational piece I have ever seen about DPN.
The Best DPN Book
Deaf President Now!: The 1988 Revolution at Gallaudet University
Understanding the Deaf President Now movement is critical to understanding Deaf Culture. To read more about DPN and gain a more in-depth understanding about what happened that year, we highly recommend this book.
Please note that when you choose to purchase through the external links on this website (in many but not all cases) we will receive a referral commission. However, this commission does not influence the information we provide in this site. We always give honest opinions and reviews to share our findings, beliefs, and/or experiences. You can view our full disclosure on this page.
---
"Introduction."
DPN Anniversary
. Gallaudet.edu. 22 Aug. 2008 (https://pr.gallaudet.edu/dpn/issues/HISTORY/newhistory.html).