Disney Princess Brings Joy to Deaf Child by Communicating in American Sign Language
Communicating with another person in your own language has a special impact when you're in an unfamiliar environment. This is especially true for members of the Deaf and Hard of hearing (Deaf/HoH) community. Many may feel isolated because it's often challenging to communicate effectively in American Sign Language with family members, peers, and especially strangers. For 11-year-old Zoe Tapley, this feeling was unexpectedly overcome at Disneyland in Anaheim, California.
Background on Zoe
Zoe is Deaf, and her parents, Jesse and Jeanette, typically have to interpret conversations for her when she's out in public. In places like theme parks, they wander around enjoying the sites with Zoe. Meanwhile, they help make her aware of her surroundings. They must stop periodically at check-in spots where they discuss what's happening around them using American Sign Language (ASL).
The Story of the Magical Moment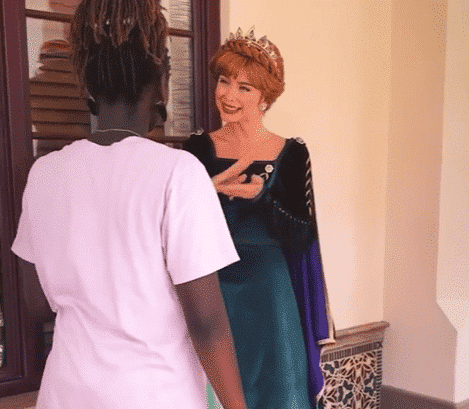 However, things were different during the family's 2022 visit to Disneyland. As Zoe and her parents were meeting various Disney characters, Zoe approached the actor dressed as Princess Anna from the movie Frozen. Zoe signed "Hello" in ASL, and the actor playing Anna immediately realized that Zoe was Deaf. She then looked toward Zoe's parents and asked, "Can I sign?" When Zoe's father Jesse said "Yes," Anna interacted with Zoe in American Sign Language.
Zoe and Anna then signed with each other about topics ranging from Zoe's favorite Disneyland rides to how Zoe had been adopted from the Congo. It was a wonderful experience for Zoe's parents to see their daughter fully enjoying her time at Disneyland by communicating independently through American Sign Language. 
The fact that Zoe's growth in learning ASL was being revealed during the exchange added to its importance. Seven years earlier, when Zoe was adopted, she did not know how to sign. She was extremely quiet and shy at the time and didn't know how to pick up a language. Since then, she has tried hard to improve her sign language skills at school and with her parents.
Reaction from Zoe, Her Family and People around the World 
This was Zoe's second visit to Disneyland. But according to her mom Jeanette, it was the first time she was able to interact with a Disney character through American Sign Language. Jeanette said it was thrilling to see her daughter use ASL with a character at the park. Zoe's father, Jesse, added, "It was one of those things where she got to feel the magic rather than being filtered through mom and dad."
The Tapley family had met a lot of Disney characters, but this was the first time one of them had an in-depth conversation with Zoe in American Sign Language. The family was brought to tears seeing that Princess Anna knew more than just rudimentary ASL and could use the language to converse in depth with their daughter.
In describing Zoe's reaction to the encounter, Jeanette said, "Zoe was in shock. She was so excited to be chatting with a princess without my husband or I having to jump in and assist her. She just kept saying, 'Wow!' We all just cried because it was so special and surprising!" Jeanette captured the touching encounter on video and posted it on TikTok. 
Since then, the clip has received over two million views and more than 450,000 likes from people around the globe. Its caption reads, "Zoe has never been able to chat with a princess without Jesse or myself interpreting. This was magical. Thank you, Princess Anna, for making our trip so special!"
Why This American Sign Language Story Matters 
For decades Disneyland has been a magical place to visit, but recently the Disney management has been working diligently to enhance the magic even more. Since 2010 they've been making the Disney theme parks more inclusive of Deaf and Hard of hearing guests. And their efforts are paying off.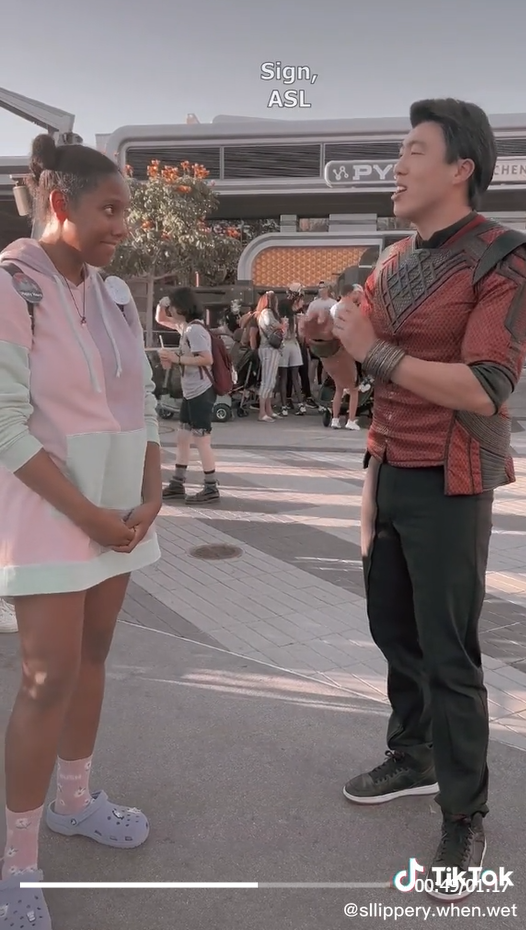 Zoe's experience is one of many where a Disney character used American Sign Language as a communication tool. For example, in 2016, a video of their Captain America character signing with a guest went viral. And in September 2022, an actor portraying the Marvel character Shang-chi at Disney California Adventure also communicated with a guest in ASL.
As Jeanette says, "Disneyland actually has some great services for hearing impaired, and early in that trip we went and watched a show that had interpreters. It is based off a schedule that is found on Disney's website."
Indeed, it's now official policy that visitors to both Disneyland and Walt Disney World have continual access to the services of sign language interpreters. They can also attend sign language-interpreted shows on a regular basis.
Jeanette adds that the more Deaf-friendly a place like Disneyland can be, the better it is for the Deaf and Hard of hearing community. Those who aren't Hard of hearing or Deaf and aren't exposed to the population may fail to appreciate how difficult it can be for Deaf/HoH people to find their way around such places. It takes management listening to the needs of diverse communities and people with differing abilities to know what's helpful to them and what may be harmful. 
On this topic, Jeanette says, "When Deaf friends can come in and feel safe and included, wow! What a gift! I think it would make for a more popular travel destination and it would make Disney stand apart!"
Impact on other Deaf/Hard of Hearing Families and on Society at Large
Those who watched the online video of Zoe Tapley signing with Princess Anna at Disneyland got a powerful and inspirational message. Such stories matter to the Deaf and Hard of hearing community because they're empowering. They convey the idea that Deaf/HoH people have a place in the broader society and are included and appreciated. 
Zoe's interaction at Disneyland left the Tapley family feeling good, as have the notes that Zoe's been receiving from fans of the video. As Jeanette says, "We are just so thankful. Zoe has loved reading notes from people, she feels seen and loved and it's been really fun to know that she is not alone. We are SO incredibly thankful to Princess Anna for loving our family like this. We are forever bonded and I believe that she will be Zoe's favorite princess for all of time."
The communication between Zoe Tapley and Princess Anna was certainly a moment to remember. Hopefully, in the future, more Deaf/HoH children like Zoe can meet their favorite Disney characters and communicate with them freely and openly, just as other guests do.
An Inspiration for More People to Learn American Sign Language
The Walt Disney Company's growing efforts to be more inclusive of D/HoH guests can help to promote greater awareness of Deaf culture and enhance its visibility in our society. It may also inspire hearing parents, friends, and family members worldwide to learn sign language to better communicate with their Deaf or Hard of hearing loved ones.  
As more videos of Disney characters interacting with Deaf/HoH guests are distributed to a global audience through the internet, Deaf awareness and knowledge of sign language will increase. The process will also encourage people to learn sign language in person or through online resources like Start ASL. This, in turn, can lead to greater acceptance and inclusion for the worldwide Deaf/HOH community.
What's more, the Disney initiative has the potential to inspire other companies to follow suit and recognize the importance of communicating in sign language with Deaf and Hard of hearing individuals. Doing so can open up a new realm of possibilities for all types of businesses in today's increasingly diverse and interdependent global society.