by Natalie Picone | August 27, 2016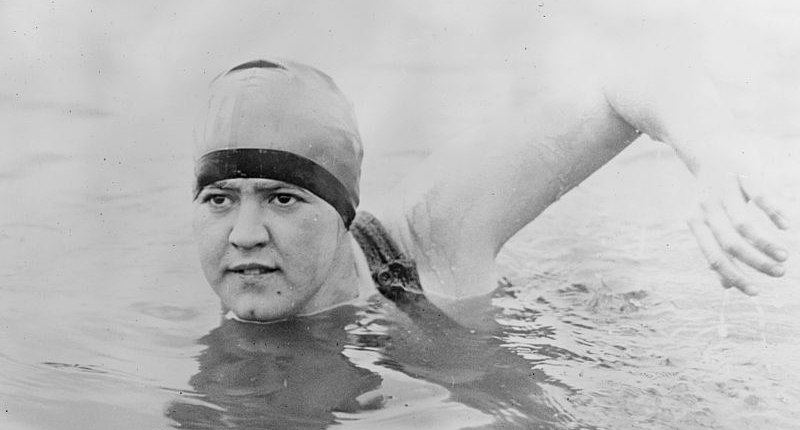 In 1926 at the age of 19, Gertrude Ederle was the first woman to swim across the English Channel.  Twenty-one miles from Dover, England to Cape Griz-Nez.
Gertrude was born to German immigrants in New York City on October 23, 1905.  She was one of five children.  Ederle did not learn to swim until she was 9 years old.  At 15 she learned proper swim form.  At the age of 17 she competed in the 1924 Paris Olympics and won a gold medal in the 4 x 100 meter relay and a bronze in the 100 and 400 meter freestyle races.
August 6, 1926, 7:08am, Gertrude Ederle coated her body with lanolin to protect her from jellyfish stings and the water's cold temperature and she started her swim across the English Channel.  At 12pm and 6pm she encountered squalls and her coach, T.W. Burgess, urged her to end the swim.  Gertrude's father and sister who were riding in the boat along with Burgess agreed with Gertrude that she should stay the course.  Gertrude Ederle's father had promised her a new roadster at the end of the swim.  He would call out to her as she swam and remind her that she only would receive the roadster if she finished!  Gertrude persevered through storms and swells and she reached the English coast at 9:04pm.  Fourteen hours and thirty-one minutes in the water.  She was the sixth person and first woman to swim the English Channel successfully.
Gertrude Ederle's accomplishment was celebrated by a ticker-tape parade in New York City, and she received congratulations from the Mayor of New York, Jimmy Walker and the President of the United States Calvin Coolidge, who called her "America's Best Girl" and invited her to the White House.
Ederle had a hearing problem since childhood and damaged her hearing during the English Channel swim which caused her eventual deafness.  She taught swimming to children at the Lexington School for the Deaf.  She never married and lived in New York City with several female friends.
Gertrude Ederle died in 2003 at the age of 98.  The Gertrude Ederle Recreation Center bears her name on the Upper West Side of Manhattan, close to where she learned how to swim.
Sources: https://www.biography.com/people/gertrude-ederle-9284131