Helen Keller is an internationally acclaimed author and lecturer. And that is so amazing because she is also deaf and blind.
When I was in elementary school, I remember learning all about Helen Keller. I even did a report on her and dressed up as Anne Sullivan in the 4th grade. Helen has to be the most famous deaf-blind person who ever lived.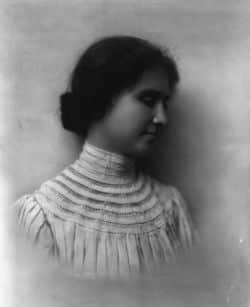 Helen was born in Tuscumbia, Alabama in 1880. She lost both her sight and hearing when she came down with meningitis at only eighteen months old.
Despite the fact Helen was virtually unable to communicate; her parents were determined to find a tutor for her because they believed she could learn. They finally met Anne Sullivan, and their hopes were fulfilled.
Anne graduated from the Perkin's Institute for the Deaf and Blind in Boston (where Laura Bridgman–the first Helen Keller–was educated). Anne herself was partially blind, but she learned the manual alphabet while she was a student at the Institute.
Anne Sullivan taught Helen the manual alphabet by pressing the handshapes into Helen's palm. Helen was soon able to read Braille and write with a special typewriter. Helen also eventually learned to speak by feeling Anne's throat as she spoke and imitating the vibrations.
Helen made history in 1904. She was the first deaf and blind person to graduate from college. She graduated from Radcliffe College with honors.
Even before she earned her degree, she was a published author. The Story of My Life was released in 1903 as her first book. She later published many other books including The World I Live In in 1908, Let Us Have Faith in 1940, and The Open Door in 1957.
Speaking about war, capital punishment, and child labor, Helen Keller lectured all over the world for most of her life. As a champion for people with disabilities, she provided inspiration for those who might have otherwise lost hope.
Anne Sullivan was a constant companion to Helen until her death in 1936. At the age of eighty-eight, Helen died in 1968 in Westport, Connecticut. Playwright William Gibson's The Miracle Worker was based on Anne and Helen's lifelong friendship.
Helen is truly an inspiration to all people–not just people with disabilities. She proves that anything can be accomplished through hard work, dedication, and faith.
The Best Helen Keller Book
The Story of My Life
This book is absolutely fantastic. It seems that everyone knows the story of Helen Keller, but reading it in Helen's own words is very exciting. The book includes original letters written by Helen from the age of 8 as well as commentary of Helen's education, speech, and personality written by Anne Sullivan and others. We highly recommend this book for anyone interested in learning more about this inspiring woman.
Please note that when you choose to purchase through the external links on this website (in many but not all cases) we will receive a referral commission. However, this commission does not influence the information we provide in this site. We always give honest opinions and reviews to share our findings, beliefs, and/or experiences. You can view our full disclosure on this page.