by Kristen R.
(Oregon, USA)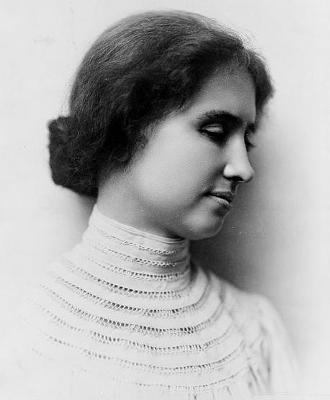 Courtesy of https://worldpersonalities.com. Original at https://worldpersonalities.com/personalities/helen_keller.jpg
Deaf History and Culture is something that not many people take the time to think about. However, very important lessons can be learned from these past mistakes and achievements. To me, Helen Keller is one of the most important people in Deaf History because she simply never gave up, and her story encourages others to not give up either.
When she was still a toddler, her parents lost hope. After taking her to see every specialist, every person that could even have a theory as to how to cure her or educate her, they believed that it simply couldn't be done. She grew up as a wild child, with no manners and no form of communication, except for one "word" that she had made up; she would touch her cheek as a sign that she wanted her mother. Indeed, she lived a very spoiled, lonely life in the years before Annie Sullivan came to give her life.
When Helen was a child, it was as though she was locked in a room with no light and no one else, and could not get out. Annie Sullivan gave her the key to unlock the door, and it was only a matter of time before she opened it and came out into the light. Once Helen was "accessible", she was eager for knowledge, devouring everything that came within reach, and imperiously demanding from Annie a name for everything.
This thirst for knowledge and acceptance never stopped. Although Helen wasn't the first deaf-blind person to be educated, she was the first to graduate from college–an accomplishment she performed with high honors. In time, she proved to everyone that she was just like everyone else, and had potential inside.
Helen Keller is a true role model, someone to be looked up to not just by the deaf-blind community, or even the disabled community in general, but by everyone. No matter what you have going against you, graduate from life with high honors.
Comments for Helen Keller: A Present Just Waiting to be Unwrapped