by Tina Douglass
(Kahlotus, WA)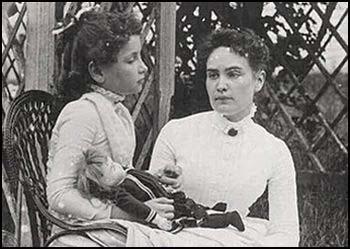 Helen Keller and Anne Sullivan
Helen Keller was born in Tuscumbia, Alabama on June 27, 1880. Her father was Arthur H Keller and her teacher was Anne Sullivan. Helen Keller at 19 months old got scarlet fever which left her blind and deaf.
As a deaf blind child who was badly spoiled because her parents didn't know how to connect to her besides giving her candy when she acted out and giving her her way because they could not communicate with her.
Then Anne Sullivan at age 21, half blind herself, came to teach Helen how to use sign starting with alphabet. After Helen realized water was w-a-t-e-r she realized what words were she later went on to college and writing novels which included The Story of My Life, The World I Live In, and My Religion.
She also took a interest in women's rights and the right to take birth control and rights for the deaf and the blind. Helen Keller and Anne Sullivan did many great things together and apart after finding each other.