by Abby Plump
(Haubstadt, IN)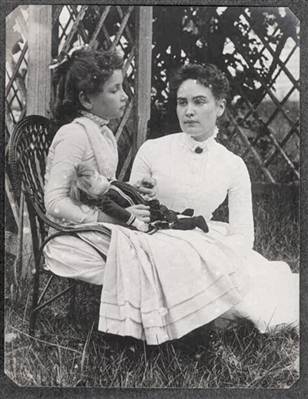 Helen Keller (8) with Anne Sullivan on vacation in Cape Cod
There are many great people in deaf history, ones that earned rights, encouraged signed language, started organizations, but what would that all mean if nobody ever put it to good use and showed what a deaf person can really do? That's why I chose Helen Keller.
Although she wasn't the first deaf-blind person to be educated, she is certainly honored as so. When she was very small, she was taught by Anne Sullivan, who taught her sign language and fingerspelling through pressing it into Helen's hands. Anne also taught her that she could take care of herself and do things by herself. Anne was by far her greatest teacher.
Helen was a great student, quick to learn and eager, and even though she was a deaf-blind, she passed through school with honors. As if this wasn't enough, she even passed college with the title of first deaf-blind person to graduate college, and as if that still wasn't enough, she did it with honors. As a deaf-blind person, she did more than most hearing people ever are able to do. She surpassed many records with her great academic feats. We can only imagine what her potential could have been if she could hear and see!
That's why Helen Keller is the greatest deaf person in history. Because of her accomplishments even with two great obstacles in her way. As a deaf-blind, she did more than most people have ever done or will ever do, and that cannot be beat.