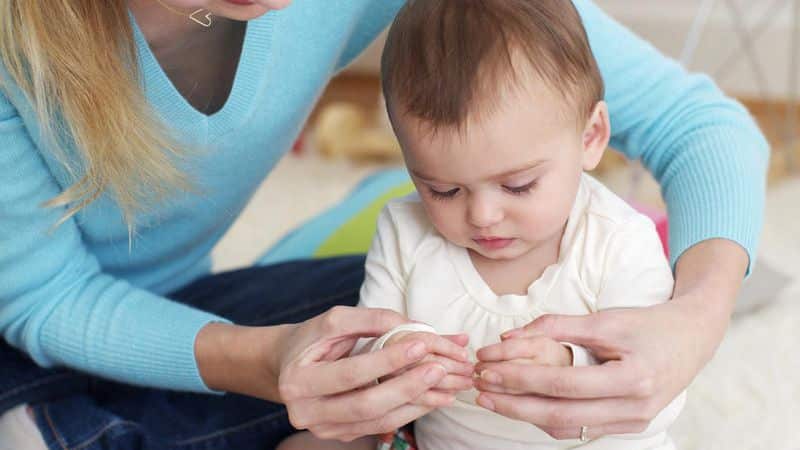 Learn Sign Language For Babies
Learn sign language basics such as eat, sleep, more, play, milk, etc. These basic signs are called baby signs. Many people get confused between Baby Signs and American Sign Language; they are not considered the same thing. According to the Baby Sign article, "As a result, this encourages a number of misconceptions about the Deaf community, Deaf culture, and Sign Language itself. Parents are misled into thinking that Sign Language is easier to learn than spoken languages, thus devaluing the language and Deaf culture as a whole (Barnes, 2010)." Baby Sign is taught by hearing parents, and they have no relationship with the Deaf community, are not familiar with Deaf culture, and are not fluent in American Sign Language. There are two ways parents can become certified in teaching Baby Sign: 1) Taking a day course or 2) Purchasing a "teaching kit. Typically as soon as the infant begins to speak, the communication is switched from using Baby Sign to verbal communication.
Why Learning Sign Language For Babies is Recommended
It is highly recommended to use Baby Sign to communicate with babies for many reasons. When babies are born, their brains immediately begin to develop and retain information. According to First Things First article, "From birth to age 5, a child's brain develops more than at any other time in life. And early brain development has a lasting impact on a child's ability to learn and succeed in school and life. The quality of a child's experiences in the first few years of life – positive or negative – helps shape how their brain develops." The babies' brains are able to learn signs and retain the memory of these signs much quicker. As a result, it is much easier for babies to use their hands to communicate. Babies start speaking their first spoken words between 12 to 18 months, whereas according to the article Parenting Science, "research suggests that some babies can start producing signs by the time they are 8-10 months of age." Whether the baby is deaf or hearing, Baby Sign is very useful and powerful in many ways.
Guide to Learning Sign Language and Using it with your Babies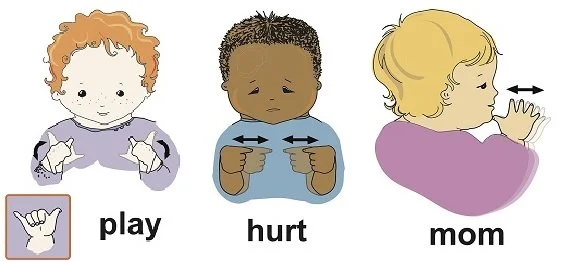 As a parent, you may wonder how you can get started in learning sign language and teaching your babies Baby Sign. Here are the fundamental common suggested signs you should begin with: mommy, daddy, again, eat, more, sleep, cold, milk, bath, bye-bye, cat, dog, I love you, and many more. According to parenting articles, it is essential to speak with the child and sign the term of that sentence at the same time. This is because the babies are receiving visual and auditory input of language, which the use of two senses is better than using one sense; the brain remembers it far better. For instance, "I see a butterfly" while signing the term "butterfly." With repetition, the child will eventually recognize their first term and the sign associated with it. The babies will either sign it to communicate with their parents or anytime they recognize a butterfly, they will sign "butterfly." Another example is when the parent is feeding the baby, and before handing the baby a drink, the parent will sign "drink," or before handing the baby food, the parent will sign "food," etc.
How Should a Baby Learn Sign Language? 
Babies that learn Baby Sign are far more powerful in communicating with their parents. Most infants are too young to talk. Signing is muscle memory, and when babies need or want something, instead of shouting, crying, and throwing objects, they can simply learn basic sign language such as more, eat, milk, hungry, etc. When babies are able to communicate, it reduces frustration for both the parents and their babies. The success of being able to communicate using Baby Signs also reduces babies' behavioral problems and "tantrums." In addition, when babies learn Baby Sign, it gives the infant a "head start" on language acquisition, and they are already developing their expressive and cognitive skills. This can lead to a sharp improvement in future academics. Studies show that when babies learn multiple languages while their brains develop, they become smarter and develop more creative and problem-solving skills. "A 2012 study done by the University of Strathclyde found that kids who speak two languages 'outperform children who speak only one language in problem-solving skills and creative thinking.' (Creative Healthy Family) When the kids grow up, they will have already developed communication skills and know how to approach situations in a mature and respectful manner.
In addition, when babies are able to communicate and successfully convey their emotions and thoughts, this boosts the babies' self-esteem. According to the article Signing Time, "Learning to use baby sign language at a young age will help your child to communicate more effectively when your little one is better able to communicate their wants and needs to you. Baby sign language allows your child to communicate their feelings, such as scared, excited, happy, sad, and more. Patterns and repetition encourage learning. It is easy for your child to develop a learned pattern of frustration and confusion when they are trying unsuccessfully to convey something to you—this can harm their confidence. When signing, your child may experience less frustration from miscommunication and may boost their confidence." The relationship and bond between the parent and baby is much stronger in a positive way, "Communication leads to connection. The more a child is able to successfully communicate, the more they will do so. When they are comfortable communicating with you, they are much more confident to reach out and connect. This can turn into a positive cycle of learning, connecting, and building confidence." In another article entitled Parents, Michelle Macias, M.D., chair of the section on developmental and behavioral pediatrics for the American Academy of Pediatrics, stated that using sign language with your baby gives you a peek into their thoughts, which helps cement your bond. The boost in confidence enhances the baby-parent relationships. They are happier and closer to each other because they can understand one another.
Learning Sign Language as Babies is a Positive Addition
When babies learn Baby Sign, this might lead to wanting to learn American Sign Language when babies grow up. In addition to English and a second language that the family speaks, they would know American Sign Language as a third language, which can enhance their resumes. In fact, they can become part of the Deaf community and have the ability to communicate with Deaf people. They can even get a career in signing and communicating with Deaf people. Babies who learn another language have higher IQs. According to Creative Healthy Family, "the sooner you start raising bilingual children, the smarter they will be (studies show)."
Learning Sign Language as Babies Creates Open Mindedness
The Deaf community's primary language is American Sign Language. When the kids grow up, and they want to continue to learn American Sign Language, they will also learn more about the Deaf community and culture. This is a plus for the Deaf community because when hearing people learn American Sign Language, they are already breaking down the communication barrier and becoming more aware of the Deaf community and culture. Kids will most likely encounter D/deaf people sometime in their lives, and when the hearing kids know basic signs, it can improve their friendships with D/deaf people. D/deaf people often struggle to make friends and fit in at their schools, so the more hearing people learn sign language, the more inclusive for D/deaf people. If you are looking to get started, Start ASL offers free courses, and if you are interested in learning more, you can learn sign language with Start ASL.