by JoEllen Foster
(Tyler, Texas USA)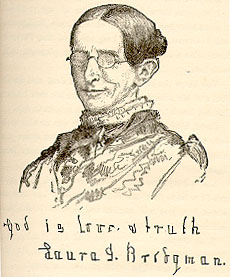 Laura Bridgman
Laura Bridgman is my favorite person from deaf history. She is my favorite person because she did something no one else had never done before her. She could not take information from former deaf-blind graduates. Laura had to figure out the best way to learn and study for someone who is blind and deaf.
Many deaf people rely on their sight when it comes to lip reading, and trying to figure out what someone who doesn't know sign language is saying. A lot of blind people rely on their hearing. I was sitting in class one time, and a blind girl was in front of me listening to her ipod. Her ipod fell, and I got up to get it and she said, "You don't have to get up I got it." She bent down and got it like it was no big deal!! I asked her about it after class, and she told me that she has relied on her hearing so much, that she wouldn't know what to do with her sight even if she got it back.
Laura Bridgman had nothing to rely on besides her touch and the people around her. She was a strong and amazing woman who does not receive nearly as much credit as she deserves.
Comments for Laura Bridgman