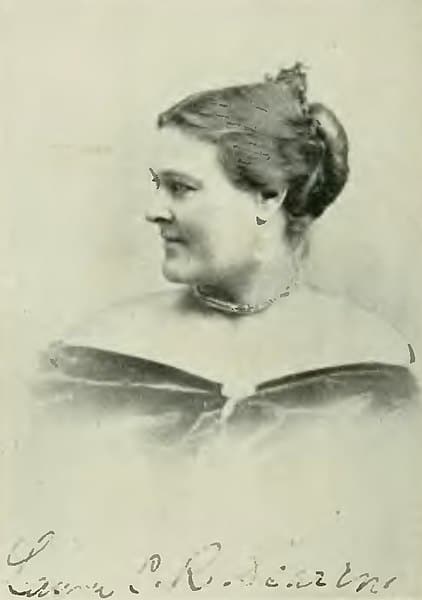 Laura Redden Searing was born in 1839 and is best known for being the first deaf female journalist. She was sent by the St. Louis Republican to cover the American Civil War in 1860 and lived a life where she never allowed her deafness or age to hold her back.
Laura Redden Searing Articles by Students
Laura Redden Searing
by Ellie Swanson | November 4, 2016
Laura Redden Searing was a female deaf poet and journalist in the late 19th century into the early 20th century. She was born in 1839 and died in 1923 and became deaf at the age of 11. She attended the Missouri School for the Deaf because it was no longer possible for her to attend her previous school. When she graduated she was offered a teaching position at the school but declined in hopes of making writing her career. She was an editor and author for many newspapers and early in her writing career she began using the pen name Howard Glyndon. One interesting detail related to her pen name was that it was not a secret that her real name was Laura Redden Searing because she often wrote it directly underneath the pen name. This is interesting because it shows that she was trying to define social norms by letting her readers know that she was a female writer, but at the same time she was received well because the official name on her writings was male. During the American Civil War Laura was sent to Washington D.C. to cover the war and she came to know several high profile individuals. She later traveled Europe, and studied under Alexander Graham Bell, and displayed her support for the teaching of sign language and lip-reading through her writing for the rest of her career.
I chose Laura Redden Searing because she showed society that anyone can follow their dreams, even women and the Deaf community. She used her writing to support her own culture as well as the individual right to express your opinion freely. I believe that she is important to Deaf history because she showed society that it does not matter if you can hear or not in order to be successful and follow your dreams.
https://www.deafpeople.com/history/
Laura Catherine Redden Searing
by Bryley Williams | July 3, 2017
Laura Catherine Redden Searing was born in 1839 in Maryland. When she was eleven years old, she lost her hearing due to meningitis. In 1855, Redden enrolled in the Missouri School for the Deaf, where she continued her education and learned sign language. Searing's first published essay was in the American Annals of the Deaf in 1858, about deafness, sign language, and writing. She graduated from MSD in 1858, but she was unable to go to college because she was deaf. She was offered a teaching position at MSD, but declined, and, instead, became the editor for the "St. Louis Presbyterian," a religious paper. Searing also published poems and began to write for the "St. Louis Republican, " where she began to use her pseudonym, Howard Glyndon.
During the Civil War, Searing went to Washington, D.C. as a war correspondent. She was very pro-Union and wrote poetry expressing her views. Searing published her first volume of poetry in 1862 called "The Idylls of War." She also published her book, "Notable Men in the House of Representatives." During the Civil War, Searing became friends with both Abraham Lincoln and Ulysses S. Grant.
After the war, Searing went to Europe, where she studied languages and reported on the silkworm and orange trades of Europe to the U.S. Department of Agriculture. During this time, she became to write for other news outlets, including "The New York Times" and "The New York Sun." She also fell in love with and got engaged to Michael Brennan, but, unfortunately, he died before they could get married. Searing would go onto marry Edward Searing in 1876 and have a daughter named Elsa, but the marriage didn't last and, eventually, they got divorced.
Searing also spent a time learning lip reading and speech with Alexander Graham Bell. Though she never learned how to lip read, she did learn how to speak, and she became an advocate for the teaching of speech in schools in addition to sign language.
In her later years, Searing lived with her daughter, son-in-law, and grandchildren in California. She passed away in 1923. Laura Redden Searing is an inspiration because she was not prevented from having a successful and fulfilling life and career by her deafness; in fact, she became a great advocate and writer about deafness and ASL in addition to other subjects. She even has a town named for her: Glyndon, Minnesota. Not many people can say that!
Introducing Laura
by Raquel Allende-Herbert (Victorville, CA USA) | March 8, 2013
My favorite deaf person from history could have been one of many. There were so many who had contributed to American Sign Language, to sports and to entertainment. I had to choose Laura Redden Searing to write about. I was drawn to her initially because she shares my mother's birthday, 100 years prior; she died on mother-in-law's birthday 10 years before mother's birth. I was starting to see her information call out to me. Then, because she shared my sister's name, I had to read more about her.
Laura Redden Searing was born hearing on February 9, 1839. She lost her hearing at the age of 11. It was not until she was 16 did she enroll in the Missouri School for the Deaf. She graduated in 1855 at the age of 20. A few years later, she missed her opportunity to go to college. The National Deaf Mute College opened in 1864 and did not accept women (as did many colleges at the time).
As Laura developed her professional career she was recognized for her poetry. She had tremendous skill with rhyme and rhythm. She became a columnist and editor. After some time she took the name of Howard Glyndon and wrote on politics. She wrote about the Civil War, human interests and corresponded to Abraham Lincoln and Ulysses S. Grant. Let's say she simply was a successful writer/communicator.
I admire the fact that, having lost her hearing at 11 years of age, she understood what she was missing. She had to have gone through a frightening life change at a crucial time in her life, puberty. For many, this kind of change would stop them in their tracks and stifle their dreams. She was skilled with rhythm and rhyme which, even for hearing, can be a challenge. If you asked me to write a poem, I'd be facing a blank screen for days! At the age of 35, she managed to charm and hook a lawyer for a husband. Not bad, dear Laura, not bad.
https://www.deafpeople.com/history/index.html
https://en.wikipedia.org/wiki/Laura_Redden_Searing