by Leah Ward
(Williamsburg, Virginia, U.S.)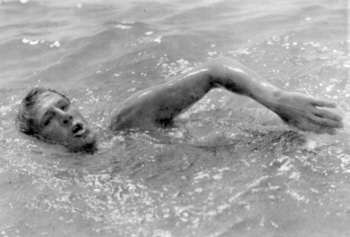 LeRoy Colombo
LeRoy Colombo was born on December 23, 1905 in Galveston, Texas. He was diagnosed with spinal meningitis when he was seven years old, which caused him to lose his hearing and the use of his legs. His brothers helped him to swim and within the next year he could walk again.
He became a lifeguard and he became a member of the Galveston toboggan surf club in 1923. LeRoy won a lot of swimming races and set a record that was added to the Guinness world book of records, by saving 907 lives.
He was not very appreciated, but that didn't bother him. When he was sixty two he was forced to quit life guarding because of a heart condition, he still kept his eye out for people in danger and did what he could.
Colombo died July 12th 1974. There is a plaque in Galveston on the beach now honoring him, along with awards and metals in museums.
Comments for LeRoy Colombo