Marvel Character Shang-chi Makes a Guest's Day by Signing American Sign Language at Disneyland Resort
Disney Actor Amazes a Visitor by Signing with Her in American Sign Language. During Disneyland's grand opening on July 17, 1955, founder Walt Disney proclaimed, "To all who come to this happy place, welcome!" Since Mr. Disney made his announcement, it's been a guiding principle for Disney parks worldwide. As Disney Chairman Josh D'Amaro says, "Walt Disney spoke these words during the dedication of the Disneyland Resort. More than 65 years later, they continue to inspire us – and remind us that the magic we make must include everyone."
Inclusivity is One of Disney's Five Guest Service Keys 
Mr. D'Amaro also says that the practice of inclusivity is essential to Disney's culture. In fact, it's part of the Walt Disney Company's five keys of customer service: safety, courtesy, show, efficiency, and inclusion. He adds, "We're bringing the spirit of the inclusion key to life across our business. We're reimagining our attractions to be more inclusive. We're celebrating the diverse and inspiring stories of our cast and fans with creator collaborations and exciting experiences." 
Disney Actor Amazes a Visitor by Signing with Her in American Sign Language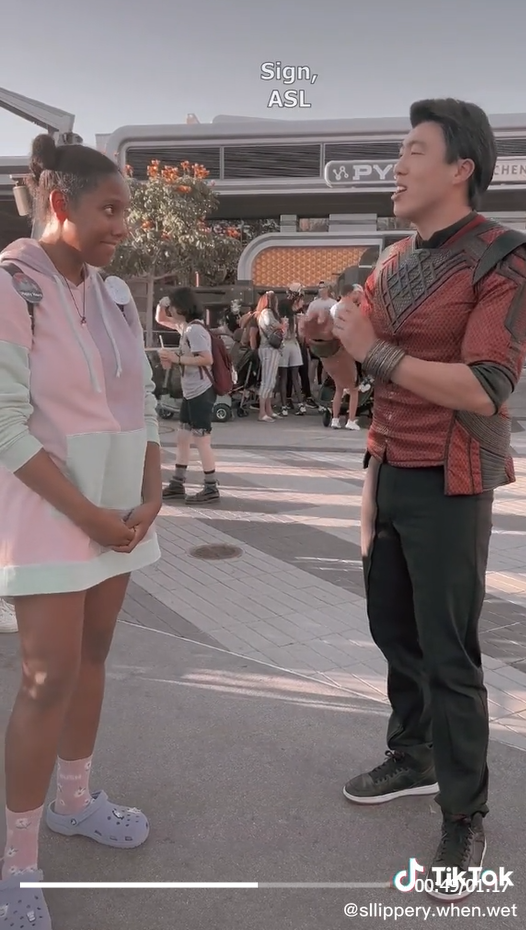 Recently, an actor portraying the Marvel character Shang-chi at Disney California Adventure's Avengers Campus put the company's inclusivity key into practice. The Avengers Campus is an area with a Marvel Cinematic Universe theme. The actor showed that no matter your background or how differently abled you might be, you're always accepted as an equal at a Disney theme park.
Shang-chi is the protagonist in the 2021 Marvel Cinematic Universe action film Shang-Chi and the Legend of the Ten Rings. The film features the superhero Shang-Chi, a martial arts expert looking into the mystical roots of his family tree. In doing so, he has to face his past when he's pulled into the web of the shadowy Ten Rings organization. 
Shang-chi is part of the growing list of Heroic Encounters that guests visiting the Disneyland Resort can experience firsthand. Shang-Chi is also among the most recent and popular additions to the Marvel superheroes lineup. This means the character is always present at Disney California Adventure, interacting with guests.
One day in September 2022, Shang-Chi was roving around the Avengers Campus when he met a visitor named Lili Jae. Lili is a young model and actor from Los Angeles who has appeared in films and plays such as Sister Act at Stage Door Repertory Theater in Anaheim Hills, CA.
Lili is also deaf, and the Shang-chi actor surprised her by starting a conversation in American Sign Language (ASL). The touching exchange occurred in front of the Avengers Campus' Pym Kitchen restaurant. 
As it occurred, the event was filmed by a park visitor nearby. The video was then shared with a worldwide audience via TikTok and also posted on YouTube by Good Morning America. 
The Interaction Reflects Disney Magic in Action 
The conversation begins with Lili telling Shang-chi in ASL that she likes the arm rings he's wearing as part of his superhero costume. Shang-chi then signs, "Thank you! It's nice to meet you." The Shang-chi actor next talks about learning ASL due to his father's influence, saying, "Sorry, my dad wants me to learn sign language," and adds, "It's been a long time since I practiced."
So, Lili asks the Avenger if he's learning many different languages and if so, which one is his favorite. He replies, "ASL" and she signs, "I like. Me too." The whole exchange is subtitled for the benefit of those viewers who don't know ASL.
It's a heartwarming moment between a Deaf guest and a Marvel action hero and represents a case of equal access for a person who might otherwise be excluded or marginalized. As such, the event is in line with Disney's growing emphasis on the inclusion key of customer service mentioned above.
At first, Lili appears surprised and excited that the actor portraying Shang-chi can understand her use of ASL. And she urges him to continue, although he apologizes for not being more proficient with his signing skills. At one point, he even solicits the help of an off-screen interpreter. But despite the actor telling Lili that he's a bit out of practice with signing, she's happy to help him brush up on his technique. 
Disney Magic is all About Inclusion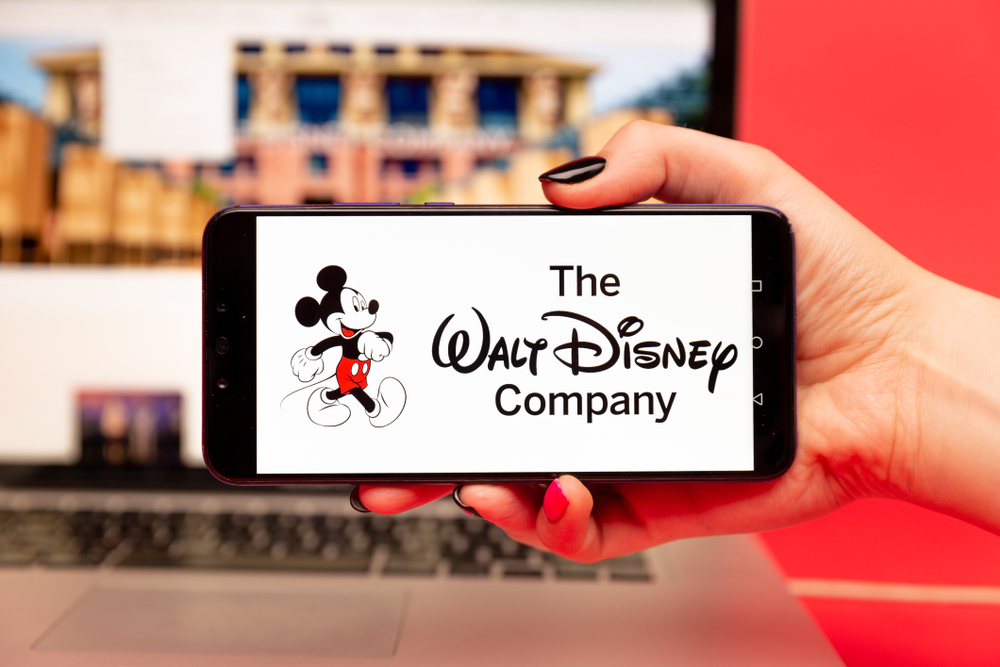 This incident shows that the administrators and staff of the Walt Disney Company are working hard to ensure their theme parks accommodate guests of all backgrounds and abilities. In fact, another Disney policy also reflects the company's inclusive approach to serving guests. Visitors at both Disneyland and Walt Disney World now have year-round access to sign language interpreters and can attend sign language-interpreted shows.
The interaction between the Shang-chi actor and Lili Jae represents a noteworthy case of someone who is typically left out of society being included through the thoughtfulness of another person. This scenario clearly displays Disney Magic, which began in 1955 with the opening of Disneyland and is alive and well today at Disney theme parks around the world. 
Another noteworthy point is that the actor portraying Shang-chi never broke his character while signing with Lili Jae. This made communication in sign language even more special for Lili. It also heightened its impact on the worldwide audience viewing the event on TikTok and Good Morning America. To see a Disney character play his role in a circumstance such as interacting with a Deaf person reinforces Disney's commitment to inclusion for all guests.
An Additional Interaction Bolsters Disney's Claim to Inclusivity
Another famous Disney character, Queen Anna from the hit 2013 movie Frozen, also practiced inclusivity with a Deaf guest at Disneyland. During a recent interaction, she used ASL with 11-year-old Zoe Tapley of New Braunfels, Texas, and made the girl's day. Zoe was shocked when she walked up to Anna, and the character started communicating with her in sign language.
The girl's mother, Jeanette Tapley, who later appeared on CBS This Morning, posted a heartwarming video of the exchange on TikTok. It has since chalked up more than two million views. 
Ms. Tapley said she was getting coffee when she noted that her friend's daughter was having "the sweetest conversation with Anna that ended in a precious hug and the cutest picture." Zoe was next in line, and when she stepped up and signed, "Hello" the actor playing Queen Anna immediately realized that Zoe was deaf, looked toward her parents, and asked, "Can I sign?" 
Zoe's parents thought the actor might know how to sign words such as "Hello" or "Nice to meet you." But they were both pleasantly surprised when the queen started a full-blown ASL conversation with Zoe. Zoe typically has to have her parents translate for her, so Ms. Tapley said they were "floored" when they saw that the actor knew ASL.
Disney's Inclusivity Policy has a Global Impact
Stories like these demonstrate what it's all about for the Walt Disney Company. It's easy to get caught up in the non-stop action and colorful surroundings when visiting Disney theme parks. However, the real magic of Disney comes from creating once-in-a-lifetime experiences for all the guests, no matter who they are or what their situation in life may be.
The sweet gestures by the two actors at the Disneyland Resort help to create a better world for the Deaf community. This is because videos of their interactions with Deaf visitors were filmed and distributed to a global audience via TikTok, Good Morning America, and CBS This Morning. Such broad media exposure inevitably helps to spread public awareness of the Deaf population and the value of sign language use. It also encourages people to learn how to sign, which can lead to greater acceptance and inclusion for the worldwide Deaf/HOH community.