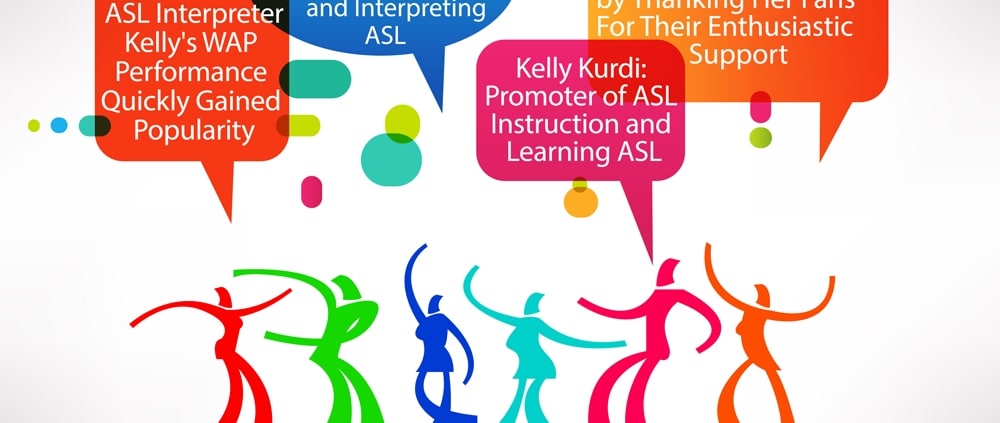 Megan Thee Stallion's Sign Language Interpreter Inspires People to Learn ASL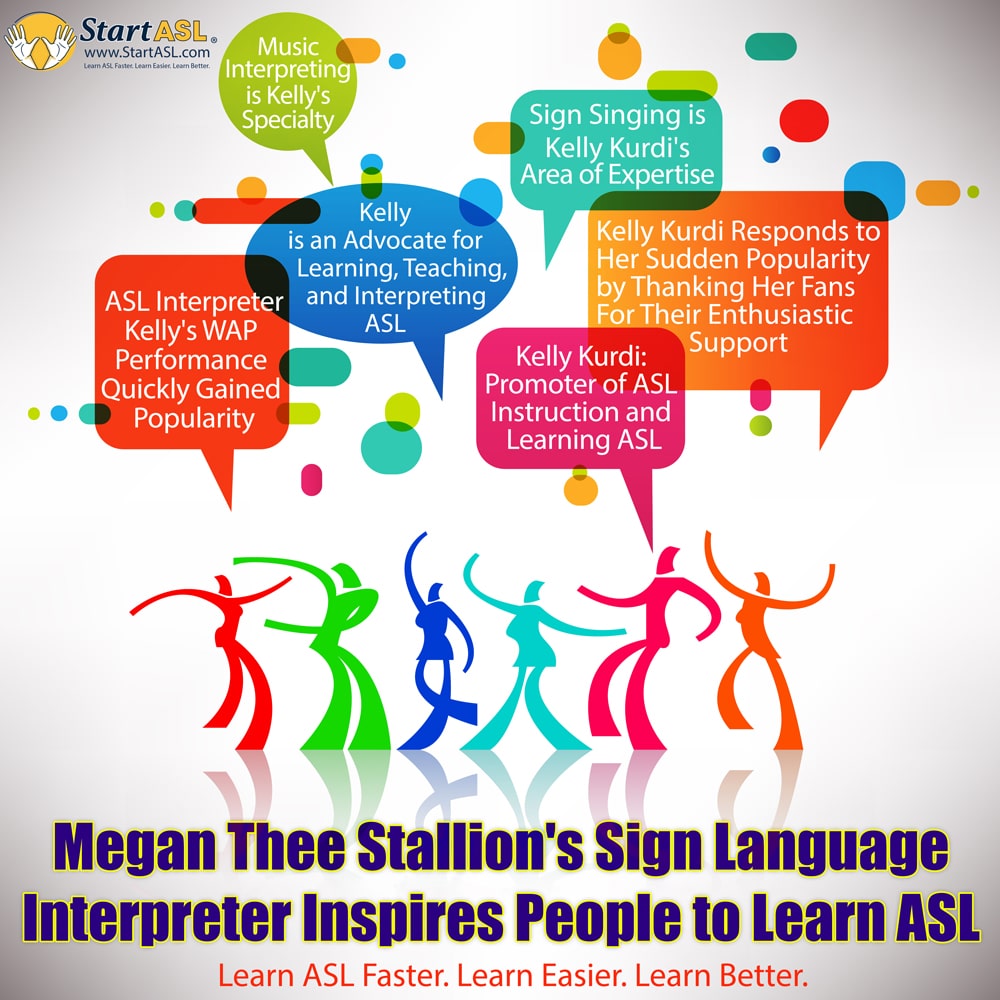 Megan Thee Stallion's Sign Language Interpreter Inspires People to Learn ASL
Need another reason to learn ASL? Cardi B and Megan Thee Stallion's 2020 song "WAP" is an undeniable hit that has produced shock waves throughout the entertainment industry with its racy lyrics and visuals. In July 2021, an interpreter named Kelly Kurdi went viral after interpreting the sensational song in American Sign Language (ASL) to accompany rapper Megan Thee Stallion's performance.
Kelly's ASL interpretation took place during Megan's Lollapalooza set. Lollapalooza is a four-day music festival held each year in Chicago's Grant Park. Megan Thee Stallion's rendition of WAP at the festival also went viral. However, the individual who stole the show that day was Kelly, the interpreter, who signed the song's lyrics with great emotion and speed. Since then, she has become a national and international sensation through massive social media and TV exposure.
Sign Singing is Kelly Kurdi's Area of Expertise
The type of sign language interpretation that Kelly Kurdi performed to Megan Thee Stallion's WAP performance is called "sign singing." Sign singing, also known as Karaoke signing, is the practice of singing by means of sign language. In this technique, a song is typically played, and the sign singer expressively performs a sign language version of the song's lyrics. While vocal singing employs pitch and tone to convey emotional content, sign singing depends on the hand gestures, bodily movements, and facial expressions of the performer. This sounds unorthodox, but it's a great way to learn ASL.
In recent years, the practice has gained in popularity as inclusivity for the Deaf community and interest in learning ASL have increased worldwide. Both individual sign singers and sign singing choirs use various types of sign language to interpret the lyrics of songs. These artists deliver dramatic, emotionally charged visual performances that unite both the Deaf and hearing communities under one roof through the power of music.
WAP is a Testimony to Progressive Womanhood and Today's Sexuality
Since its release, WAP has broken numerous records. The song and its music video were instant successes. WAP first reached the No. 1 position on US Spotify and No. 6 on Global Spotify, respectively, garnering 2.34 million and 3.75 million streams. The song also came in at No. 1 on US Apple Music. In addition, the music video itself attracted more than 26 million views during its first 24 hours on YouTube, making it the platform's most impressive debut for an all-female duo or group.
In September 2020, WAP became the first number-one single on the initial Billboard Global 200 record chart, staying in that spot for three weeks, and also attained 11th place on IFPI's year-end singles chart. In addition, WAP was certified 7× Platinum by the Recording Industry Association of America.
Thus, it's no surprise that Megan Thee Stallion chose to perform the hit song at the 2021 Lollapalooza festival. However, as good as Megan's performance was, another individual brought more energy to the show – ASL interpreter Kelly Kurdi. While fans praised Megan for her fantastic rendition of WAP, they couldn't help but notice the brilliance and speed of the interpreter's signing.
Kelly Kurdi: Promoter of ASL Instruction and Motivates People to Learn ASL
Kelly is a freelance ASL interpreter who resides in the Greater Houston, Texas, area. As of now, she has more than 71,000 followers on Instagram. And although Kelly doesn't teach sign language herself, she vigorously promotes people who do. Kelly also belongs to a group of ASL music interpreters called Amber Galloway Gallego's Music Family. Jointly, the group has appeared on MTV, Jimmy Kimmel Live, CNN, and several other popular shows and channels.
Amber Galloway Gallego is renowned for her ability to show the connection between lyrics and sounds through her musical interpretations. She is skilled at expressing the emotional relationships in music that have propelled music lovers to go to concerts for decades. In addition, her American sign language interpretations make songs come alive in a way that's seldom seen in music interpreting. Deaf concertgoers often say that Amber helps them connect to performances more deeply than they ever have in the past. Her interpretations also inspire hearing music fans to want to learn ASL.
It's this ability that Amber Galloway Gallego has helped to develop in Kelly Kurdi and other members of her Music Family. And this skill was powerfully displayed when Kelly signed the lyrics to WAP at Lollapalooza. Regarding the art of music interpretation, Amber encourages her students to learn ASL and tells them to "Let your hands be music to your eyes."
Music Interpreting is Kelly's Specialty
Meanwhile, Kelly is a co-founder of ASL Music Camp, which seeks to "train Deaf, Hard-of-hearing, and hearing interpreters to become experts in the field of music interpreting." The camp was started by Kelly and fellow music interpreters Rocco Lauricella and Amber Galloway Gallego, along with a Deaf videographer and graphic designer. At the camp, the interpreters work with a team of Deaf artists, which is a great way to learn ASL quickly.
ASL Interpreter Kelly's WAP Performance Quickly Gained Popularity Encouraging More People to Learn ASL
After just a few minutes of Kelly's WAP sign language interpretation going viral on TikTok, the video racked up millions of views. And soon, many Twitter users also saw the video and began praising Kelly's fantastic performance. She has since received massive acceptance and applause from fans on numerous social media platforms.
For example, one viewer wrote, "The video of the lady doing sign language to WAP is crazy." Another said, "I took sign language for two years in high school and can't sign much more than the alphabet. Kudos to that interpreter for translating WAP into ASL." And a third viewer said, "Excuse me, but the sign language interpreter during Megan's performance of WAP must be seen!"
Kelly Kurdi Responds to Her Sudden Popularity and Wants More People to Learn ASL
In August 2021, Kelly went on social media and thanked her fans for their torrent of enthusiastic support. Simultaneously, she shared the names of various American Sign Language instructors whom others could contact if they wished to learn ASL. In response to her fans' glowing reviews, Kelly wrote, "Thanks for the love on my page from hearing people, but I'm just an interpreter passionate about providing access to a community I love and have learned everything from."
Kelly is an Advocate for Learning ASL, Teaching ASL, and Interpreting ASL
As mentioned above, even though she doesn't teach sign language herself, Kelly uses her social media influence with a large group of fans to promote people who do.
The number of her social media followers continues to grow each day. And Kelly carries on dedicating her posts to people wanting to learn ASL and other ASL interpreters who have created change for the Deaf community. When Kelly's performance went viral on TikTok, people were astonished at the amount of work that goes into interpreting a thrilling and high-energy show like Megan Thee Stallion's set at Lollapalooza.
Guilherme Vital Senise da Silva, the audience member who shot the viral video, hopes that viewers can see Kelly's performance as a stepping stone to better learn ASL and the culture that surrounds it. On her own social media accounts, Kelly acknowledges her new fans and encourages them to check out other online influencers who post for and about the Deaf community and, of course, take the time to learn ASL as soon as possible.
ASL Interpreters at Concerts Have Benefits So Learn ASL ASAP
Around the world, music binds communities together as it tells elemental stories, teaches about emotional intelligence, and reinforces a sense of togetherness. Many people know about signing from events like the Super Bowl, where a sign language interpreter can be seen performing the US national anthem along with a pop star. At such moments, Deaf viewers may be able to more fully identify with the music being performed and feel more included than if no interpreter were present. As sign language music videos grow in number on YouTube, they trigger comments from Deaf viewers, allowing a broader audience to learn ASL.
Also, when an ASL interpreter performs at a musical event, all the audience members, including the Deaf and Hard-of-hearing, are ensured to have a good time. Finally, the presence of interpreters helps to cultivate a sense of inclusivity among all concert attendees. This relates to one of music's fundamental functions – enhancing the feeling of togetherness while at the same time inspiring the hearing to learn ASL. 
https://www.startasl.com/wp-content/uploads/Sign-Language-Interpreter-Inspires-People-to-Learn-ASL-1.jpg
1000
1000
Phil
https://www.startasl.com/wp-content/uploads/StartASLlogoFinal-1.png
Phil
2022-12-20 02:12:02
2023-02-07 23:11:37
Megan Thee Stallion's Sign Language Interpreter Inspires People to Learn ASL