by Myiesha J, Duff
(Hueytown, AL)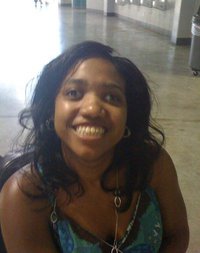 My sister in law, Danielle
I chose Helen Keller because she was the first person that I heard about that was deaf and blind.
There was a young lady in my church, when I was younger, that was deaf and I thought she was special. She could not hear or speak clearly but she was so smart and the way that she was able to communicate with her hands was fascinating to me.
Shortly after this initial experience, my class saw the Helen Keller story one day at school. I may have been the only person in the class that was paying attention but I was so amazingly captivated by the entire storyline and her life.
After seeing the Helen Keller story, I asked the girls from my church to teach me how to sign. They began a process that has continued for many years now almost 11 years.
Recently, I got married to a wonderful man and he has a sister that was tragically caught in a house fire and along with her ability to walk and move independently, she lost her sight.
My bachelors degree is in Elementary Education, so my heart's desire is to teach, not just children, but people. The more I spend time with my sister in law, the more I want to do something to help her.
Learning sign language and finding out about the history of sign language and the foundations on the deaf culture have given me yet another inspiration….to help my sister in law create a milestone for people in similar situations and further her ability to communicate.