Description
Don't Just "Sign"… Communicate! A Student's Guide to ASL and the Deaf Community
Signing is only one part of learning American Sign Language
One of the first things you'll learn about ASL products is that most of the time, you have to get several different products in order to get ALL of the information you need.
That changes now!
Sign language is a complex language, but it is beautiful and it can be learned easily if you have all the resources you need at your disposal.
Our Guide Gives You EVERYTHING You Need…and More.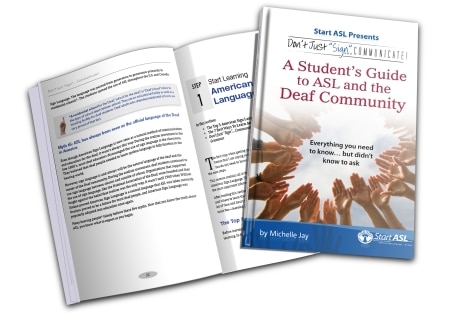 One of the biggest benefits of Don't Just "Sign"…Communicate!: A Student's Guide to ASL and the Deaf Community is that we provide you with information you need but didn't know to ask for. The package is absolutely jam-packed with benefits:
You'll quickly learn the best ways to learn ASL so that you can begin communicating quickly.
You'll receive the most essential Deaf culture and Deaf history information available.
Information about careers in ASL from the professionals.
Common terminology used in the Deaf community.
The number one ASL resources available today.
And so much more!
The Problem with Other Products
This guide is the most comprehensive guide on the market, in that it covers such a huge variety of topics for ASL students rather than most, which focus on one topic. In addition to that, many ASL guides were created by individuals who were never ASL students, so it's difficult for them to understand precisely what an ASL student needs in order to thrive!
But Rest Assured…
Don't Just "Sign"…Communicate!: A Student's Guide to ASL and the Deaf Community was created specifically to help you understand ASL more effectively. The perfect companion for an ASL course, this guide supplements the course and offers up the best possible information to help you better understand your ASL course.
Without a doubt, it is the best student's guide to ASL and the Deaf community in existence, and provides numerous benefits for individuals who are taking ASL classes.
Still not convinced?…
See What Experts Are Saying!
"This book is a real gem! Informative, intriguing, and an easy read — it is your ticket to a new world of friendships and cultural understanding! When it's time to step out of the classroom and into the Deaf Community–Michelle Jay's advice and insights are just what you need! Remember what you learned from this book and you'll do great!"
William G. Vicars, Ed.D.
Associate Professor of ASL and Deaf Studies
California State University, Sacramento
(Also known as "Dr. Bill" of www.lifeprint.com
"Whenever I am questioned to offer a suggestion of a good, easy to read book about sign language and the Deaf community, I now have a clear answer… this book packs a ton of useful information in one spot. A must have for any new sign language student!"
John Miller, Co-Founder, Educator
www.signingsavvy.com
"A Student's Guide to ASL and the Deaf Community is an essential guide for those thinking of learning ASL, considering a career working within the Deaf community or looking to understand Deaf culture. It truly is the bible for "everything you need to know but didn't know to ask." This book is filled with all the important information you need in one place and is truly an amazing read."
Pearl Feder, L.C.S.W., Editor & Coordinator
SayWhatClub Social Media
www.saywhatclub.com
Get Started Today!