Justina the Sign Language Interpreter for Rihanna Goes Viral
Having sign language interpreters perform at music festivals and concerts is becoming a major trend in the United States and worldwide. American Sign Language (ASL) interpreters for acts ranging from Eminem to the Red Hot Chili Peppers are increasingly common at musical events in the US. Interpreters make concerts and festivals accessible to Deaf and Hard-of-hearing (Deaf/HoH) fans. As a result, they provide a valuable service to these ticketholders, giving them a more complete and inclusive entertainment experience for their money.
In the case of the halftime performance at Super Bowl LVII, American Sign Language interpreter Justina Miles gave D/HoH audience members more than their money's worth. She provided brilliant and exciting sign language renditions of Rihanna's songs.
Rihanna, Justina Miles, Sign Language and the Super Bowl

The 20-year-old Deaf ASL performer put on a show that equaled or even surpassed Rihanna's efforts, as she energetically and accurately interpreted all 12 songs in Rihanna's set. CBS News went as far as to say Justina "stole the show at Super Bowl LVII." She danced and articulated each compelling word in "B—- Better Have My Money," and evoked the tone and spirit of the songs solely through the power of American Sign Language.
Besides delivering a highly praised American Sign Language version of Rihanna's halftime set, Justina also interpreted "Lift Every Voice and Sing," sung before kickoff by US actor and singer Sheryl Lee Ralph." This moving song, composed in 1900 by James Weldon Johnson, is known as the Black national anthem, and served as a rallying cry for the US Civil Rights Movement in the 1950s and '60s.
These accomplishments made Justina the first Black female Deaf performer at a Super Bowl halftime show. "I value the opportunity to make it possible for all Deaf people to enjoy these songs, and not have them miss out on the full Super Bowl experience," she said.
Justina's Gifted American Sign Language Performance Took the Internet by Storm
Signing the songs performed at concerts or music festivals requires months of planning and preparation by the interpreters. In this way, they ensure they're giving the audience the desired experience. Of course, no two Deaf or Hard-of-hearing (D/HoH) fans are the same, but they all expect to appreciate the music at an event as completely as possible.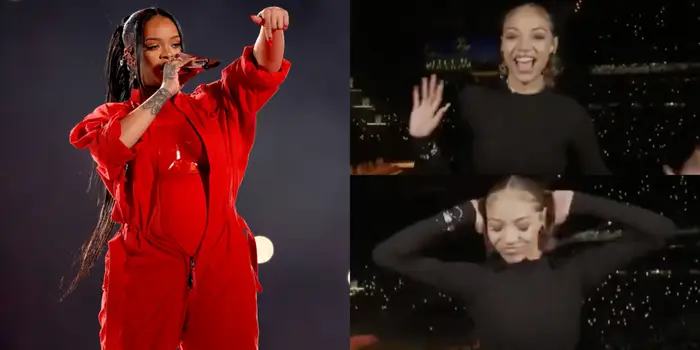 Justina Miles indeed realized that expectation with her Super Bowl performance. She appeared on a split screen with Rihanna at various times during the Halftime Show and won many hearts online for her efforts. As one Twitter user wrote, "Rihanna was incredible but OMG the American Sign Language interpreter they had for her performance was LIVING — 10/10 all around." Another commented, "Justina Miles for the Super Bowl was the true star of the Halftime Show."
"Loving the spark and energy of Justina Miles, the ASL performer for the Super Bowl," wrote Twitter user Johanna Fuentes, "Just fantastic!"
And another tweeted, "Justina Miles DID THAT not just because she ate and left NO crumbs for Rihanna's performance, but she's also the first ever Black Deaf woman to perform the ASL rendition of "Lift Every Voice and Sing."
Justina Miles' Background and Experience
Although her work with Rihanna at the Super Bowl was done on the world's largest stage, it was not Justina's first experience performing at a concert. In 2020, she also went viral for her ASL interpretation in Lil' Kim's "Crush on You" music video, which the rapper later shared online.
In the words of the National Association of the Deaf (NAD), Justina "has performed dazzling ASL renditions of music at various concerts throughout the country." In addition, she signed at the Super Bowl on behalf of the NAD, as did Deaf CODA film actor Troy Kotsur and Deaf Navajo scholar Colin Denny during the preshow. Having these three Deaf performers sign for the game set a new standard for inclusivity at the Super Bowl.
Justina has faced challenges with her hearing since she was a child. Her mother is also Deaf, and her family includes several people with mixed hearing abilities. According to the NAD, she was also valedictorian of her class at Washington DC's Model Secondary School for the Deaf.
Justina is currently studying nursing and performing as a cheerleader at Bowie State University, a historically Black school in Prince George's County, Maryland.
Justina's Sign Language Performance Positively Impacted ASL and the Deaf Community
Justina Miles' efforts at the 2023 Super Bowl significantly increased the visibility of American Sign Language at big public events. They also enhanced awareness about the value of having sign language interpreters work in public settings and showcasing the D/HoH community in the media.
During a press conference held a week before the game, Justina described the performance as an important moment: "Not only for me to share this experience with the whole world, but to really bring that empowerment to millions and millions of Black Deaf people all over the country who've never really seen that before. I feel that is truly lifting every voice, even my voice."
Among the many members of the Deaf/HoH community rooting for Justina during her Super Bowl performance were Oscar-winning actor Marlee Matlin, star of the film CODA, and former Miss Deaf America Lauren Ridloff. Both of these celebrities have made major strides in promoting the recognition of Deaf performers in the entertainment industry.
"Wow, I got chills watching three of our Deaf performers today at the Super Bowl," Ms. Matlin said in a video she posted on Twitter. "They showed the world the beauty of Sign Language. I applaud them all: Justina, Colin, and Troy. They're our superstars. Let them shine. Give them your support — their brilliant work — as they showed the world that we can perform in Sign."
Similarly, Lauren Ridloff wrote "SLAYYYYY," as the caption for her Instagram video of Justina signing Rhianna's song "B— Better Have My Money" during the halftime show.
More Inclusion for ASL and the Deaf/HoH Community is Needed
As shown by the thrilling work of Justina Miles during the 2023 Super Bowl, sign language interpreters at musical performances do more than render the songs' lyrics. They also use their bodies to communicate the songs' pulse, musicality and feeling to Deaf and Hard-of-hearing audience members. In this way, they perform a valuable service to the world by making the concert-going experience more accessible and enjoyable for many music lovers. In addition, sign language interpreters help promote greater inclusivity for the D/HoH members of society, thus enhancing their lives and the quality of global culture.
For these reasons, American Sign Language interpreters and the Deaf and Hard-of-Hearing population deserve greater exposure in the mainstream media and broader inclusion in the entertainment industry.