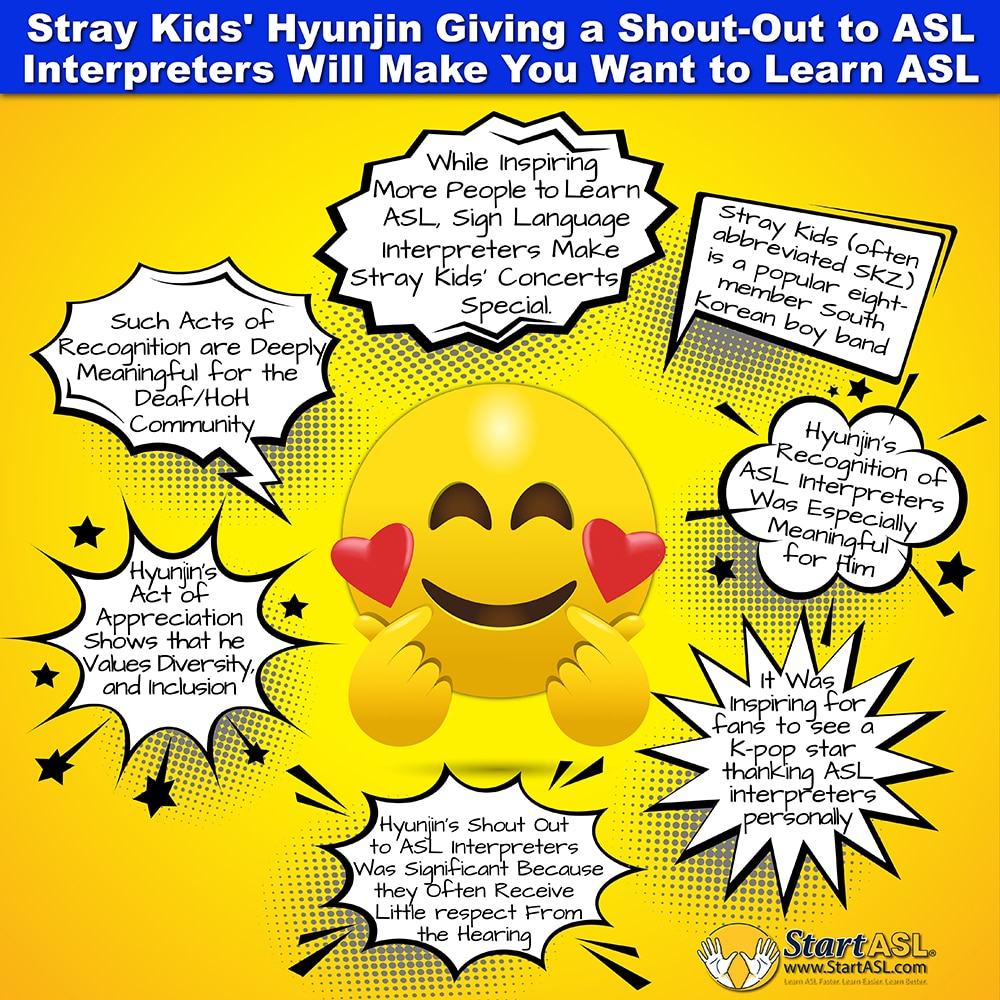 A great deal of time and energy goes into making the concert-going experience enjoyable and accessible for everyone. Recently, Hyunjin, the lead dancer and rapper for the South Korean boy band Stray Kids, thanked some of the people who make this possible – talented and dedicated ASL interpreters.
While Inspiring More People to Learn ASL, Sign language Interpreters Make Stray Kids' Concerts Special
During their 2022 MANIAC world tour, the Stray Kids made two stops in Inglewood, California near downtown Los Angeles. On the first night of the Inglewood concert series, a fan noticed that American Sign Language (ASL) interpreters were in the audience enthusiastically signing for the benefit of the band's fans who are Hard of hearing.
Two ASL interpreters worked during the concert; one signed the lyrics while the other turned the pages in the lyrics book. The second interpreter also signed the background vocals and the lyrics band members shouted out that were off script.
The fan who noticed the interpreters signing made a video of their work during the concert. After the event, Hyunjin saw the video online and later commented on the interpreters' efforts.
Who are Stray Kids?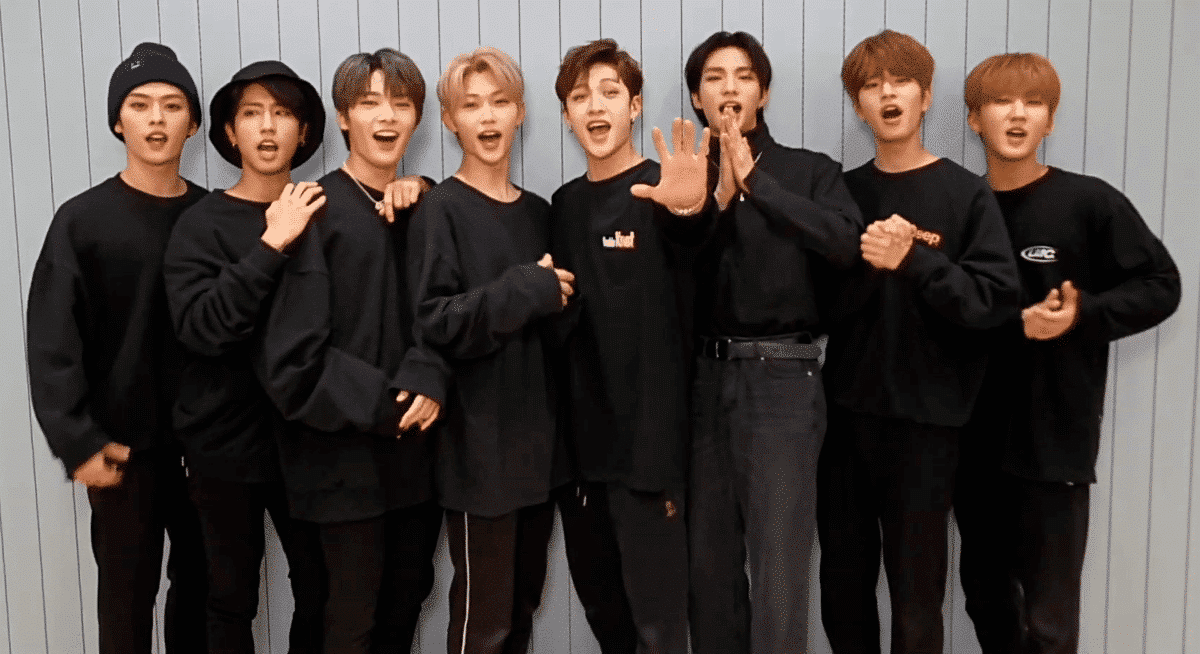 Stray Kids (often abbreviated SKZ) is a popular eight-member South Korean boy band that enjoys a fervent worldwide fan base. The band, which arose from the 2017 reality show of the same name, was  formed by the South Korean record and entertainment conglomerate JYP Entertainment.
As of October 2022, Stray Kids had sold over ten million albums across its Korean and Japanese releases. And in November 2022 the band's album Maxident was certified as reaching three million in album sales by the Korea Music Copyright Association (KMCA). This achievement made them just the second musical group in South Korean history to achieve the distinction
Hyunjin's Recognition of the ASL Interpreters Was Especially Meaningful for Him
While speaking to the crowd at the end of the second Inglewood concert, Hyunjin noted that he had seen the video of the interpreters signing during the previous night's concert. He then gave them a special shout-out in recognition of their efforts.
As he said, "When I was searching concert videos from last night, I saw a video of ASL interpreters doing sign language. I was so touched and thankful that I almost cried, so let's all scream for the ASL interpreters. Then, after surveying the crowd to locate the interpreters, he thanked them directly: "It was so beautiful seeing [you] interpret and sign every one of our lyrics. Thank you."
The experience of seeing the interpreters in action made Hyunjin curious about learning sign language himself. He added, "It made me want to learn sign language as well." Thus, Hyunjin may choose to learn and use sign language in the future because of the moving experience of seeing ASL interpreters serving his Deaf/HoH fans at the concert.
Why Hyunjin's Shout Out to the ASL Interpreters is Significant 
It's important to recognize the efforts of ASL interpreters as Hyunjin did, because they often operate in the background at public events and receive little acknowledgement or respect from the hearing community. As one concert goer wrote, "I highly doubt they get recognized anywhere else so to hear these guys acknowledge their efforts is amazing. Thank you, Hyunjin, for making everyone aware and conscious of these hard-working people. Interpreters, thank you for all your hard work. Those raps are not easy."
Another SKZ fan affirmed this opinion, saying, "They really don't [receive recognition]. I have been to over 30+ concerts and SKZ are the only ones who took the time to give recognition and appreciation to the ASL interpreters. And yes, thank you Hyunjin so much. It sincerely meant the world to the interpreters."
It was inspiring for fans to see a K-pop star thanking ASL interpreters.
At events such as pop and hip-hop music concerts, sign language interpreters work hard to provide a valuable service for those who need it. And as shown by the comments above, the fans appreciate the exposure that stars like Hyunjin can give to interpreters. K-pop fans also wish that such acknowledgments will ultimately result in greater visibility for those who are Deaf or Hard of hearing.
One HoH Stray Kids fan filmed the second Inglewood concert from the beginning. She expressed a positive reaction to Hyunjin's thoughtful gesture to the interpreters in his end-of-concert speech.  She also filmed the reactions of the SKZ fans and the heartwarming reaction of the interpreters, who were extremely happy at Hyunjin's kind act. The HoH fan said, "I really felt like [my] faith in humanity [was] restored. The video talks by itself, the excitement and emotion are so big, you may find yourself tearing up."
She then added, "A small gesture can brighten a lot, so thank you, Hyunjin, for openly acknowledging [the] beautiful work as the one that SL interpreters do, which most of [the] time is super overlooked."
Other SKZ fans have also posted comments online about the ASL interpreters. They have applauded Hyunjin's initiative to recognize the valuable work of sign language interpreting. For example, a writer for the South Korean pop music fan website SK POP wrote, "Stray Kids' Hyunjin thanks ASL interpreters during the group's MANIAC world tour and receives praise from fans. Fans appreciated Hyunjin's efforts to express gratitude since ASL interpreters are often underappreciated. According to fans, it was thoughtful of Hyunjin to set an example during the group's tour."
Hyunjin's act of appreciation shows that he values diversity, inclusion, and He Wants More Hearing People to Learn ASL.
Taking the time at a well-attended and exciting SKZ concert to acknowledge the efforts of ASL interpreters showed Hyunjin's belief in the value of diversity and inclusion, as well as his caring nature. The above-mentioned writer for the SK POP website also wrote, "Fans were ecstatic after learning Hyunjin's takeaways, which really reflected his warm and loving personality during the group's MANIAC world tour."
Such Acts of Recognition are Deeply Meaningful for the Deaf/HoH Community and Ultimately Encourage More Hearing People to Learn ASL.
Language and culture are closely interrelated. And sign languages such as ASL are central to the lives of Deaf/HoH people, whether children or adults, for their intellectual, social, and emotional development. Thus, when members of the Deaf/HoH community see their language being acknowledged at an event like a K-pop concert, it validates their identity. It also reinforces their feelings of inclusivity in the broader society.
All linguistic and cultural groups have their own ways of expressing how they view, interpret, and interact with the world. In the case of the Deaf/HoH community, they internalize their native language, sign language, and have a heritage that's rooted in it. So, for them ASL is not just a language. It's also an expression of culture. For this reason, Hyunjin's recognition of sign language interpreters at his band's concert helps to bridge the gap between the hearing and Deaf/HoH communities and their respective cultures.
How You Can Learn ASL as Hyunjin Felt Inspired To Do
To create an even greater rapport between the Deaf/HoH and hearing communities, it's vital that more and more people become proficient in sign language. If you choose to do so yourself, it's easy to learn ASL online or in person through a multitude of instructional sources such as Start ASL.
There you can access a wide range of materials and resources, including free online asl classes, courses specially geared to students, teachers, and homeschoolers, personalized tutoring programs, and more.
In this way, you can use Hyunjin's shout out to ASL interpreters and interest in learning sign language as steppingstones to learning this unique form of communication yourself. As a proficient ASL user, you'll soon develop a deeper level of Deaf/HoH awareness. You'll also help to promote greater understanding and acceptance of the Deaf/HoH community and its language among those around you.