Through Deaf Eyes is the most informational piece I have ever watched about Deaf people. I missed the premiere on PBS, but was able to watch a screening of this film at CSUN while I was a student. I can't believe how amazing it is.
Most hearing people are completely clueless when it comes to Deaf people, the Deaf community, and Deaf culture. This film on PBS probably opened thousands of hearing people's eyes to the intriguing lives of Deaf people.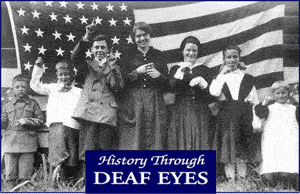 Of course, I already knew about Deaf culture before seeing this documentary. However, the documentary is not only incredibly informational, it's entertaining!
At some parts, I laughed till I cried, and at others, I just cried.
Through Deaf Eyes not only emphasizes how funny, talented, and lively deaf people are, but also how hard most of their lives have been.
Deaf people have been through a lot. Just check out my Deaf History article if you don't know what I'm talking about. This film doesn't hide anything from us about the oppressions and difficulties that Deaf people go through.
The documentary is blunt, and that's what hearing people need to hear and what deaf people need to know.
I love this film.
Watching this documentary is truly a special treat. You will see interviews with well-known members of the Deaf community like Marlee Matlin and I. King Jordan. If you don't know who these people are, please read our Famous Deaf People article. You will get excited about seeing these interviews.
You will also see 6 amazing short documentaries in this film. Not only do you get to watch an amazing full-length documentary, you get to watch short documentaries made by other Deaf filmmakers and media artists as well.
If you want to read information about the film from PBS, visit the PBS site for this film.
Of course, there was some controversy in the Deaf community about this film. Some people weren't sure what the goal of this documentary was, what the director wanted the audience to get out of it, and if it held tight to the beliefs of Deaf culture…
But I will leave that up to you to decide for yourself.
https://www.startasl.com/wp-content/uploads/StartASL_logo_white-1-300x64.png
0
0
Michelle Jay
https://www.startasl.com/wp-content/uploads/StartASL_logo_white-1-300x64.png
Michelle Jay
2010-10-01 00:00:00
2018-03-15 15:54:45
Through Deaf Eyes