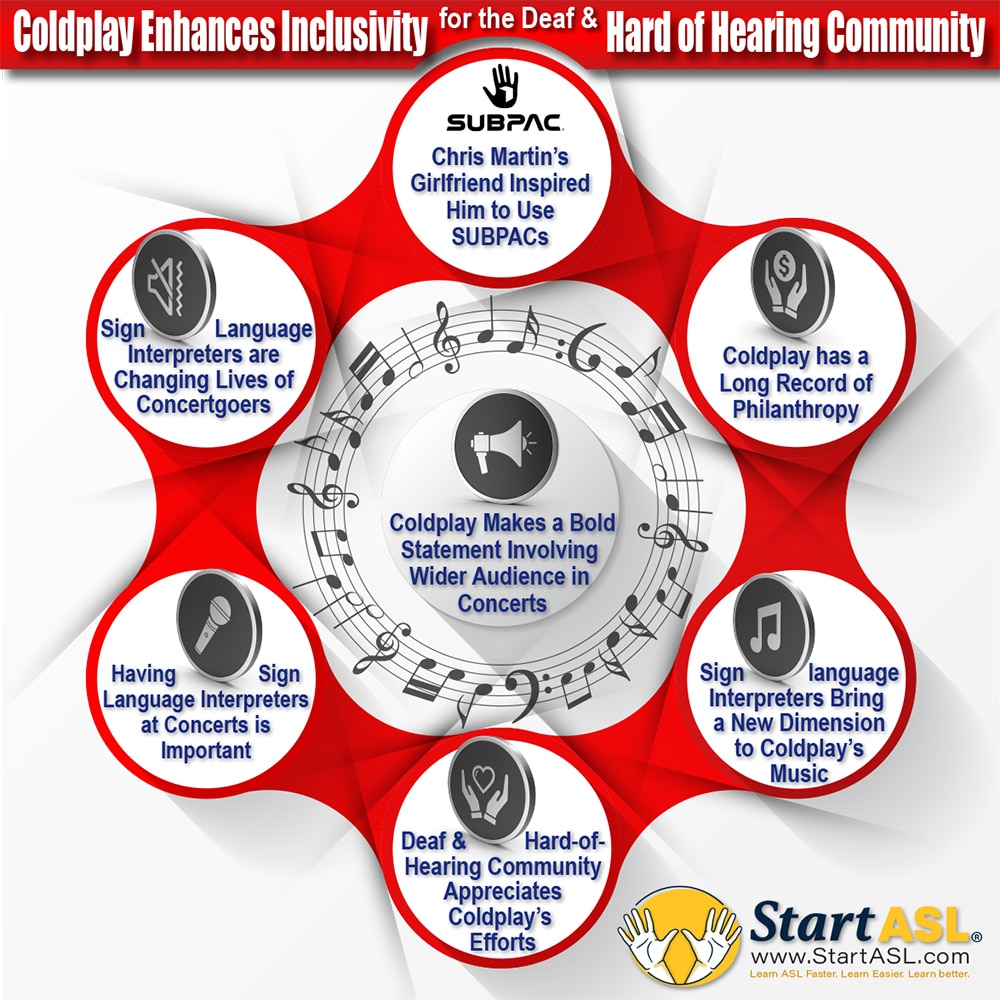 Seeing one's favorite musical artist perform live on stage or attending a live concert by a popular band is an event each person should be able to enjoy at least once in a lifetime. But this goal is not easy for everyone to achieve. Fortunately, recent technological advances are helping to broaden the scope of live musical performances for larger segments of the public, including Deaf and Hard-of-hearing individuals. Through the use of high-tech devices and other means, several artists, organizations, and music promoters are working to offer more inclusive audience experiences for all types of people.
Coldplay Makes a Bold Statement by Involving a Wider Audience in Concerts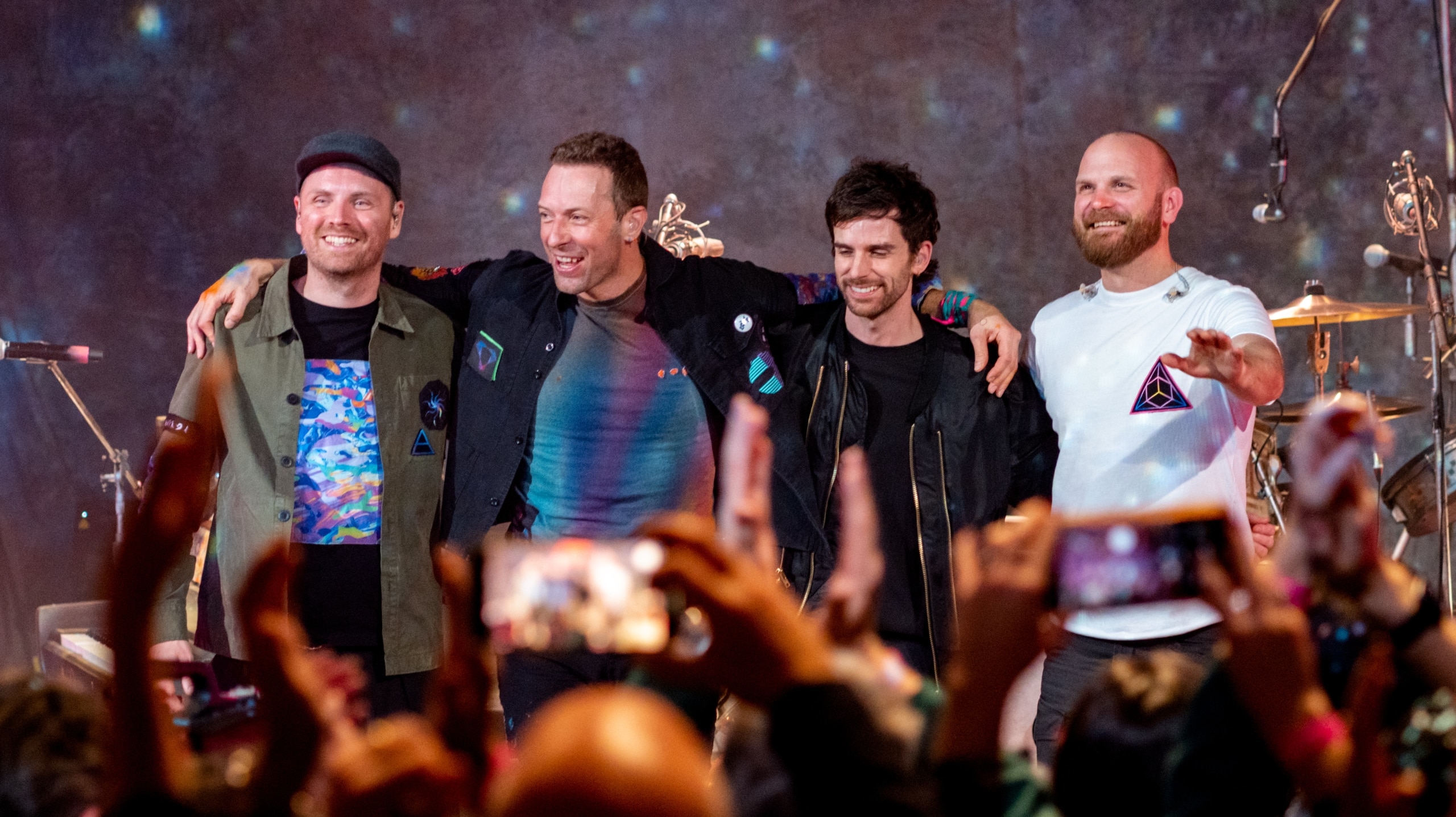 In May 2022, the seven-time Grammy Award-winning British rock band Coldplay announced they would be making all of their concerts accessible to Deaf and Hard-of-hearing (D/HOH) fans. To do so, they planned to use sign language interpreters at each show, along with SUBPACS handed out free of charge to D/HOH attendees. SUBPACs are wearable vests that feature an audio system and speakers. The devices allow users to feel the bass when songs are played by transmitting vibrations to their bodies.
The members of Coldplay care deeply about their fans and go all-out to ensure that their live performances are pleasurable for everyone. Chris Martin, lead vocalist, pianist, rhythm guitarist, and co-founder of the band, said on Instagram that they hope the interpreters and SUBPACs will heighten the concert experience for the Deaf and Hard-of-hearing population.
Alongside a video of concertgoers enjoying the band's music while wearing SUBPACs, Martin wrote,
"We want our live shows to be as inclusive and accessible as possible. For our Deaf and Hard-of-hearing guests, we're proud to provide SUBPACs, in addition to two sign language interpreters at every show."
We want our shows to be inclusive & accessible.

For D/deaf & Hard-of-hearing guests, we provide SUBPACs (wearable, bass-delivering vests) + 2 sign language interpreters.

If we're playing near you & you'd like to watch with the interpreter & SUBPACs, email access@coldplay.com pic.twitter.com/iGZvkNYyj3

— Coldplay (@coldplay) May 13, 2022
He added that if D/HOH fans wanted to attend a show featuring the interpreters and SUBPACs, they could email access@coldplay.com. The fans could also offer suggestions for making the band's live shows more accessible and fun. 
Chris Martin's Girlfriend Inspired Him to Use SUBPACs 
The wearable amp and speaker system, known as SUBPAC, is commonly worn by audio engineers when mixing the sounds they receive from multi-track recordings and balancing them on various levels. The device lets the engineers feel the bass and thus more accurately shape it at times when their studio system and speakers can't effectively deliver the bass.
And now Coldplay members are using SUBPACs to enhance their live concerts for D/HOH fans, allowing them to feel the music more powerfully. Chris Martin's partner, US actor Dakota Johnson suggested this remarkably thoughtful way of employing the SUBPAC technology. Johnson gave a SUBPAC vest to Martin as a Christmas gift. The band then began wearing SUBPACs during their gigs, and Martin followed up on Dakota's suggestion of giving the devices free of charge to D/HOH fans. 
Coldplay has a Long Record of Philanthropy
Coldplay are a UK rock band that began performing in London in 1996. Having sold 100 million albums globally, they are the 21st century's most successful band and one of the best-selling musical acts in history.
Along with their professional success, the group has long had a great interest in philanthropy. So, their use of sign language interpreters and SUBPACs to help D/HOH fans enjoy their music was in sync with their philosophy and past efforts. 
The band donates ten percent of their profits to charity. The donations are held in a bank account that's inaccessible to the band members. Coldplay also endorses numerous charitable groups such as Amnesty International and the Migrant Offshore Aid Station. 
Sign language Interpreters Bring a New Dimension to Coldplay's Music
A sign language interpreter is a person who can efficiently, precisely, and impartially translate spoken language into sign language. An interpreter's communications should be sensitive and easy to comprehend, incorporating any specialized terms required in a given situation.
In the case of concerts like Coldplay's, sign language interpreters effectively bring the music to life for Deaf and Hard-of-hearing audience members. The interpreters use their whole body to convey the emotion and feel of the songs. Going to a concert where an interpreter is present also gives D/HOH people accessibility to the lyrics. This means that the Deaf and Hard of Hearing can better enjoy the music visually and understand its meaning. As one concertgoer said, "We can see it. Plus we're provided the words through the interpreter. So overall, it's just a different way of viewing and experiencing the music. But we still can enjoy it."
As Coldplay stated in a caption to one of their online concert videos, "We want our concerts to be accessible to everyone and for everyone to have the best possible experience. At every show we offer local sign language interpreters for our Deaf and Hard-of-hearing guests so they can feel a stronger connection to the music." 
The concert video features footage of a highly enthusiastic sign language interpreter signing along to the band's hit song "Fix You" at a gig in Scotland. The interpreter also moves around excitedly to the song's guitar solo. This gave the D/HOH audience members an added taste of the solo's high-powered quality and the song's overall intensity.
The Deaf and Hard-of-hearing Community Appreciates Coldplay's Efforts
Longstanding Coldplay fan Mike Rivera, who is hard-of-hearing, applauds the band's efforts to make their concerts more inclusive and accessible. "All of the accessibility for the community is very exciting," he says. "Coldplay means a lot to us."
Rivera's daughter Kayley concurred, saying, "It's crazy to be able to enjoy something like this with my dad on the same level my friends can with their dads. And the fact that Coldplay's spearheading this is just a huge step in the right direction, and that makes me really excited for the future." 
Another Coldplay fan says the band's philanthropic work for members of the D/HOH community means a lot to them. She said, "It makes us really feel extremely proud and also a little bit emotional because you hear wonderful stories about families who wouldn't ever think about going to a show because they're hearing impaired or deaf." 
Having Sign Language Interpreters at Concerts is Important
Many videos demonstrating the remarkable abilities of sign language interpreters performing at concerts have recently gone viral. The interpreters' talent for visualizing sound is giving members of the D/HOH community the chance to enjoy live music of all types. Not only are sign language interpreters providing an invaluable service, they're also sending a message and getting recognized for their performances at rap, pop, heavy metal, and classical music concerts.
Many interpreters prepare for a show by researching the artist or group whose music they'll interpret to understand their background better. In this way their interpretations can address the full feeling and meaning behind the lyrics.
Sign Language Interpreters are Changing the Lives of Concertgoers
Regarding the powerful impact of sign language interpreters at concerts, American Sign Language interpreter Amber Galloway Gallego says,
"My favorite experience is when Deaf people have told me that this was their first time ever truly experiencing music and [they] now have a better understanding of what each instrument sounds like. When I see Deaf and Hard-of hearing-patrons signing the instruments with me, it gives me chills every time."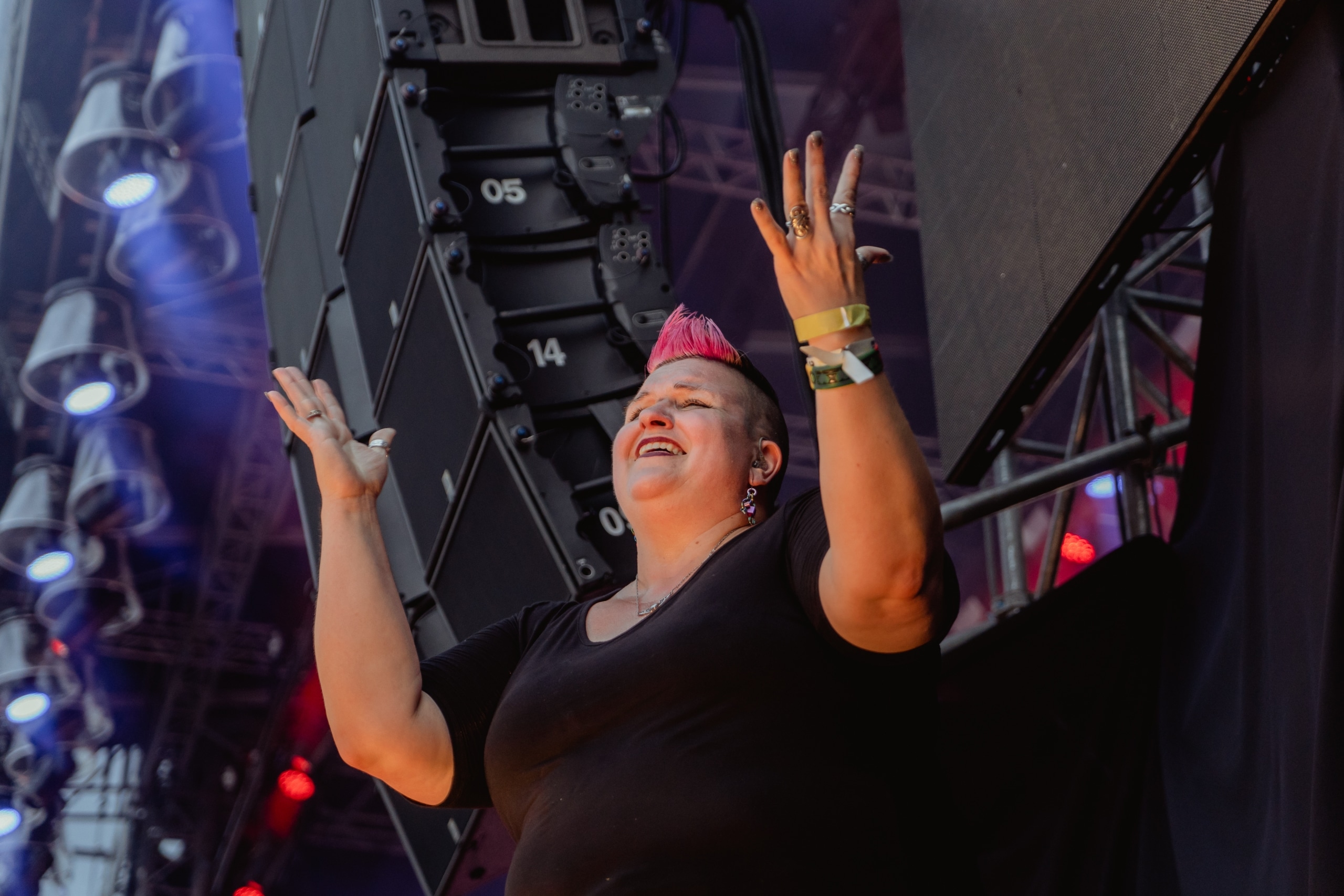 Music is a universal art form that ought to be enjoyed by all, and this can be realized more easily when professional sign language interpreters work at concerts. Deaf performance artist Rosa Lee Timm reinforces this idea:
"Music can be felt through all of our senses. This means we Deaf people can enjoy music in many different ways other than hearing. It's important to extend the feeling, understanding and love of music to all people regardless of their hearing capabilities."
What do you think of Coldplay's initiative to hire interpreters for their concerts? Let us know your thoughts in the comments.