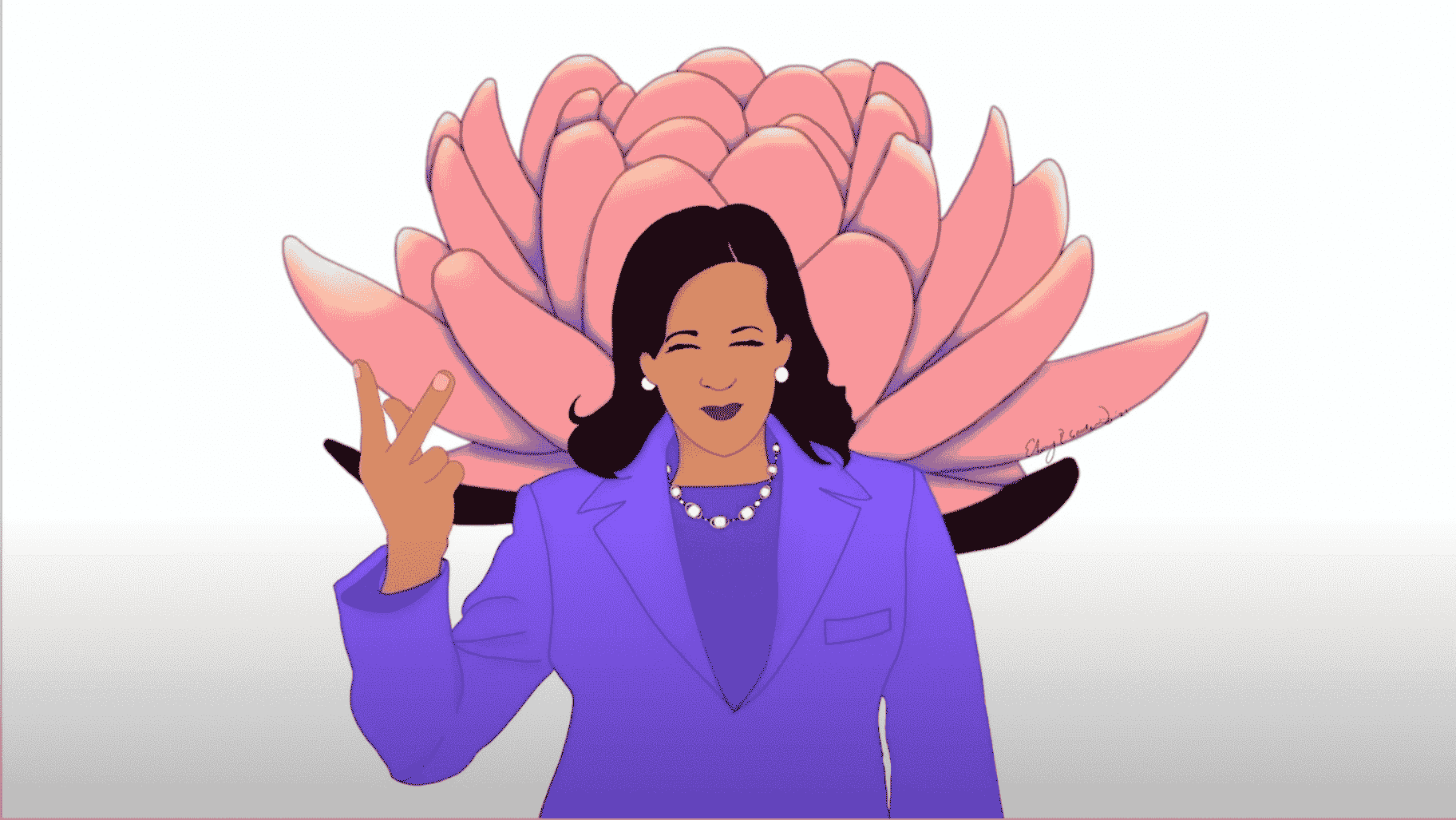 Kamala Harris receives an American Sign Language sign name after she got elected as president Joe Biden's vice president.
American Sign Language and Deaf Culture – The Significance of Name Sign
Deaf culture consists of many valued traditional aspects that are significant to the Deaf community, and one of them is the "name sign." A name sign is a sign that is exclusively given to the person, and it is usually created based on the person's characteristics, personality, hobbies, etc., which uniquely and distinctively identify a person. A name sign plays a major role in defining who the person is and their personal identity. Although it may be by choice, not everyone has a name sign, or they don't like the name signs they were given. In this case, their names are usually just fingerspelled. The purpose of name signs is to reduce the fingerspelling of people's names every time they are addressed when name sign can easily substitute finger spelling. Also, a name sign is another way for people to identify and remember the person quickly.
The tradition of Deaf people giving individuals outside of the Deaf community name signs closely resembles Native Americans giving names to honorary members from outside their tribe. Part of the Deaf culture is that only a culturally and lingually Deaf person can assign a name sign, not just anyone. It takes time for Deaf people to know someone, so it can take months before receiving a name sign. The receiver can accept or reject a name sign, and it must be mutually agreed upon between the Deaf person and the person receiving the name sign. The name sign is not necessarily permanent as the person can choose to drop it or accept a new name sign.
Name signs can be portrayed in two ways. One way is descriptive, which means that the name sign is based on physical appearance, occupation, quirk, habit, the similar sound of the person's name, or any other unique traits. Descriptive name signs are more common in Europe and other continents. The other way is initially combined with descriptive, which means that the name sign starts with the first letter of the person's name, followed by a description of the person's unique characteristic. Usually, a single first letter is used, but sometimes double letter initials are used to avoid confusion with someone else who may have a similar name sign. This is common in North America.
Let's use Violet as an example. A unique characteristic of Violet is that she loves to travel. Here is an example of Violet's name sign portrayed in two ways.
The video below is the sign for travel:
https://www.startasl.com/wp-content/uploads/travel-sign-1.mp4'
Here is an example of Violet's descriptive name sign:
Here is an example of Violet's initialized and descriptive name sign:
Who is Kamala Harris?
According to Wikipedia, "Kamala Devi Harris was born on October 20, 1964. She is an American politician and attorney who is the 49th vice president of the United States. She is the first female vice president and the highest-ranking female official in U.S. history, as well as the first African American and first Asian American vice president. A member of the Democratic Party, she previously served as the attorney general of California from 2011 to 2017 and as a United States senator representing California from 2017 to 2021. Born in Oakland, California, Harris graduated from Howard University and the University of California, Hastings College of the Law. She began her career in the Alameda County District Attorney's Office before being recruited to the San Francisco District Attorney's Office and later the City Attorney of San Francisco's office.
In 2003, Kamala Harris was elected district attorney of San Francisco. She was elected Attorney General of California in 2010 and re-elected in 2014. Harris served as the junior United States senator from California from 2017 to 2021. Harris defeated Loretta Sanchez in the 2016 Senate election to become the second African American woman and the first South Asian American to serve in the United States Senate. As a senator, she advocated for healthcare reform, federal de-scheduling of cannabis, a path to citizenship for undocumented immigrants, the DREAM Act, a ban on assault weapons, and progressive tax reform. She gained a national profile for her pointed questioning of Trump administration officials during Senate hearings, including Trump's second Supreme Court nominee Brett Kavanaugh, who was accused of sexual assault.
Harris sought the 2020 Democratic presidential nomination but withdrew from the race before the primaries. Joe Biden selected her as his running mate, and their ticket went on to defeat the incumbent president, Donald Trump, and vice president, Mike Pence, in the 2020 election. Harris became vice president upon inauguration on January 20, 2021, alongside President Joe Biden."
American Sign Language Sign Name for Kamala Harris
Kamala Harris' name sign was created by a team of Black and Indian Deaf women, Smita Kothari, Ebony Gooden, Kavita Pipalia, and Candace Jones, who worked together for several weeks. This women's group worked collaboratively to come up with a list of possible sign names and then sent out a public survey to the Deaf community at large to collect their votes from February 1 to 5, 2021. VP Kamala's name sign was voted on and decided.
According to the DailyMoth interview, Arlene explained, "Kamala. How did we pick this particular sign name? I want to explain briefly about Kamala Harris. She did ask people to use her name, Kamala because it means a lot to her. 'Kamala' means a lotus flower. I will explain briefly what a lotus flower means. Purity. Enlightenment. Rebirth. A lotus flower has strong roots that can bore through the dirt effortlessly. The flower shows its true beauty when it blooms. I am making it an analogy with Kamala, who appears in the midst of a dark and divided America. She brings enlightenment and purity. Rebirth. Why do we use three fingers? It's because she is the first Black, Indian, and female, and it is represented in the three fingers that bloom. She's not the 'first' but has 'three firsts.' Kamala!"
American Sign Language & Deaf Culture – The Deaf Community's Reactions to VP Kamala Harris's New Name
Ebony shares in the interview with DailyMoth, "Why is this important? She is the first Black, first Indian, and first woman! This is a very important moment in history! Everyone started discussing this and trying to come up with her sign name. As I watched those discussions, I became uncomfortable. Because I noticed those, who were typically leading those discussions were by the white Deaf community, especially the men in the Deaf community. I felt that this wasn't right and decided that it was important to set up this group for Black Deaf women and Indian Deaf women. They all came together to discuss in a safe and healthy way.
I know that in Deaf culture, we tend to take action and discuss everything with urgency. But we have to pause, move slowly and respect both communities: the Black Deaf community and the Indian Deaf community. Both communities have to work together in a safe and healthy way. Honestly, I am only aware of my own Black identity and culture as I presented those during my discussions, but I was not aware of the Indian Deaf culture. We tend to be loud and directly share what is on our mind but for them, they are more quiet-mannered and prefer discussing in private. So we have to work together and make sure that we don't exclude them.
We have to make sure that both communities are united. So, I was extremely honored to work with both Indian Deaf women, Kavita and Smita, who taught me so much about their culture. They shared their knowledge, their movies, and many other things. It made me realize that I have a lot to learn.
However, this process wasn't always positive. Some negativity was involved. It was because those who were involved in the white Deaf community, especially men, would always share demeaning, belittling, negative, destructive, mean, and awful comments, awful emails, awful videos, and awful vlogs. They think that we're pushing them aside, which isn't true. We value Black and Indian Deaf women's voices and want to make sure that their voices are not censored. So, I am hoping that this process will teach everyone in the Deaf community to acknowledge that we have a problem. We need to talk about it."
There are a lot of communities within the Deaf community, such as the Black Deaf community, Indian Deaf community, white Deaf community, etc., so all ethnicities must be included. Since Kamala is Black, Indian, and a woman, it made sense for Black and Indian women to think of her name sign that truly represents her and respecting each community and the minorities.
When you introduce yourself to others, you should finger spell your name, followed by your name sign, so the person can immediately identify and remember who you are. Since every name sign has a significant meaning or story, it is a common question to ask for the story behind a name sign, not to mention a way to get to know someone better. If you have a name sign, then it means you are welcomed in the Deaf community, so enjoy your name sign and the honor of being given one.