Learn American Sign Language From Big Hit Movies
More and more people are wanting to learn American sign language. Now, people can learn ASL from big hit movies such as Eternals, Quiet Place Part 1 & 2, Godzilla vs. Kong, CODA, and many more. Have you noticed that American Sign Language and Deaf roles are becoming more and more popular in the media industry? A study by the National Association for the Deaf shows that since 1986, there have been 80 films that have Deaf actors. Whether a major or supporting role, Deaf actors are getting more opportunities to rise to fame and start acting careers. And guess what, a newly released Marvel movie, Eternals, has a Deaf woman named Lauren Ridloff who played as superhero Makkari. This movie was released on November 5, 2021. Chloe Zhao directed this movie. According to Wikipedia, Eternals is a race of superhumans, and Makkari is one of the members of Eternals. Makkari's superpowers are strength, speed, and reflexes. She sprints in circles and creates cyclones along with running up walls and across the water. Her weakness is that her body eventually accumulates fatigue poisons and is susceptible to injury.
Learn American Sign Language From

Makkari Played by a Deaf Actor in Newly Released Marvel Movie Eternals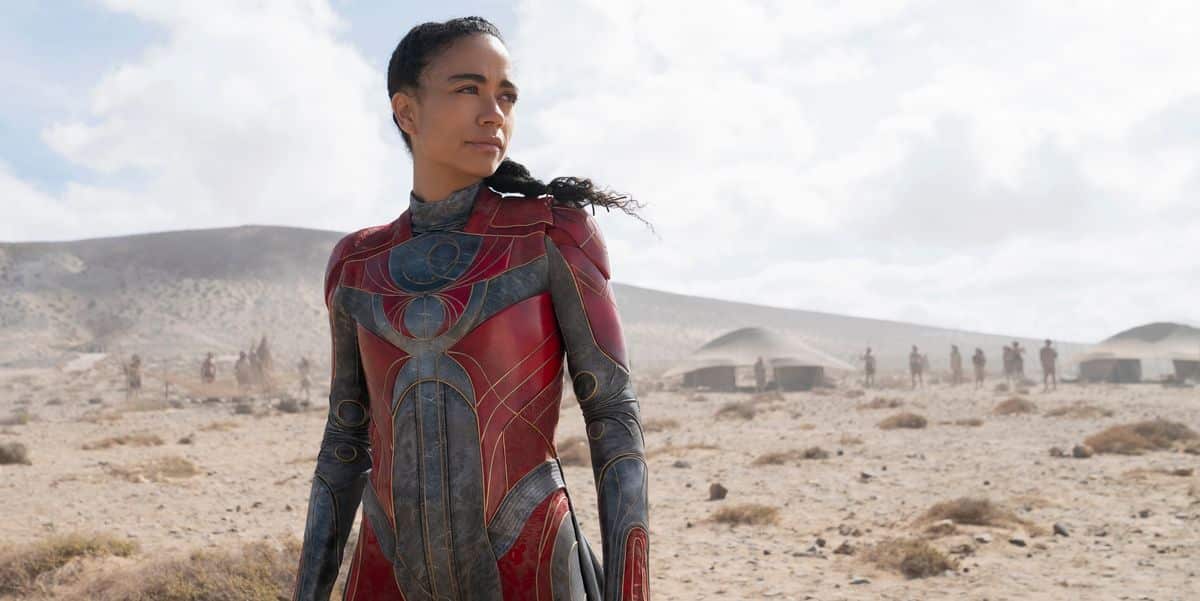 According to the Eternals synopsis on IMDB, the movie opens up with a text scroll that explains a short history of Celestials and Eternals. Then, the movie goes back and forth between past and present, showing us all things the Eternals participated in history, including helping them advance their technology to the point humans made the bomb that hit Hiroshima and the conquistador's conquest of America. It also shows the times they protected the world from the alien monster called the Deviants up until the 1500s as they thought they had killed the last of them.
Makkari was played by a Deaf actor named Laura Ridloff. Ridloff was born deaf to hearing parents in Chicago, Illinois. She was born to a Mexican-American father who was a musician and an African-American mother who was an artist. She is a Deaf American actress and former teacher. According to the IMBD biography, she graduated from the deaf program at Children of Peace Catholic School in Chicago. She attended California State University, Northridge, where she majored in English with an emphasis in writing. Lauren has two boys who are both deaf. After giving birth, she quit her teaching job to look after them. She is known as a former Miss Deaf America (2000 – 2002) Lauren Teruel. She is also known for her 2018 Tony-nominated Broadway performance as Sarah Norman in Children of a Lesser God and as Connie in the AMC Television series The Walking Dead. "Ridloff was a star student, even while attending a school with hearing children. At the age of 13, she stopped using her voice because she did not want people to judge her for her vocal issues. She is an expert in sign language, which she is often seen using in movies and television shows in which she stars."
Ridloff Inspires People to

Learn American Sign Language

With Her Role As Makkari
Ridloff is the first Deaf actor to play in a superpower movie. It is interesting to see a black Deaf woman play Makkari, whose original comic character was a white male. Ridloff acted alongside Angelina Jolie, Salma Hayek, and other prominent celebrities who played the other superhuman characters. According to the New York Times, Ridloff had shown filmmakers how to work with a Deaf actor. The article stated, "The assistant director was concerned. They were about to do something very loud (no spoilers!) on the outdoor set of Marvel's "Eternals," and this foolish woman did not want earplugs. "Are you sure?" he asked. "I really did feel like a superhero at that moment," she said. "Everyone else was like,"Wow, that was loud!"" The Time article stated that Ridloff spoke extensively on the two subjects. When Ridloff played the character Makkari, she stated that this was a Deaf gain because one of Makkari's superpowers is supersonic speed; therefore, when she runs, the sonic boom does not faze her because she is Deaf. In addition, Ridloff mentioned normalizing subtitles to make them accessible to the Deaf and hard-of-hearing community. Time article stated, "For the premiere of Eternals in Los Angeles, Marvel Studios consulted RespectAbility, a disability-led nonprofit that aims to advance opportunities for people with disabilities, in an effort to host a more inclusive screening. Open captions were available with American Sign Language (ASL) interpreters present." 
However, the Deaf and hard-of-hearing community faced challenges in finding open caption screenings near them. Time cited Joseph J. Murray, president of the World Federation of the Deaf, "Many deaf children today face barriers to accessing natural sign language environments and deaf peers," he explains. "I hope this film shows these kids a different way of living is possible, one in which deaf people are confident signers and fully equal to others around them." When Deaf actors and ASL are being portrayed in movies, this does not only represent that Deaf people can do anything, but it is also authentic that Deaf people are using ASL as opposed to a hearing person using ASL. It inspires people of the Deaf community and the kids who look up to Ridloff. They watch her being capable of doing anything and want to be cool like Ridloff to learn American Sign Language, especially their favorite superpower and superhuman signs. Ridloff mentioned her two sons in the New York Times article. "It means my two boys, who are also deaf, will grow up in a world where there are superheroes who are deaf," said Ridloff, whose children are 7 and 9. "It means they will be able to dream a bit more wildly. These kids will have unlimited imaginations, big dreams, and greater confidence when they see their favorite character Makkari played by a Deaf actor."
People Are Not Just

Learning American Sign Language

From Movies, but There Are Also More Opportunities For Deaf People as Well as Greater Deaf Awareness of the Deaf Community
It is amazing that the movie industry is giving Deaf actors more opportunities and implementing ASL in their films. Deaf people are shining through and are marking their accomplishments. It does not only bring triumph and collaborative moments for the Deaf people, but most importantly, these films are opening the door for more exposure and awareness of Deaf people and the community. Although films like CODA were recognized and awarded for the Best Cast, it does not stop there. More and more Deaf people are on the media and becoming influencers. As a community, Deaf people want hearing people to see what Deaf people are capable of doing and be mindful and aware of the cultural differences, languages, history, and community. There are times when the Deaf community is not getting recognized, like in the 2022 Super Bowl, so that is why Deaf people continue to stand their ground and fight for attention, rights, and equality. The Deaf community is also inclusive of various genders, ethnicity, religion, and political backgrounds, so we are a supportive and diverse community. The Deaf community anxiously awaits the next great film with deaf actors. Stay tuned; you never know what will be next.
Eternals: 10 Things Only Comic Book Fans Know About
Makkari
Makkari is traditionally a male character.

He had a relationship with Sersi.

Makkari taught Egyptians how to write.

He pretended to be Thor's son.

Recent comics make Makkari closer to her MCU counterpart.

Makkari can teleport.

Makkari sacrificed other powers for speed.

Makkari raced Barry Allen.

Makkari's helmet has a special function.

Makkari had a direct celestial connection.