by Allison Liu
(Colorado)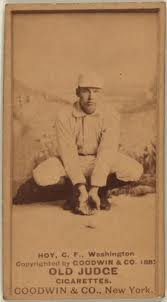 I first heard of William "Dummy" Hoy on a show called Switched at Birth. Daphne, one of the deaf characters, during the first all ASL show ever aired on television, was talking to her friends about "drawing inspiration from all the deaf people who had paved the road before them." She and her group of deaf friends were plotting a protest to save their school, Carlton School for the Deaf, and she mentioned probably the most accomplished deaf baseball player in history, and how he created the use of hand signals in baseball. I was fascinated.
It's amazing to me how much of a difference a single person can make. They can literally change history, and that's what William Hoy did. He changed the form of communication that would be used during baseball in the future.
Although, William "Dummy" Hoy would have gone down in the books even if he had not been deaf, because he was an amazing player. He hit the first grand-slam in the American League and finished his career after playing a record number of games (1,792) in the Major Leagues! When I learned of Hoy, to me he was not only a great baseball player, but a source of inspiration and a symbol of chasing after my goals.
Comments for William "Dummy" Hoy