by Keith Boepple
(Arlington, TX)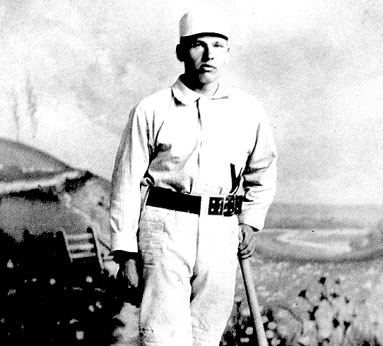 A picture of Dummy Hoy
My favorite historical figure from Deaf History is one of the least known – even in his own field. His name is William Ellsworth Hoy. He was often called "Dummy" Hoy. He is the first Deaf Person to have a successful career in Major League Baseball. Hoy play from 1886 to 1902. According to many sources (online, encyclopedias, the tour guides at the Legends of the Game Museum, Arlington, TX), Hoy changed the game of baseball because of his style of play and his passion for the game.
Hoy's biggest contribution is this: the hand signals used by umpires for balls, strikes, safe, and out are all because of him. In short – all fans of baseball are better able to enjoy the game because of him.
There is a website dedicated to his story at https://www.dummyhoy.com. A great story. A wonderful piece of the history of the Deaf Culture.
Comments for William Ellsworth Hoy

People Who Advance Themselves… Dummy Hoy
by Susan
(VA)
Wow. It is honestly amazing the things that people can do to pull themselves out of their predicament. I think that there are very few people in this world that can dare say that they can't do anything about their situation because as these historical figures have proven, there is always something you can do. Whether it is fighting racism or sexism or just plain prejudice, I admire the strength of those who forge their own path instead of giving up.
When it comes to picking my favorite person I'll have to pick Will Dummy Hoy. I play sports and I could not imagine how difficult it would possibly be to play one without the use of your ears. Especially in baseball, a sport that is so centered around communication. Dummy Hoy managed to not only become one of the best at his sport but devise a way to communicate with his teammates that was widely accepted by the players. I think his advancement is amazing and that he truly had a gift, not just for baseball. 🙂
William "Dummy" Hoy (2)
by Sharon Westerholm
(Seguin, TX USA)
Baseball is one of the few sports played at the professional level where the game itself hasn't changed much over the years. Dummy Hoy's contribution to the game is still seen today in how umpires, players and fans keep count of strikes and balls. He played the game well, but he also showed how Deaf people adapt to make it in the hearing world. Because of Hoy's love for the game, he found a way to play the game. It still amazes me that he is not in the baseball Hall of Fame.