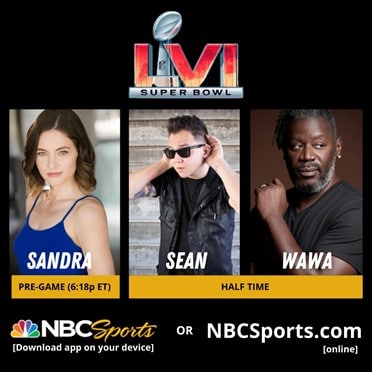 (Photo credit NAD Facebook post from 2/13/2022, https://www.facebook.com/NAD1880/photos/a.10152795501263810/10159783398858810/)
This was the big moment. The big moment when three famous deaf performers got the spotlight at the 2022 Super Bowl. Los Angeles Rams and Cincinnati Bengals were the final teams to play at the Super Bowl and a glorious victory when the LA Rams won. Their last win was in 2000. The game is great, but the Super Bowl is also known for its commercials, and the big half time show. Since 1993, there has been a Deaf signer signing the National Anthem. Marlee Matlin performed at the Super Bowl in 1993, 2007, and 2016. She performed alongside with Garth Brooks in 1993, Billy Joel in 2007, and Lady Gaga in 2016. But this year, there was three performers who finally got an opportunity to perform on national TV. This was the first time that Deaf performers were invited to perform during half-time. The first one was Deaf rapper and founder of DPAN.TV, Sean Forbes. The second was a Deaf writer, rapper, and performer, Wawa. The third performing was Deaf actress, Sandra Mae Frank best known for her most recent role on New Amsterdam. Sandra Mae Frank signed the national anthem and "America the Beautiful" at the beginning of the game. Before the game day, the National Association of the Deaf helped by promoting the performers and told people to download the app to watch the game.
Sean Forbes and Wawa geared up to sign in ASL the performances by Eminem, Snoop Dogg, Mary J. Blige, and Kendrick Lamar songs. While these three Deaf performers, who are representing the Deaf community, finally got the opportunity to perform on National TV and to be seen, there were a lot of complaints that the people of the Deaf community were upset. For starters, these Deaf performers rarely got TV time, just a glimpse which was not fair for the Deaf people. There were numerous tweets where Deaf people expressed how the people of National Football League who is partnered with National Association of the Deaf (NAD) asked Sean, Wawa, and Sandra to perform as attention grabbers and get people to attend the game but did not actually do the Deaf performers and Deaf community a favor by displaying them side by side along with the singers. Even in Sandra's video of her when she signed to "America the Beautiful" song, a hearing guy unintentionally blocks the camera. This shows that people are doing a disservice to the Deaf community by "not considering" and "disrespecting" Deaf people. Although more and more Deaf people have roles in movies and American Sign Language is becoming more popular in movies, there is still a lack of attention and equality of the Deaf community. The Deaf community is one of the biggest minorities and together, they are trying to push through the barrier of being seen and recognized for our talents and abilities. Also, it seems that Sandra, Wawa, and Sean were just "interpreters" and they are not being recognized for their hard work to prepare an amazing and wowing performance not only for the hearing people to enjoy, but most importantly to be accessible for Deaf people to enjoy the national anthem and the performance at half-time. This a life-time opportunity that created a huge disappointment for the Deaf community and they wished that the people who hosted the Super Bowl was more considerate and sensitive towards Deaf people by actually thinking about giving these Deaf people equal TV time. These Deaf performers are set as role models of the Deaf community.
Sean Forbes posted a video in reaction to the upset uproar from the Deaf community and he realized that the Deaf people were supporting Sean, Wawa, and Sandra for not getting TV time. If you haven't seen already, you can watch Sandra's performance here and Sean & Wawa's performance here.
If you look at previous Super Bowls, there have been complaints that the Deaf signer is not getting the equal attention on TV. Marlee Matlin tweeted, "To ALL networks: next time at #SuperBowl when the signer like @chrisunkim is performing #NationalAnthem & America the Beautiful they should be on the broadcast the WHOLE time, not a few seconds. SHOW the beauty of ASL either in a bubble, split screen or next to singer It's time!" Christine Kim is a child of immigrants, a grandchild of refugees, a Deaf woman of color, an artist and a mother accepted the invitation by NAD to perform at the 2020 Super Bowl. Christine expressed her feelings in reaction to the Super Bowl. She stated in her article published on New York Times, "Unfortunately, while the performance was broadcast in real time on the jumbo screens in the stadium… On the television broadcast, I was visible for only a few seconds. Why have a sign language performance that is not accessible to anyone who would like to see it? It's 2020: We've had the technology to do so for decades. And people noticed." This clearly shows that even today, people are still "ignorant" and have not learned by now that Deaf people are just as important.
The Super Bowl was not the only biggest example of disgrace towards the Deaf community. Earlier this year in January, Big Daddy had a concert but there were films of him deliberately pushing the ASL interpreter off stage and later during his performance apologized for his actions. Big Daddy later posted a video in reaction to his actions. In his first video, he did not add closed captions and later reposted with closed captions. He had to be reminded by a friend of his to add captions in his video. In his video, he talked about how he apologized to the interpreter and mentioned that he did not mean for any of this to happen as there was a big misunderstanding. Big Daddy did not know what was going on and assumed that it was a random guy getting on stage to lip sync his songs. Then Big Daddy later realized the guy he "pushed off stage" was an interpreter and apologized to him and mentioned to the crowd that he wants everyone including Deaf people to enjoy his concert. Watch the video here.
These two incidents are not the only examples. There are a few examples of having fake interpreters on the news. This shows a huge disrespect towards the Deaf community and that Deaf people are being mocked. Not only that, but also this shows that Deaf people "don't deserve" to receive the important news and those fake interpreters think they can get by with signing gibberish. Example 1. Example 2. Example 3. Not only it is a sign of disrespect towards the Deaf community but it also disrespects the ASL interpreters who studied hard to become certified and provide that equality service for Deaf people. This kind of behavior violates the Code of Professional Conduct (CPC). To learn more about how ASL interpreting works, check out the article.
For me personally, I was ready for this amazing show of talent and accessibility! My friends and I gathered to watch the show with the Deaf performers. To our surprise, we were unable to enjoy the show as we expected to. We were hit with the realization that all the hype and all the anticipation only lead to more disappointment for us. We were looking forward to some raw entertainment from some of the big names in the Deaf performing community. We know the fight for our rights is not over. We need to keep pushing for equal access.
In conclusion, Deaf people and the Deaf community are still being oppressed by hearing people. Today, although there are a lot of Deaf owned businesses and Deaf people are getting more more acting roles, Deaf people are still not being treated equally and fairly. Deaf advocates will continue to stand their grounds and fight for equal access and fairness for the Deaf community.
References:
https://limpingchicken.com/2022/02/14/super-bowl-sparks-controversy-from-deaf-community-over-sign-language-visibility/
https://www.lex18.com/news/deaf-performer-from-kentucky-shines-at-super-bowl#:~:text=Louisville%20native%20Sandra%20Mae%20Frank,Language%20at%20Super%20Bowl%20LVI.&text=DANVILLE%2C%20Ky