Step 11 – Finding More Signers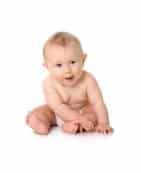 Getting connected with other parents who teach their babies sign language can truly be a great thing. Not only do you have some support, but you can also make great friends. When you get together, you will be able to share strategies and progress. You can even learn new signs if your signing friend is teaching her child different signs than you are teaching yours.
You can find fellow baby signers a few ways. You can poll your playgroup to see if any of the other parents are using sign language with their child. If you have older children who attend school, you can see if any of those parents have younger children and are using sign language. You may even see a parent signing with their child while you're at the grocery store or library and can strike up a conversation.
You can also look for signing playgroups for your child (yes, they do exist!) or a class that is focused on signing with your baby–those places are a great way to find signing parents! If you don't find a signing playgroup, you can also always start your own! You can get more parents involved in signing with their children and really have a blast!
Have a Baby Sign Language Success Story?
If you have had success with baby sign language, please share your experience! So many parents are unaware of the true success of signing with your baby.
MOVE ON TO STEP 12 – Conclusion