12 Easy Steps for Communication with Your Baby
Let me guess…your baby is crying uncontrollably and you want to know what he wants so your ears can take a break…No?
Maybe, then, you want to learn how to keep that from happening.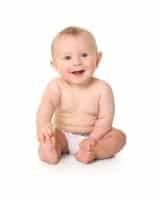 Well, you've come to the right place. Teaching baby sign language to your baby will probably be the biggest stress reliever during those early months of your beautiful baby's life.
Sign language for babies can be learned simply by following these 12 steps:
Step 4 – When Things Don't Go the Way You Planned
Step 11 – Finding More Signers
Yes, it's that easy!
Just to show you, let's start with STEP 1 – Introduction…
And don't forget to check out our Fun Free Printable Sign Language for Kids!
Baby Sign Language Resources
Because of the popularity of baby sign language, there are a lot of fantastic resources at your disposal! Here are our favorites:
Tips for starting your child with sign language – Read useful tips by Heather Jensen for starting your child with sign language.
Babies and Sign Language – This is another site that will help you as you teach sign language to your baby. This website contains a lot of information and a great online community for you to be a part of.
What Other Visitors Have Said
Click below to see success stories from other visitors to this page…
by Aundrea (Oregon) My son refused to speak. We knew that he could as he had already said his first words and would babble as a smaller baby. For some reason he decided he didn't want to talk. His Grandma taught him some basic signs using baby signing time. He could finally communicate with me!! […]
by Addison (AL) I know first hand that this is a great way to communicate with babies, especially before they start forming words or even sounds! My mother taught me signs like more, food, sorry, please, thank you, all done, yes, and no before I even turned one. I still remember all these today. Even […]
by Megan (Missouri) I've been teaching my baby for a week now food milk momma and dada and just doing it fun and helping her sign she has learned milk I was so proud I didn't think she would Learn it for a while but I'm trying she trying to get food but when she […]
by Shira (Portland, Oregon) In addition to the wonderful resources on this page and those listed above as references, I wanted to let everybody know that there is a webcast available for those of you who are looking for a fully comprehensive (yet time efficient) way to learn how to use sign language with your […]
by Janeel Hew (Molokai, Hawaii) Babies have been doing things with their hands even before they were born. (Moms you know what I'm talking about) When I was getting my son's room decorated, I put up two alphabet posters. One with the letters and objects, (A apple) the other was in sign language. I hung […]
by John (Pensacola, FL USA) My wife and I learned about the possibility of teaching your baby sign language early in her third trimester of our first son. To admit, we were a little skeptical at first. We checked out a book at our local public library to study on it. When our son was […]
by David (Switzerland) ASL princess I started learning ASL via the internet, and especially via the Start-American-Sign-Language page when my daughter was about six months old. I started signing to my daughter as soon as I had memorized the first signs, and then I kept repeating them to her whenever I got a chance. I […]
by Sherry (Melbourne, Florida) When my daughter, now 6, was about 9 months, all she did was whine and cry for things. I was taking a basic signing class at our local library and the teacher suggested I teach her to sign. I told this to my husband and we decided to try it. we […]
by Anna (Evansville, IN) I purchased a book about ASL before my boy was born. I started reading it when he was a month old and it encouraged me to sign to get into the habit. So I began signing milk and diaper at 2 months old because he was perpetually hungry and hated being […]
by Harsh Vardhan (Bengaluru,Karnataka,India) Hi, I am Mrs. Nehal Harsh Vardhan, and I am a resident of INDIA. I have a baby girl, her name is Aanya. She is just seven months old and believe me she is an angel. Initially I was having lot of problems understanding her signs, because she was my first […]
by Candace (South Carolina, USA) I am a mother of a five year old nonverbal little girl with cerebral palsy. We have struggled for years, trying everything to help her with communication. I was very interested in her learning sign language but she never could pick it up. With help from therapists and books, I […]
by Mrs. Shannen L. Heyman (Louisville, KY, United States) I was so pleased to find this website! I have an aunt that is hearing impaired and I wanted my children to be able to communicate with her. I have taken an interest in educating my children in other languages and this one is very important […]
by Diane Bell (Arkansas, USA) I am a hearing mother of one hearing and one hearing-impaired child. Both are exceptional boys! When my hearing son married, his first child was a beautiful little girl. She is hearing but had a very real love for her hearing-impaired Uncle. She also liked to follow Grandma around the […]
by Kelly (Clearwater florida) I cant explain how it works so well but I would like to explain how it worked for me. My husband is deaf so we decided to teach my little lilypad how to sign. Before My little girl could even talk she was signing. Now she can sign better than me, […]
Have a Baby Sign Language Success Story? Share It Here!
If you have had success with baby sign language, please share your experience in the comments below! So many parents are unaware of the true success of signing with your baby.
Sharing your story may help someone decide to teach their baby to communicate early and lessen the frustration in their home! 🙂
https://newstartasl.wpengine.com/wp-content/uploads/2018/07/StartASL_logo_white-1-300x64.png
0
0
Start ASL
https://newstartasl.wpengine.com/wp-content/uploads/2018/07/StartASL_logo_white-1-300x64.png
Start ASL
2010-10-01 00:00:00
2019-11-06 19:47:47
Teach Your Baby Sign Language