12 Easy Steps for Communication with Your Baby
Let me guess…your baby is crying uncontrollably and you want to know what he wants so your ears can take a break…No?
Maybe, then, you want to learn how to keep that from happening.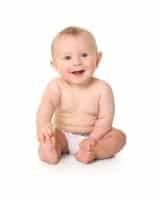 Well, you've come to the right place. Teaching baby sign language to your baby will probably be the biggest stress reliever during those early months of your beautiful baby's life.
Sign language for babies can be learned simply by following these 12 steps:
Step 4 – When Things Don't Go the Way You Planned
Step 11 – Finding More Signers
Yes, it's that easy!
Just to show you, let's start with STEP 1 – Introduction…
And don't forget to check out our Fun Free Printable Sign Language for Kids!
Baby Sign Language Resources
Because of the popularity of baby sign language, there are a lot of fantastic resources at your disposal! Here are our favorites:
Tips for starting your child with sign language – Read useful tips by Heather Jensen for starting your child with sign language.
Babies and Sign Language – This is another site that will help you as you teach sign language to your baby. This website contains a lot of information and a great online community for you to be a part of.
What Other Visitors Have Said
Click below to see success stories from other visitors to this page…
Have a Baby Sign Language Success Story? Share It Here!
If you have had success with baby sign language, please share your experience in the comments below! So many parents are unaware of the true success of signing with your baby.
Sharing your story may help someone decide to teach their baby to communicate early and lessen the frustration in their home! 🙂