Children of a Lesser God was the first feature film I watched that was about a deaf person. I was in awe. This movie is amazing. If you have never seen it, you will be blown away. Marlee Matlin is an incredible actress. She is my favorite deaf actress, as well as the first one I ever saw.
This is a 1986 film that, we believe, brought Deaf Culture and the values of deaf people into the public spotlight.
The movie stars William Hurt, Marlee Matlin, Piper Laurie, and Philip Bosco.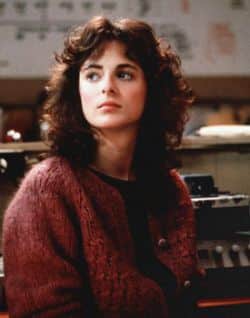 The film was directed by Randa Haines, and was adapted by Mark Medoff, Hesper Anderson, and James Carrington from Medoff's award-winning play that has the same name as this film. This play ran on Broadway from 1980-1982.
Marlee Matlin won the Academy Award for Best Actress from her debut role as Sarah Norman in this movie. She was only twenty-one years old–the youngest actress to receive this honor.
This film was also nominated for an Academy Award for Best Actor for William Hurt, Best Supporting Actress for Piper Laurie, Best Writing for an Adapted Screenplay, and Best Picture.
Children of a Lesser God tells the both tragic and beautiful story of Sarah Norman, played by Marlee Matlin, who works at a speech school for the deaf. She is a troubled and frustrated young woman. James Leeds, a new teacher at the school, played by William Hurt, encourages her to learn how to speak. Sarah already uses sign language as her primary language, and resists James's attempts. She doesn't think she needs to learn how to speak.
They begin having feelings for each other, and end up living together. Their differences and stubbornness strains their relationship. James still tries to get Sarah to talk, and she simply does not want to. Sarah then leaves and returns to the home of her mother, whom she is trying to reconcile with. Of course, Sarah and James realize they need each other, and Sarah returns to him.
This is my favorite movie about a deaf person (next to The Miracle Worker, but that doesn't count). This movie is a great representation of the world of Deaf Culture and how it interacts with hearing culture. The hearing culture constantly wants deaf people to speak and become more like hearing people, while the deaf want to remain as they are.
Marlee Matlin does an amazing job, so I am not surprised at how this film sky-rocketed her acting career.
If you have not seen this movie, you definitely need to if you want to be a part of the Deaf Community. You will gain so much more understanding just by watching it.