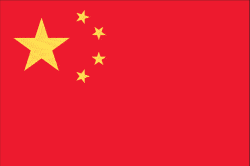 Chinese Sign Language (CSL) has been developing mostly since the late 1950's and its signs are like written Chinese characters.
CSL has several dialects with Shanghai being the most common. Even though the first deaf school using CSL was founded in 1887 by C.R. Mills, an American missionary, and his wife, CSL was not influenced by American Sign Language.
Schools and workshops for the deaf in China help spread CSL in China. Chinese deaf people who aren't involved in these groups usually use home sign languages instead of the standard CSL. The Chinese National Association of the Deaf, R.O.C. was founded by deaf people in the US to help raise the quality of living for the deaf in China. Much like the National Association of the Deaf in the US, this organization worked to improve the welfare of the deaf in China, to promote the deaf community, and encourage the education of deaf people using sign language.
In some ways, CSL is similar to ASL. The signs in CSL look like written Chinese characters which is similar to how the ASL manual alphabet looks like the written English alphabet. For example, the CSL sign for "person" looks exactly like the written Chinese character for "person".
If you want to learn CSL, we recommend these sites:
Even though you're having fun with CSL, don't forget to learn ASL too!