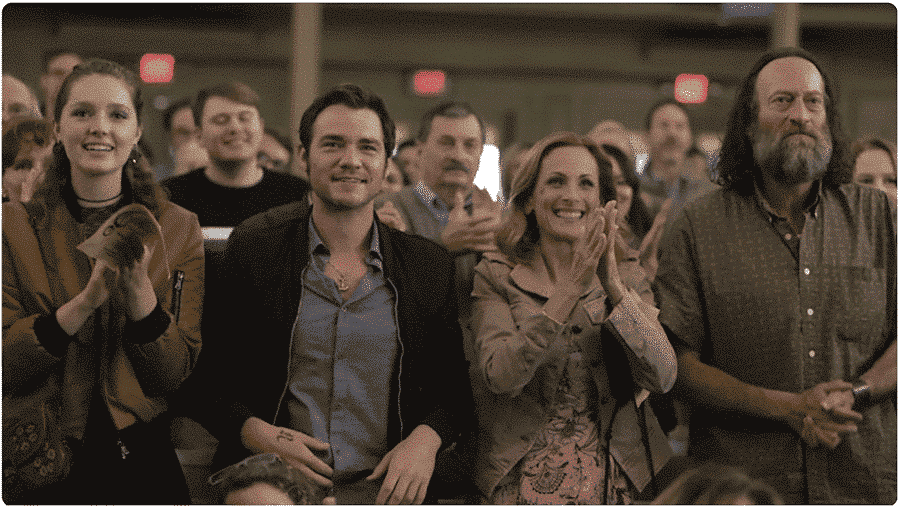 The movie CODA will release on August 13, 2021 on Apple TV+; in addition this will be the first film that the closed captions will be burned in the film. Watch the trailer here.
"Gifted with a voice that her parents can't hear, seventeen-year-old Ruby (Emilia Jones), is the sole hearing member of a deaf family—a CODA, Child of Deaf Adults. Her life revolves around acting as interpreter for her parents (Marlee Matlin, Troy Kotsur) and working on the family's struggling fishing boat every day before school with her father and older brother (Daniel Durant). But when Ruby joins her high school's choir club, she discovers a gift for singing and finds herself drawn to her duet partner Miles (Ferdia Walsh-Peelo). Encouraged by her enthusiastic, tough-love choirmaster (Eugenio Derbez) to apply to a prestigious music school, Ruby finds herself torn between the obligations she feels to her family and the pursuit of her own dreams. Screenplay by Siân Heder. Directed by Siân Heder." – IMDb 
CODA stands for Child of Deaf Adults, which means the child is hearing with Deaf parents. CODAs life is different from other hearing kids. Since their parents are Deaf, of course their first language would be American Sign Language since they don't have the input of hearing the correct pronunciation of words and how are sentences are spoken. They hear what they hear, and learn the pronunciations from their Deaf parents. Often times, this results in CODAs struggling with their speech and grammar, which sometimes leads to being placed in speech therapy or being held back in school. CODAs also experience bullying and mocking of sign language as well as their parents being called, "Deaf and Dumb" or "Deaf and Mute". They also face a lot of questions about misconceptions of Deaf people. Not only do CODAs experience struggles, but they are usually the interpreters, even at a young age, for their parents if a certified interpreter is not available. This puts CODAs pivoting between two worlds, the normal hearing world and the world where they would have to interpret for their parents or family. Unlike other hearing people, CODAs have somewhat similar experiences as other Deaf people except they can hear; they usually have a deeper knowledge of the Deaf community and many pursue becoming ASL interpreters. Fun fact is that Jack Jason and Marlee Matlin's interpreters are CODA. This movie well represent the struggles and the experiences of being CODA. It received 95% fresh rotten tomatoes on Tomatometer. Megan Clancy, the ASL instructor for Start ASL, shares her takeaway of the movie CODA.
Here are some personal experiences people have shared about their life as CODAs:
https://www.abc.net.au/news/2018-04-21/jodee-mundy-is-a-coda-hearing-daughter-in-a-deaf-family/9676300
https://www.eastersealsnecflblog.org/blog/coda-life
https://aslblog.goreact.com/life-as-a-coda/
Here are the places where you can watch CODA in your area:
https://www.instagram.com/p/CSaanCHJPZd/?utm_medium=share_sheet