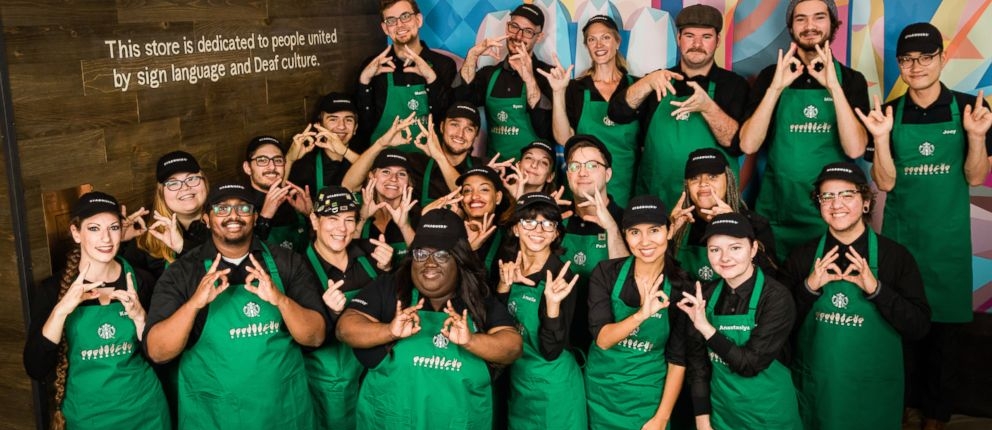 Deaf-owned businesses and American Sign Language (ASL) are spreading and becoming widely popular. There are many Deaf-owned business all over the country. Here are some Deaf business that you maybe probably heard of, but if not, you should definitely check them out!
Apparel
By Mara – An iconic ILU designs on soft t-shirts, magnets, and stickers
Erry B. – Black Deaf-owned shop with apparel promoting positivity, social justice and equality
Girl and Creativity – Check out their tees, crews, and stickers
Language Priority – Check out their shop for ASL shirts, socks, and stickers to celebrate every occasion
Shop Daxa – Graphic tees and sweatshirts you need to make a statement
Sisters in Style – Everything from dresses and loungewear to accessories, and more
Tansey Limited – Fashion apparel
Jewelry
Creative Soul – Earrings
Deafinite Designs – Hand stamped jewelry and gifts
Earthworm Earrings – Earrings
Gorgeous Jupiter – Lava beads and preservation flower jewelry
Infinity Lantern Jewelry – Handmade earrings, necklaces, and more.
JillyBean Creates – Hand beaded earrings.
Nathalina Studio – Jewelry and home décor
RoseBYANDER Jewelry – ILY necklaces and charms
Health & Wellness
The Deaf Flower – Organic Syrups
Deafhood Yoga – Yoga classes
Deaf Soul Yoga – Virtual yoga classes
JeZoe for Happy Skin – Soaps and skincare items
Lilli Erin Yoga – Virtual yoga classes
Photography
Amelia K Hamilton – Austin local
Clare Cassidy Photography – Photographer
Jolaventures – Photography and Videography
Kelly Grace Photos – Pet Photoshoots
Cat Cassidy Photography – Self-proclaimed storyteller
Tate Tullier – Photography
Ultimux – Photography, interior designer, and cartoon designer
Art & Decor
58 Creativity – Graphic artist uses ASL to tell a story in their artwork
Alpine Florals – Pressed mountain flowers
Ash Marie Sha – Mixed-media artwork designs
Ask Amber – Home decor and customize masterpieces
Boriketien – Stickers
CraftsbyGio – Order luxury, customer-design tumbler cups, confetti, foil envelopes
Cynthia's Creations and More – handcrafted gifts from ornaments to tea towels
Haha What – Black and white drawings and stickers
Isabel Lainez – Sign incorporated into bold portraits
Kali Doubledee – Mixed media paintings
Kiss Fist Stitch – Cross stitch art and personalized gifts
Ladder of Love – Rustic art made from reclaimed wood
Macramed – One-stop-shop for everything macrame
Raine Collective – Wide variety of homemade gifts and accessories
Selennn Art – Commissioned art on canvas or digital mediums
Viva Jess – Unique gifts wall art, stationery, and accessories
Woodstove Studios – Pyrography and mixed media
Services
Bus Door Films – Know someone who's been sitting on that screenplay just a little too long? Or someone who can't get enough of deaf-created content? Send them over to Bus Door Films to get their fix
Day to Rejoice Weddings & Events – Need support with making your event extra special? Check out Day to Rejoice, a Black Deaf-owned event design business
Inka's Screen Printing– Customer designs on different gifts and items
Mystic Starz – Get a reading from Mystic Starz Astrology and see what the future has in store
DeafBoss – "Vision at DeafBoss is to 'create more millionaires in the Deaf community than anyone or any group in history'"
DeafFriendly – Website to find Deaf-friendly businesses
Communication Services for the Deaf – Provide services for the Deaf & hard of hearing community and businesses
News
DailyMoth – News is conveyed in ASL about political & Deaf news happening in the world
Deaf Newspaper LLC – News is conveyed in ASL about political & Deaf news happening in the world