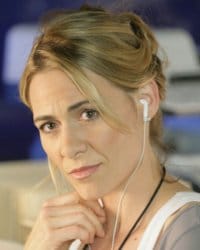 Deanne Bray is a well known deaf actress who was probably the first deaf person Hollywood created an entire television show around.
She is best known for playing Sue Thomas on Sue Thomas: F.B.Eye that aired on the PAX channel for 3 seasons. She competed with both hearing and deaf actresses for the lead role, and was cast when the real Sue Thomas saw her audition.
Before Sue Thomas: F.B.Eye, Deanne Bray was a high school teacher and taught science and math to deaf and hard of hearing high school students. She had also been a part of Deaf West Theater and had guest appearances on television shows such as CSI: Crime Scene Investigation and Diagnosis Murder.
More recently, Deanne played Emma on one of my favorite television shows: Heroes.
Bray was born in 1971 and has been deaf since birth. She is a proud member of the Deaf community and credits her parents with having an open mind about her deafness and getting her involved in the Deaf world. For this reason, she was able to find her identity early in life. This is, sadly, quite rare for deaf children born to hearing families. She is also bilingual with American Sign Language and both spoken and written English.
Bray is married to Troy Kotsur, a well known deaf actor. They have been married since 2001 and have worked on several productions together since 1995.
Since her daughter, Kyra, was born, Bray has decided to be a full time mom and is also pursuing her Master's Degree in Education.
You can find more information on Bray's official website: https://www.deannebray.com.
Below is a promo video for Sue Thomas: F.B.Eye airing on GMC starting summer 2010.
If you're interested in checking out this series, you can pick it up today!
Please note that when you choose to purchase through the external links on this website (in many but not all cases) we will receive a referral commission. However, this commission does not influence the information we provide in this site. We always give honest opinions and reviews to share our findings, beliefs, and/or experiences. You can view our full disclosure on this page.