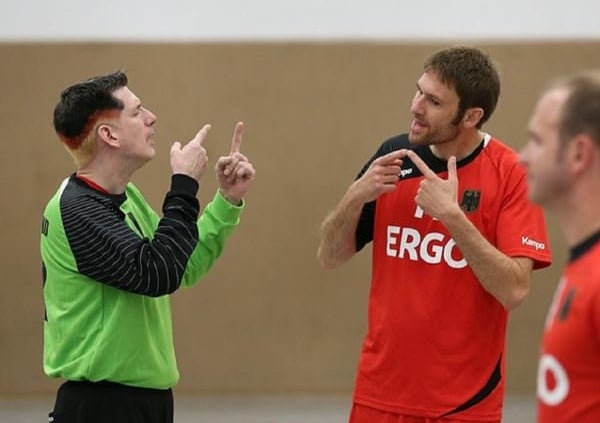 How Do Deaf Athletes Play Sports and Keep Their Cochlear Implants On?
There are a lot of D/HH athletes out there, whether it is recreational or professional. The most common thing people wonder about is how do D/HH athletes participate in their sport if they cannot hear. Sports usually require communicating with each other, with the coaches, with the umpires/referees, and with other players on the field. For instance, in baseball or softball, players will call out to remind other players the number of outs or if there is a fly ball and players call out, "I got it!" In football, players will call out the play and yell to their teammate where to go. So, if there is a lot of communication on the playing field, then how does the communication work for D/HH people? How do D/HH people prevent clashing into each other or prevent missing the play or hit? Well, it is important that D/HH people inform their coaches and teammates that he or she is deaf or hard of hearing, and what is the best form of communication. Even if it is not using ASL, par se, the coach, players, and D/HH person can discuss and come up with signals that everyone on the team understands and to communicate with the D/HH person. This becomes helpful when the coach needs to communicate with the D/HH athlete while he or she is playing on the fields. For the surrounding players, they can communicate by using a lot of hand movements. For example, in softball, if there is a fly ball, to wave really big as a way to say, "I got it!" then the D/HH person will back off and let his or her teammate catch the fly ball. On the other hand, the D/HH person needs to do the same if he or she is able to get the fly ball. Other scenarios, in terms of communicating the number of outs, for example in softball, is to show 1 or 2 (outs) with the fingers. It is the same idea when referees or umpires use hand gestures to indicate a strike, foul, traveling, etc. D/HH are visual and rely a lot on what is happening around them. So, how does a D/HH person know if the referee whistled or there was a timeout? Of course, everyone will stop playing, then the D/HH person will look around to see what is going on and ask their teammates for clarification. Another way is to tell the referees before the game that there is a D/HH person and both can communicate on using hand gestures or signals that convey the meaning. For example, for timeout to use two hands to form a "T". Then the D/HH person can look at the scoreboard to gauge how much time there is left to play, what quarter of the game they're playing, or the scores. If there is no visual assistance such as innings, how many runs, the D/HH person can always ask the score person. It does not matter what sport the D/HH person is playing, bottom line is there is always a way the D/HH person can successfully and easily communicate with each other. The coaches and teammates just need to put themselves in the D/HH person's shoes, understand and accommodate to the D/HH person. Keep in mind that every D/HH person is different in terms of communication and their needs to be successful playing on the fields. Some D/HH person will have an FM system for the coaches to wear whereas others will have an ASL interpreter.
On the other hand, there are Deaf teams that only contain D/HH people on the team. In this case, it is easier to communicate with each other because everyone can sign to each other. Similarly to playing on a hearing team, it is all about relying on visuals. Since Deaf people cannot hear, they must rely on their visuals on where to throw the ball, who is going to catch the ball, etc.
Sports can become rough, especially the players on the defense side and can easily bump off the cochlear implants (CI). So, how do the CIs stay on? Similarly to the other article, "How Do Cochlear Implant Users Deal with Noisy Environment and Keep Them On When Riding Roller Coasters," the CI user will have to be creative and think of ways to keep their CIs on. Most D/HH athletes wear a headband or sweatband along with tying their hair up (for females) to hold the cochlear implant in place. If it is a water sport, how do people who wear cochlear implants be able to hear without getting their cochlear implants wet? Different cochlear implant companies sell cochlear implant accessories. For example, Cochlear sells a water cover for the CI called Aqua+ and the coil is water proof. The CI is placed in the water protector case, so it will not get wet when playing water sports. Cochlear also sells Cochlear Snugfit or Cochlear Hugfit that looks like a headband but it is especially made for CI users to tuck their CI in the headband, so it is secured in place. Another option is to use double sided tape to tape the processor to the skin on the ear. With just this option alone, the magnet may or may not come off, but the processor definitely will not. Most people will probably consider both options: wearing a headband and double sided tape to tape the processor down, or put hair up with hair tie and tape the processor down. By doing this, both the magnet and processor will stay very securely in place. It is possible that the players will accidentally bump the head area and the CI can either still fall off or get damaged, but this is less likely to happen.  
—
Interesting read:
William Ellsworth 'Dummy' Hoy – 1st Deaf athlete in the major-league
"It is not enough that the deaf candidate for baseball honors has the necessary ability. He assuredly must have the nerve and the courage to apply for a trial." William Ellsworth 'Dummy' Hoy was a professional baseball player in the late 19th and early 20th centuries. He played for several Major League Baseball (MLB) teams from 1888 to 1902, most notably the Cincinnati Reds and two Washington DC franchises. He is often considered the most accomplished deaf player in MLB history. Hoy's accomplishments are many. He held the MLB record for games in center field (1,726) from 1889 to 1902. He set records for career putouts (3,958) and total chances (4,625) as an outfielder.
When he retired in 1902, Hoy was among the leaders in outfield games, assists, and double plays. He was also an incredible baserunner, scoring over 100 runs nine times, and often finished among the top base stealers.
Hoy became deaf at age three after suffering from meningitis. He communicated with sign language. In May 1902, Luther Haden 'Dummy' Taylor pitched against Hoy. The occasion was reported to be "the first and only time two deaf professional athletes competed against one another." When Hoy came to bat for the first time, he signed to Taylor, "I'm glad to see you."
In the 1900s when Hoy and Taylor were playing, the word 'dumb' was used to describe someone who could not speak. Dummy Deegan, Dummy Leitner, Dummy Lynch, Dummy Murphy and Dummy Stephenson were other MLB players who went by this moniker. Taylor said, "In the old days, Hoy and I were called Dummy. It didn't hurt us. It made us fight harder." Hoy is sometimes credited with being one of several players who helped developed the use of hand signals that are used by umpires to this day.
There are even Deaf tournaments name for him in the Deaf School circles. California School for the Deaf, Fremont (CSDF), California School for the Deaf, Riverside (CSDR), Texas School for hr the Dear (TSD), Inidiana School for the Deaf (ISD), Model Secondary School for the Deaf (MSSD), and Maryland School for the Deaf (MSD). You can read more about Dummy Hoy here. Check out Hoy Tournament Champions.
Derrick Coleman – Football player for Seahawks
Matt Hamill – "The Hammer" Wrestler
Ashley Fiolek – MotorCross
In 2009, Fiolek won her first X Games gold medal in Women's Moto X Super X at the extreme sports championships known as X Games 15. This made her the X Games' first deaf medalist, and the youngest ever Women's Motocross Association champion. She was also the first woman to be signed to the American Honda Racing factory team.
Terence Parkin – Swimmer
Parkin won the silver medal in the 200 meters breaststroke at the 2000 Summer Olympics, and holds the record for winning the greatest number of medals in Deaflympics history. His total is 33 medals, including medals for cycling as well as swimming.
Here are other links you can check out:
Next Deaf Olympics, Deaf People in the Olympics, Deaf NFL Players, Deaf Softball, Deaf Baseball, Deaf Athletes
https://www.startasl.com/wp-content/uploads/1500026064-comp_Dt.AuswahlDeaflympicsHBW-2068.jpg
480
600
Katelyn Cheng
https://www.startasl.com/wp-content/uploads/StartASLlogoFinal-1.png
Katelyn Cheng
2021-11-01 13:35:10
2021-11-08 13:28:06
How Do Deaf Athletes Play Sports and Keep Their Cochlear Implants On?