by Jodi J
(Parsons, KS, USA)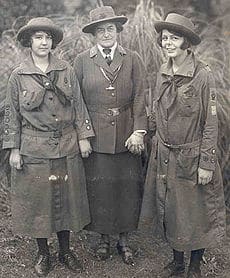 Ms. Low (center) with two Girl Scouts
Perhaps no greater tribute can be said than she is not remembered as a "deaf person who" but rather as an outgoing and exciting example of what all people should strive for and that is to be a person of conviction. Ms. Low is known as the founder of the Girl Scout movement that lives on even today. Upon learning all that she endured through her life, it is all the more amazing that she was remembered at all.
Born in 1860 Ms. Low had humble beginnings including being a captive of native Americans for many years and being shipped around the country to different relatives and schools during her early life. She lost a great deal of hearing in one ear after an infection was treated with silver nitrate at the age of 25. A year later she would lose hearing completely in the other ear due to an infection from getting a grain of rice thrown at a wedding lodged in her ear. Her life continued on a downward spiral with a childless marriage and resulting divorce. Through it all she kept up her spirits and engaged people throughout America and England.
She would go on to become an artist and activist for several different causes. It was during a meeting with Lord Baden Powell, the founder of the Boy Scouts in England that Ms. Low became enamored working with children to help them become leaders. Her first efforts were successful in England so she returned home to America and with her sister began the "Girl Guides" which a year later would be renamed the Girl Scouts. It is a testament to her will and great resolve that she did not let her deafness define her, rather she took it in stride as part of her life and went on to make history.
Comments for Juliette Gordon Low, a Hero to All People