American Sign Language is NOT a universal language. This is a very common myth that needs to be debunked.
Just like the thousands of different languages of the world–there are several different signed languages.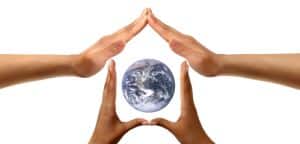 We think this fact makes things more exciting because we absolutely love American Sign Language. We love learning it, we love teaching it–it's just a beautiful language.
Because of our love for ASL, we are completely fascinated with learning the signed languages from different countries. They are all so different!
In ASL, we sign the alphabet with one hand. It is so much fun learning the two-handed alphabet in British Sign Language.
If you are just as excited as we are, feel free to explore some sign languages of the world below:
Sign Languages Of Other Countries
If you just want to learn the alphabets from different countries, visit our Sign Language Alphabet page.
Non-Verbal Communication
Sign language is only one way to communicate without using spoken language. There are several other ways to communicate around the world without using spoken language.
Here is a great website that describes all the different types of nonverbal communication. If you are really interested in learning how to communicate around the world, learning how to communicate nonverbally can help improve your communication skills as a whole.
Start signing internationally and have fun!