Deaf Academy Award Winner
Marlee Matlin is my very favorite deaf actress. She is truly amazing, and I get excited everytime I see that see will be acting in something else.
She was born in Morton Grove, Illinois on August 24th, 1965. After she came down with the German Measles at the age of eighteen months, she lost her hearing and became deaf. When she was young, she communicated with her family and friends using sign language.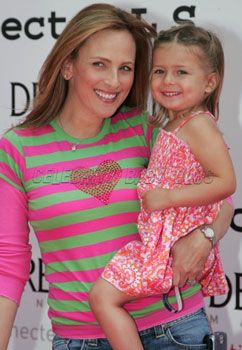 When she was seven years old, Marlee started acting at a children's theater company in Chicago. Her first-ever acting role was as Dorothy in Wizard of Oz.
She later had a role as a minor character in the play version of Mark Medoff's Children of a Lesser God. This role won her the role of "Sara" in the film version where she starred with William Hurt. This was Marlee Matlin's motion picture debut that won her the Academy Award for Best Actress in 1987 at the age of twenty-one. That same year, she also won the Golden Globe for Best Actress in a Drama.
Marlee Matlin has had many other movie roles, including:
What the #$*! Do We (K)now!? (2004)
When Justice Fails (1999)
Two Shades of Blue (1999)
In Her Defense (1999)
Hear No Evil (1993)
Robert Altman's The Player (1992)
Walker (1987) with Ed Harris
Marlee made her television debut in Bridge to Silence with Lee Remick in 1989. Starring in Reasonable Doubts, Marlee was nominated for a Golden Globe twice as Best Actress in a Dramatic Television Series. She was also nominated in 1994 for two Emmy Awards for her performances in episodes of Picket Fences and Seinfeld. Marlee also appears in The West Wing.
More recently, she was a contestant on Dancing with the Stars. I love watching her dance–she is so talented! It's amazing how well she did without being able to hear the music. I really want to show you a clip, but none of the clips I've found are captioned (and I don't want to leave my deaf readers out). If you don't mind watching a clip without captions, I encourage you to search for clips of Marlee dancing on Dancing with the Stars. That is, if you didn't watch that season.
Currently, Matlin is playing Melody on the fantastic new hit TV series Switched at Birth.
More of her television credits include:
The Apprentice (2011-2012)
The L Word (2007-2009)
Hollywood Squares (2003)
There was also a bit of controversy within the Deaf Community regarding Marlee in 1988. She was a presenter on the Academy Awards of that year. Instead of using American Sign Language, she stated the nominees, in English. Many members of the Deaf Community were apalled. They considered it a slap-in-the-face when she chose to speak instead of sign. I won't get into how I feel about this issue because I don't think it's that big of a deal. I think people spend too much time being angry with others when they don't do what you want them to do. I honestly think that she knew what she was doing, and that it wasn't to anger the Deaf Community.
Despite all of her roles and her busy life, Marlee has also managed to make time for charity. She was appointed to the Board of Directors of the Corporation for National Service, which oversees Americorps, in 1994. She also served as Honorary Chairperson for National Volunteer Week in 1995. She is currently the national spokesperson for VITAC, which provides closed captioning for television.
Marlee now lives in California (maybe I'll see her sometime!) with her husband, Kevin Grandalski, a law enforcement officer, and her children, Sarah Rose and Brandon Joseph.
You can also check out Marlee's official web site for more information about her as well as current updates.
The Best Marlee Matlin Movies
Please note that when you choose to purchase through the external links on this website (in many but not all cases) we will receive a referral commission. However, this commission does not influence the information we provide in this site. We always give honest opinions and reviews to share our findings, beliefs, and/or experiences. You can view our full disclosure on this page.
---
"Gallery." MarleeMatlinSite.com. 19 Aug. 2008 (https://www.marleematlinsite.com/gallery/gallery.html).