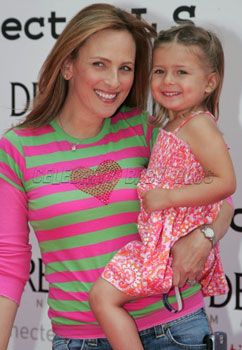 Marlee Matlin was born in Morton Grove, Illinois on August 24th, 1965. After she came down with the German Measles at the age of eighteen months, she lost her hearing and became deaf. When she was young, she communicated with her family and friends using sign language.
When she was seven years old, Marlee started acting at a children's theater company in Chicago. Her first-ever acting role was as Dorothy in Wizard of Oz.
She later had a role as a minor character in the play version of Mark Medoff's Children of a Lesser God. This role won her the role of "Sara" in the film version where she starred with William Hurt. This was Marlee Matlin's motion picture debut that won her the Academy Award for Best Actress in 1987 at the age of twenty-one. That same year, she also won the Golden Globe for Best Actress in a Drama.
Marlee Matlin has had many other movie roles, including:
What the #$*! Do We (K)now!? (2004)
When Justice Fails (1999)
Two Shades of Blue (1999)
In Her Defense (1999)
Hear No Evil (1993)
Robert Altman's The Player (1992)
Walker (1987) with Ed Harris
Marlee made her television debut in Bridge to Silence with Lee Remick in 1989. Starring in Reasonable Doubts, Marlee was nominated for a Golden Globe twice as Best Actress in a Dramatic Television Series. She was also nominated in 1994 for two Emmy Awards for her performances in episodes of Picket Fences and Seinfeld. Marlee also appears in The West Wing.
More recently, she was a contestant on Dancing with the Stars. Matlin also played Melody on the fantastic hit TV series Switched at Birth.
More of her television credits include:
The Apprentice (2011-2012)
The L Word (2007-2009)
Hollywood Squares (2003)
There was also a bit of controversy within the Deaf Community regarding Marlee in 1988. She was a presenter on the Academy Awards of that year. Instead of using American Sign Language, she stated the nominees, in English. Many members of the Deaf Community were apalled. They considered it a slap-in-the-face when she chose to speak instead of sign.
Despite all of her roles and her busy life, Marlee has also managed to make time for charity. She was appointed to the Board of Directors of the Corporation for National Service, which oversees Americorps, in 1994. She also served as Honorary Chairperson for National Volunteer Week in 1995. She is currently the national spokesperson for VITAC, which provides closed captioning for television.
Marlee now lives in California with her husband, Kevin Grandalski, a law enforcement officer, and her children, Sarah Rose and Brandon Joseph.
You can also check out Marlee's official web site for more information about her as well as current updates.
The Best Marlee Matlin Movies
Please note that when you choose to purchase through the external links on this website (in many but not all cases) we will receive a referral commission. However, this commission does not influence the information we provide in this site. We always give honest opinions and reviews to share our findings, beliefs, and/or experiences. You can view our full disclosure on this page.
"Gallery." MarleeMatlinSite.com. 19 Aug. 2008 https://www.marleematlin.net/photos/).
Marlee Matlin Articles by Students
Marlee Matlin
by Jesse-Linn Masters (Chicago, IL) | February 12, 2013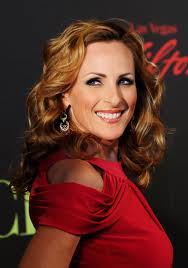 If you haven't seen "What the bleep do we know" stop reading this and go watch it right now. This incredible movie, staring Marlee Matlin may not be "Children of a Lesser God" or any of Matlin's more well known roles, but it was the first I saw her in and to this day one of my favorite films.
I must admit for a long time I had Marlee Matlin and Heather Whitestone confused. I would happily proclaim how much I admired Marlee Matlin, first deaf woman to win Miss America after seeing a speech Whitestone gave to Miss Teen California participants.
Now that I know the difference between the two incredibly beautiful and talented women, I respect them both a lot, but Matlin just resonates with me. She has red hair, like me, is an actress, which is what I aspired to be when I was young. She has inspired me to learn ASL for years. I started learning in elementary school. I continued throughout high school. She inspired me to be able to sign in front of my entire graduating class and their families despite my crippling stage fright.
It is because of her I knew I wanted to be an interpreter right out of high school. Sadly, life and other plans got in the way. Now I am 30 years old and I am re-learning everything I once knew.
I do have Marlee Matlin to thank for reigniting my passion in ASL. Her roles in My Name is Earl and Switched at Birth have recently reminded me to follow my dreams and achieve my goals no matter what obstacles are currently standing in my way.
Seinfeld: Humor Nonetheless
by Michael S. (New York) | May 14, 2012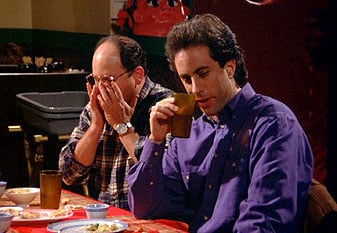 Reading about all the famous Deaf people, I found that I was unaware of most of the more influential in Deaf History. However, immediately Marlee Matlin came to my mind. It was not from her award winning performance in "Children of a Lesser God," but from a guest role in Seinfeld that brought her to mind. Like a spark, it was the first famous Deaf person I could even think of.
It is her great acting that makes her my favorite. In my youth, I was unaware that she was Deaf in real life. I had thought she was not Deaf and was acting the entire time. When I learned that she was in fact Deaf, it made me like her all the more. The episode "The Lip Reader" earned her a Primetime Emmy Award for her guest appearance. Participation in such a role really shows that Matlin has a great sense of humor, something that I find extremely important in a person. Without laughter, life is meaningless.
I owe it to Seinfeld for my discovering of Matlin and her great thespian talents. I also owe it to Seinfeld for using a Deaf character for an overall comedic use in the episode that makes it funny for everyone. Often times in the show, they cleverly show the best attributes of everyone and how anything can be funny when it is delivered in a non-facetious manner. Marlee Matlin really aced her performance. A great role, from a very talented actress, on one of my favorite programs, wins Matlin my recognition as my favorite person in Deaf History.
Marlee Matlin
by Kirsten Aucoin | October 6, 2016
Marlee Matlin is a Deaf woman known for becoming the first – and so far only – Deaf actor to win an Oscar.
Matlin's film debut was what earned her the award. She starred as a main character in the movie 'Children of a Lesser God' in 1986, when she was 21. That role kick started her career.
Her next film was the very next year and from there she was seen more and more – films, TV movies, documentaries, and TV series. She competed on 'Dancing with the Stars' in 2008.
In 2011, the television show 'Switched at Birth' came onto the scene. The show is about two teenagers who were…well, switched at birth. One of the girls (Daphne) who was switched is Deaf, and the show creators decided to really showcase the Deaf community on the show. Marlee Matlin played the role of Melody, the mother of Daphne's best friend.
2015 brought Deaf West revival of 'Spring Awakening' – a rock musical. Making musicals accessible and relatable to both hearing and deaf audience members – by having both hearing and Deaf cast – was no small feat. Yet the concept was exciting, and Marlee Matlin was cast to play the adult women in the show. The revival was a hit and introduced many new people to the world of ASL – it even was nominated for some Tony awards, along with having performances on the Tony Awards and Late Night with Seth Meyers.
Aside from acting Matlin published her first fiction book in 2002 (which was followed by a couple more and a memoir), has been involved in various charity works, has helped create the app Marlee Signs to help teach ASL, etc.
Overall, Marlee Matlin has been an inspiring voice for the Deaf community.
Marlee Matlin
by Shannon (West Columbia, South Carolina) | January 12, 2010
In order for a person to be a significant role in history, they really need to be known. Someone like Helen Keller gets the credit for being the first deaf/blind person because that's who we have heard about. She made an impact by "getting heard" by the population. (pardon the pun)
For me, personally, the deaf person who stands out for me is Marlee Matlin. She is not the most famous deaf person by any means, but she is the one that has made the most impact for me. She is the first person that I really saw on any kind of regular basis. From her movies and TV shows, she is out there and showing that a deaf person's life can be rich and fulfilling and that anyone can touch your life. By seeing her using sign language, she has made me (a hearing person) want to learn sign.
I'm not very good at it yet, but I continue to try to learn. I now get the opportunity to use sign language on a daily basis (though my vocabulary is still very small) at my job as a nurse. I work with mentally and physically handicapped young women and have one who is deaf and one that is autistic and doesn't speak but can do some sign language to let her basic needs be known. Marlee might not be the most well known deaf person out there, but she's definitely the one that got me wanting to learn the language.
Marlee Matlin
by Becky (Hamlin, PA) | January 12, 2012
I pick Marlee Matlin as my favorite deaf person. I wasn't going to submit an answer to this question, because I didn't think my reason was very impressive. Back in high school, I loved the show MacGyver. At some point, she dated Richard Dean Anderson. And since ASL has always fascinated me and she was the only deaf actress I knew, she became my favorite.
I have never seen Children of a Lesser God, but I have seen her in other things. I think she is a great actress. She did not limit herself. She wanted to act and that is what she did.
Just recently I saw her in a couple of episodes of Law & Order: SVU, another favorite show of mine. She signed and spoke. I like watching her and trying to understand what she signs.
In fact, I like watching anyone who signs, and I try to understand them. I am getting better at it the more units I cover with your classes. I am also very thankful for the history and background of Deaf Culture. I did have the misconception that ASL was just signs for English words. Now I know that's not true.
I also found what Marlee had to say interesting in the documentary you suggested watching called Through Deaf Eyes.
Marlee Matlin – A Super Star Born
by Peggy B. (Los Angeles, California) | June 11, 2010
Before reading your piece on deaf history, I didn't know there were so many important/famous deaf people. Marlee Matlin is the only deaf person that I could remember and admire. She has so much courage to be out in the spotlight. I admire her very much.
I see her often on different shows, using her voice to speak (softly because she is deaf) and with her interpreter at other times. She is very easily understood and she gives encouragement to other deaf people.
I also admire Marlee for taking the challenge of pursuing her future and paving the way for other deaf people to know that they can do anything that their heart desires.
Marlee has shown that not only can you live out your dream, but you can also be successful at it. Marlee has proven that anyone can get out there in that crazy world and do what they want. Each and every individual can get out in the world, pursue their dreams, be happy, and be successful.
Before seeing Marlee, I wouldn't have thought that possible. I believe that our future will certainly be changed, because a few people dared to take the challenge and make a difference, like Marlee Matlin.
Marlee Matlin
by Kristy Chase | June 30, 2017
As a new learner of ASL and Deaf culture and history, I've been reading not only the information in my assignments as well as doing deeper research and reading on my own. I find it quite intriguing to find more information 'out there' pertaining to the various topics. I find the assignment of finding my favorite person in Deaf history rather challenging, because I'm just now learning about players in Deaf history.
Oh yes, I'm definitely intrigued. I'm amazed at how many Deaf people made contributions that we use today in our modern world. People like Paul D. Hubbard, who created the football huddle that we know today, and Laura Bridgeman, an educated woman who was a deaf-mute who lived 50 years before the famous Helen Keller. Even Laurent Clerc, the French guy who founded the first school for the Deaf in America. There are just so many Deaf people who have contributed to our world and who have really paved the way for generations of people to benefit, and not only for Deaf people, but for hearing people as well.
However, while I am greatly enjoying all of the newfound information I have learned about amazing players in the Deaf arena, I can't help but set my mind on someone who I have known about pretty much most of my life. Marlee Matlin was the first Deaf person I had actually ever seen. When I first saw her, she was in the movie, Children of a Lesser God with William Hurt. The movie was good, but her presence, her performance and how she was able to carry an entire film through just using sign language was captivating. I completely fell in love with watching someone communicate without having to use their voice.
I had had an inner part of me that actually really wanted to learn sign language and to find a reason to use it. That stemmed mostly from a church class I was able to join in when I was in elementary school. I learned the alphabet and about 10 signs. But when I saw Marlee Matlin, I knew that learning ASL was a true desire I would have. However, that thought or feeling was never acted upon because I never really looked into my local resources.
And it's not just that she signed, I was mesmerized by Marlee. It may have been how pretty she was or how charismatic she was, or that she was a great actress. But there's no denying that seeing someone excel at acting… being able to accomplish so much in the world of acting, when we didn't have very many Deaf household names to compare her to. I mean, I don't think I can recall a single Deaf person in all of my years in growing up watching tv or movies, outside of Marlee.
I love that she never gave up and she found her opportunities. From movies to tv shows in my living room, she has always been someone I have recognized. What's more is that since I've been learning about Deaf culture, I've learned so much about her. She has written four books, largely about her experiences and being Deaf. Something she has written about is how challenging it was for her to really connect with people. I've had a challenge with that in my life, and I don't have any challenges with expressing myself or having a voice. Yet, I've never found that inner strength that some people just have. I remember her becoming a voice for the Red Cross, but I had no idea that she had a hand in getting legislation passed for Closed Captioning. What I love about Marlee is that she is someone that ties together people from the hearing world and from the Deaf world. Whether she set out for it or not, she's a face that stands out, she's a voice for the Deaf community, she's a wonderful actress, she's entertaining and serious and she stands for something. She is beautiful both inside and out.
About a year ago, I saw a tv show trailer that she was in, which made me take a closer look. The TV show is calledSwitched at Birth. Marlee Matlin was once again at the center of waking up that desire and growing an interest to actually act upon my new desire. The show is fantastic, and the Deaf culture and to some degree, learning the signs in conversation, has made watching tv fun for me again. While it's centered around young girls, which I don't really relate to, it was Marlee's character that hooked me, and I fell in love with the show.
At that time, I put learning ASL on my 'bucket list' and decided to simply go for it, and sought out viable resources to assist in my learning. While it's an interest from within, admittedly it has been influenced, at least in part because of Marlee Matlin.
Deaf Advocate
by Lois Diamond (Sacramento, CA) | June 19, 2011
My favorite was Frederick Schreiber, former President of the NAD. He was a simple man with a simple ego and his humble leadership resulted in many Deaf organizations being established as well as Deaf taking on leadership from his example.
Today we have many leaders with big egos in search for attention and fame. We need more people like Fred who got the job done and just moved on to the next one! Praise and recognition meant nothing to him. Getting better services, helping hearing understand and accept Deafness and getting the Deaf to become active leaders themselves were his biggest accomplishments.
I also admire Marlee Matlin who opened so much theatrical access and captioning in TV and movies for the deaf. Marlee Matlin not only broke the barriers for the Deaf into TV, she also advocated for more captioning on TV before the FCC passed the law that required captioning. Then this woman surprised the world when she went on the TV program "Dancing with the Stars". People who hear would say, "Is she really Deaf? Deaf people cannot do that!" She broke barriers to prove that the Deaf can do anything except hear, once given the opportunity! Unfortunately, many of us hardly ever get the opportunity to be seen as equals.
When Marlee appeared on TV interviews, her appearance and reply was very smooth and professional. Fortunately she had a very skilled ASL interpreter who could skillfully make her comfortable, confident and professional.
Marlee Matlin
by Dawn Schulz (Las Vegas) | January 30, 2010
My favorite deaf person, by far, is Marlee Matlin — the youngest woman to ever win an Academy Award for Best Leading Actress (she won at age 21!)
Her role in "Children of a Lesser God" was brilliant. She was discovered through children's theatre, and throughout her lifetime has appeared in a wide variety of shows, including: Sesame Street, Seinfeld, ER, Desperate Housewives, and Baby Einstein. She also sang the national anthem at Super Bowl XLI and competed in "Dancing with the Stars" one season.
She is a truly beautiful and multi-talented woman, AND she's deaf, which makes her even stronger!
Another admirable quality of Marlee's is that she is heavily involved in a number of charitable causes, such as VSA Arts, the Red Cross, and the Children Affected by AIDS foundation. President Clinton even appointed her to the Corporation for National Service due to her outstanding efforts as a volunteer.
She recently released an autobiography that describes her entire life journey up to now, and it is remarkable what she has overcome on a personal level, let alone on a professional one.
I truly believe that she is a wonderful role model for any performer, deaf person, or woman, for that matter. She definitely deserves her place in the ranks of deaf history, film history, and American history.
Comment by Brenda L Dawe:
Thank you for reminding us of what this very talented actress has done in Mainstream media and in volunteer work.
I saw her hosting "Exreme Home Makeover" the time they built a new house for the Vardon family in Detroit… Deaf parents, blind autistic son and one hearing teen. (The Vardon's actually presented at the last Michigan Deaf Assoc. biannual conference this past summer.)
A little closer to home… Deaf friends of ours were cellebrating their 50th wedding anniversary and their daughter contacted MM about how much her mother admired her work and asked if MM would send them a card. She did that and MORE… Imagine the look of shock when the daughter handed the couple a large bouquet of flowers and the wife read, "Congratulations on 50 years of marriage…hugs, Marlie Matlin."